At Raw Bar By Duncan Ly in Calgary's Hotel Arts--which serves Viet-Modern cuisine--a pastry chef like Karine Moulin has to get extra creative with Asian ingredients to bring out the essence of the cuisine. For Chinese New Year, the chef created a long list of fun desserts including these East-meets-West red bean cream puffs.
When you hear beans, you probably think of stews, chili and refried beans in a can; but in Asia, red beans or adzuki beans are often used in desserts. A popular treatment of the beans is simmering them until they are soft, draining them, then mixing them with sugar to form a sweet paste that's used as a filling in other dishes, like in buns and rice balls.
If you want to get extra fancy like Moulin, feel free to lighten up the filling with airy whipped cream, brush the tops of the puffs with melted white chocolate and candy some red beans for garnish.
Simple cream puffs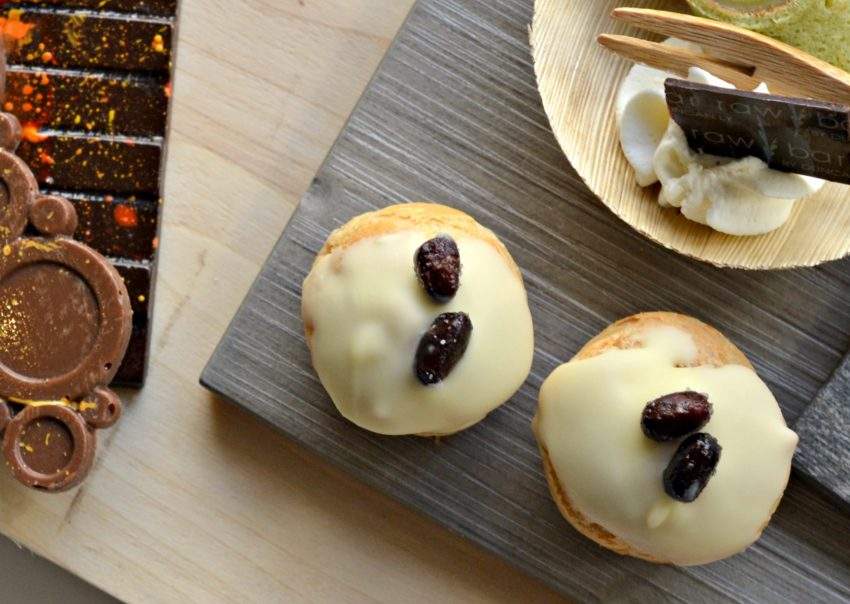 1/4 cup butter
1/2 cup water
2 tsp sugar
1 tsp vanilla
1 pinch salt
2/3 cup all-purpose flour
2 large eggs, beaten well
Preheat oven to 400 F.
Place butter, water, sugar, vanilla and salt into a medium pan on medium heat. Let come to a boil, remove from heat and stir in flour until combined.
Return to heat and let cook for a few minutes, stirring regularly, until the dough starts to form a ball. Remove from heat again.
Slowly pour eggs into warm batter, continually beating while pouring until the batter is light and glossy.
Transfer batter to a piping bag (or a large ziplock with the corner snipped off) and pipe little dollops onto a prepared baking sheet.
Bake in oven for 18 to 20 minutes, or until puffs have turned golden brown. Remove from oven and let cool to room temperature before filling with red bean pastry cream.
Red bean pastry cream
3/4 cup dried organic red beans
2 cups milk
1 whole vanilla bean, split lengthwise
6 egg yolks
1/2 cup sugar
1/3 cup all-purpose flour
1 pinch salt
1/2 cup heavy cream, whipped until medium peaks
Soak red beans in cold water overnight. When ready to cook, remove beans from soaking liquid and place into a pot with clean water over medium heat, bring to a boil and simmer about 1 hour.
Once beans have been cooked through (test by taking one out and pinching it between fingers), remove and place in a strainer and run cold water through them until they are cool.
Place beans in a food processor and puree until the beans have broken down and have become a paste. Set aside.
In a separate saucepan, add milk, scraped vanilla seeds and pod. Bring to just a boil, remove from the heat, cover, and set aside to infuse for 10 to 15 minutes.
In another bowl, beat the yolks and sugar to pale thick ribbons. Gradually beat in the flour. Whisk milk into the egg mixture in a thin stream. Add salt and bring to a boil over medium heat, stirring constantly until the mixture thickens. Strain and set aside to cool with a piece of parchment paper directly on top to prevent a skin from forming.
When cool, fold in the whipped cream, followed by the red bean puree, and transfer to a piping bag with a small tip to fill your cream puffs.
Yield:

Prep Time:

Cook Time: