If you're still of the mindset that comfort food is an exclusively non-vegan delight, Lauren Toyota is once again here to prove you wrong.
Her brand new cookbook Hot For Food All Day comes out on Tuesday, March 16 and after watching the success of her inaugural book Vegan Comfort Classics, it's impossible not to be excited.
From cover to cover, Toyota delivers a dynamic collection of plant-based recipes–120 to be exact. Drawing inspiration from many places and food cultures, the author aims to be approachable, tasty and quick with a spectrum of vegan recipes that will help readers make the perfect weeknight meals, easy lunches, satisfying breakfasts, and some fun snacks too.
This deliciously vibrant fried artichoke sandwich checks the box in all of those scenarios, but whenever you choose to indulge, we'd recommend bringing along an extra napkin or two.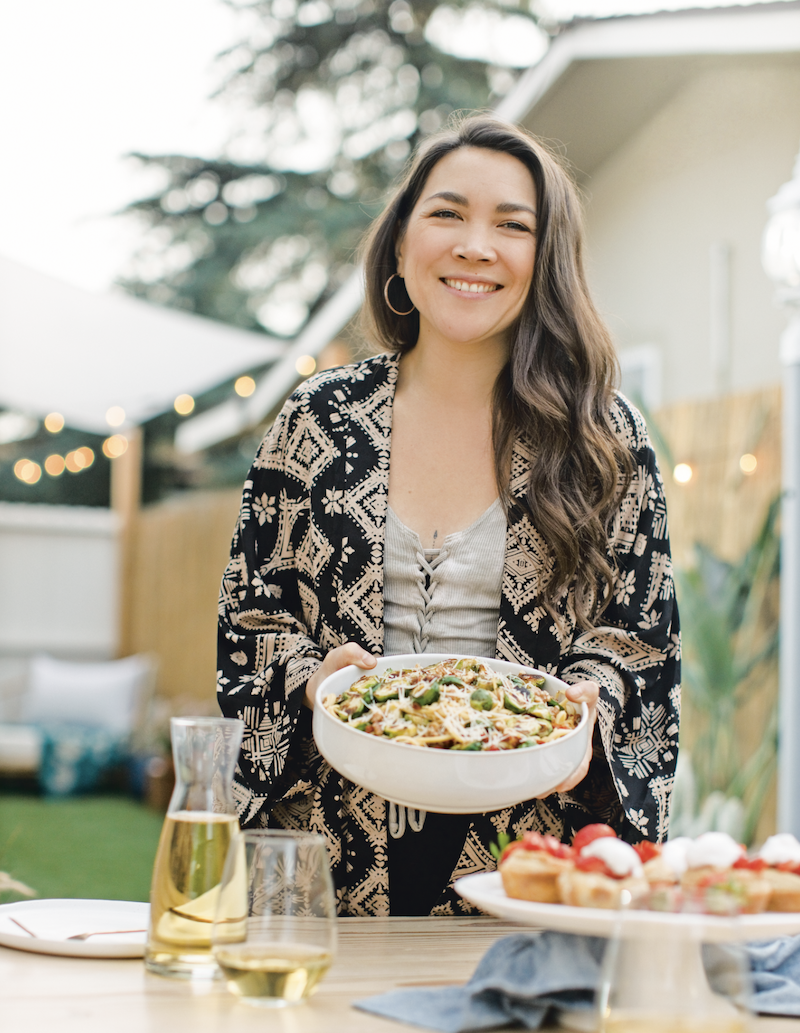 "Traveling and finding new vegan eats is what I love, and one of my stand-out meals is from The Arbor in Vancouver. They have lots of scrumptious menu items, but the best one is the southern fried artichoke sandwich," Toyota explains in the introduction to this recipe in her cookbook. "This is more of an ode to that amazing sandwich and not a rip-off. The battered and fried artichokes have a satisfying crunch and a kind of buttery and tangy bite to them that you're going to love. And yes, it's messy to eat, which is the best part!"
Jalapeño Ranch
¾ cup vegan mayonnaise
3 tbsp pickled jalapeños in brine, about 10 slices including brine
1 tbsp lime juice (about half a lime)
1 tbsp coarsely chopped fresh dill
1 tbsp coarsely chopped chives
1 tsp onion powder
½ tsp ground black pepper
¼ tsp sea salt
In a high-powered blender or small food processor combine the vegan mayonnaise, pickled jalapeños, lime juice, dill, chives, onion powder, black pepper, and sea salt and blend until very smooth.
Alternatively, you can finely chop the jalapeños and herbs and combine the ingredients in a bowl or jar.
Store in the fridge for up to 10 days.
"You already know I'm a ranch fiend, so throwing some spicy jalapeños in the mix is just an obvious choice. In addition to all the wonderful recipes I've drizzled this on in the book, this Jalapeño Ranch is gonna kick up all kinds of taco creations and take veggies and dip to a new level in your life," says Toyota.
Cabbage slaw
21/2 cups purple cabbage, finely shredded
1 batch Jalapeño Ranch, divided
½ tbsp lime juice
Combine the purple cabbage with 1 tablespoon of the jalapeño ranch and all the lime juice in a mixing bowl.
Set aside in the fridge while you prepare the fried artichokes.
Fried artichokes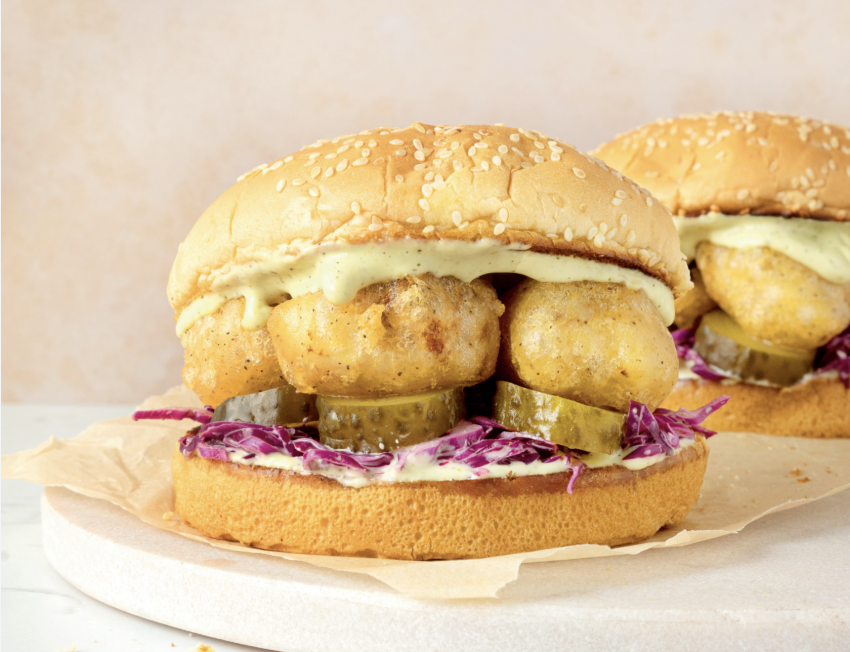 2–3 cups neutral vegetable oil, for frying
10-12 canned or jarred whole artichoke hearts, (20 to 24 artichoke halves)
1 ¼ cups gluten-free all-purpose flour, divided
¾ cup cornstarch
1 tsp sea salt
1 tsp ground black pepper
½ tsp smoked paprika
½ tsp garlic powder
¼ tsp cayenne pepper
1 - 1 ½ cups club soda
In a deep fryer or in a large heavy-bottom pot with a thermometer attached, heat the fryer oil to 360°F. If using a pot, it should be around a third full of oil.
Set aside a large baking sheet with a wire rack on top to place the fried artichokes on. Do not rest them on paper towels as they will become soggy.
Drain the artichoke hearts from the can or jar and cut them in half if they're whole. Gently squeeze out any excess water from the artichoke pieces by patting between paper towels or with a clean tea towel so that the artichokes aren't super wet.
To a large mixing bowl, add 1⁄2 cup of the gluten-free flour. In another large mixing bowl, whisk together the remaining 3⁄4 cup of the flour, the cornstarch, sea salt, black pepper, smoked paprika, garlic powder, and cayenne.
Once the oil is to temperature, add 1 cup of the club soda to the flour mixture to start and gently whisk until combined. Add more club soda as needed to ensure the batter is loose enough to dip and dredge the artichokes but thick enough that it sticks and doesn't run right off too much. (The amount of liquid varies, as I find gluten-free flours to have varying hydration levels.)
Use one hand to coat 4 or 5 artichoke halves in the flour dredge and then coat one piece at a time in the liquid batter. Lift each piece from the batter and let the excess drip off. Quickly place the battered artichokes directly in the hot oil and fry the first batch for 4 to 6 minutes, until crispy and golden brown.
Use a slotted spoon or a pair of tongs to place the artichokes onto the wire rack, and continue frying in batches.
Assembly
4 sesame seed buns
1 dill pickle, sliced into thin rounds (about ¼ cup)
Lightly toast the buns. Spread the remaining jalapeño ranch on the inside of the top and bottom buns.
Add the purple cabbage slaw to the bottom bun and top with pickles, 4 or 5 fried artichoke pieces, and the top bun.
Yield:

Prep Time:

Cook Time: