Despite the fact that it was only just released a day ago, the St. Lawrence cookbook Where the River Narrows is already being touted by many as one of the best Canadian cookbooks of the year.
Written by St. Lawrence chef J-C Poirier almost as a love letter to Québécois and French cuisine, Where the River Narrows features an array of popular dishes from the newly-Michelin-Starred eatery, along with a variety of French bistro favourites and wine pairings.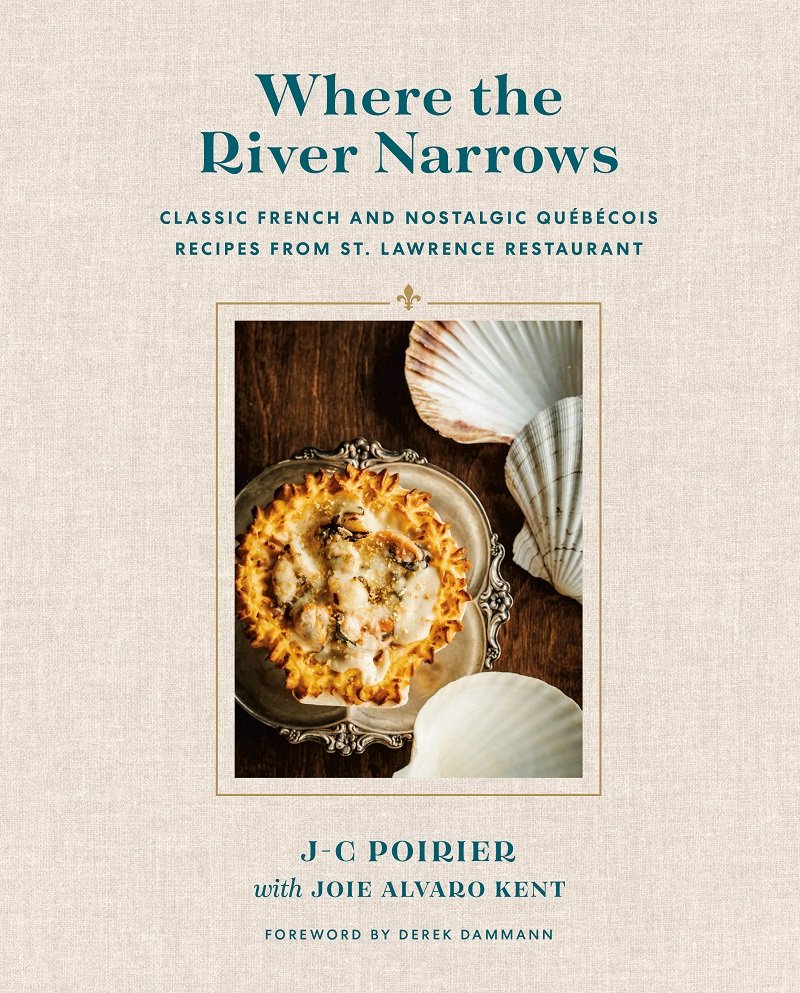 When it comes to quintessential Québécois dishes in particular, chef Poirier says the classic tourtière might be the dish that best represents the province of Québec.
"[Tortière] can be traced back to the 1600s, and there's no master recipe; every family has their own twist. The style of this traditional meat pie changes from region to region as well," chef Poirier explains. "Originally, it was made with game birds or game meat, like rabbit, pheasant, or moose; that's one of the reasons why I prefer it with venison instead of beef or pork. Tourtière remains a staple in Québécois households, both during Réveillon and throughout the year. It's part of our heritage, it's close to my heart, and it's important for me to keep it alive. Serve the tourtière along with pickled beets, gherkins, and ketchup."
Tourtière spice mix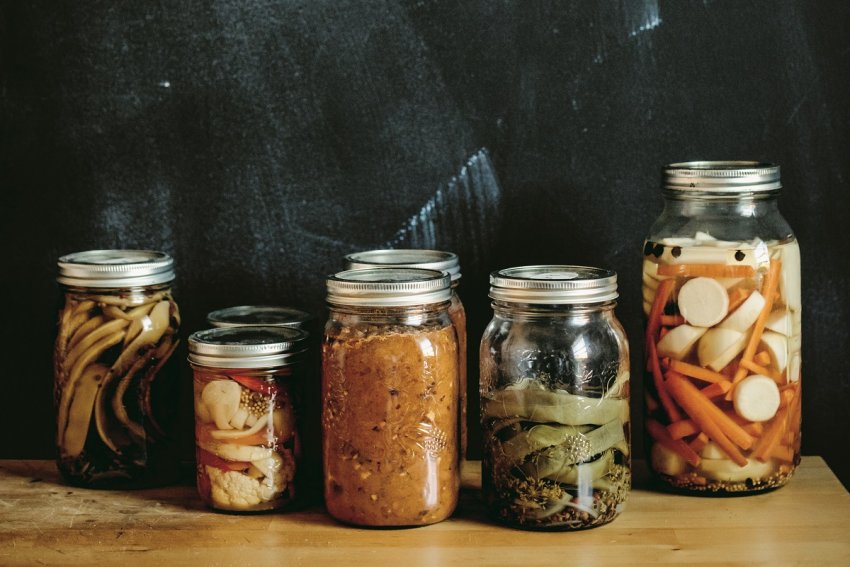 5 tsp freshly grated nutmeg
4½ tsp ground cloves
4 tsp freshly cracked black pepper
3½ tsp ground cinnamon
1½ tsp ground ginger
In a small bowl, combine all the ingredients.
Transfer to an airtight container and store in a cool, dark place for up to 6 months; after that, the spices will start to lose their potency.
Pie dough
3 cups all-purpose flour
1 tsp kosher salt
1⅓ cups cold butter, diced
¼ to ½ cup ice water
In a large mixing bowl, combine the flour and salt. Using a pastry cutter, cut in half the butter until the mixture resembles coarse cornmeal. Cut in the remaining butter just until the biggest pieces are the size of green peas. Gradually dribble in ice water, tossing and mixing until the dough just holds together. Don't overwork it, as this will make it tough. If it looks like there are dry patches, add another 1 tablespoon (15 mL) water and mix until the dough comes together.
Divide the dough in half. Firmly press each half into a 4-inch (10 cm) disc and wrap tightly in plastic wrap. Refrigerate for at least 30 minutes before rolling out.
When you're ready to roll out the dough, remove one disc from the fridge at a time. Let it soften slightly so that it's malleable but still cold. Unwrap the dough and press the edges of the disc so that there are no cracks. On a lightly floured work surface, roll out the dough as directed in your recipe. Brush off any excess flour from both sides with a dry pastry brush. Line a baking sheet with parchment paper, transfer the dough to the pan, and refrigerate for at least 1 hour before use.
Variation: You can also use a food processor to make the dough. Place the flour, salt, and butter in the food processor and pulse about ten times, until the butter is incorporated—don't overmix. It should look like wet sand, and a few little pieces of butter here and there is okay. With the motor run- ning, through the feed tube, slowly add ice water until the dough forms a ball—again don't overmix. Wrap, chill, and roll out as directed above.
Venison tourtière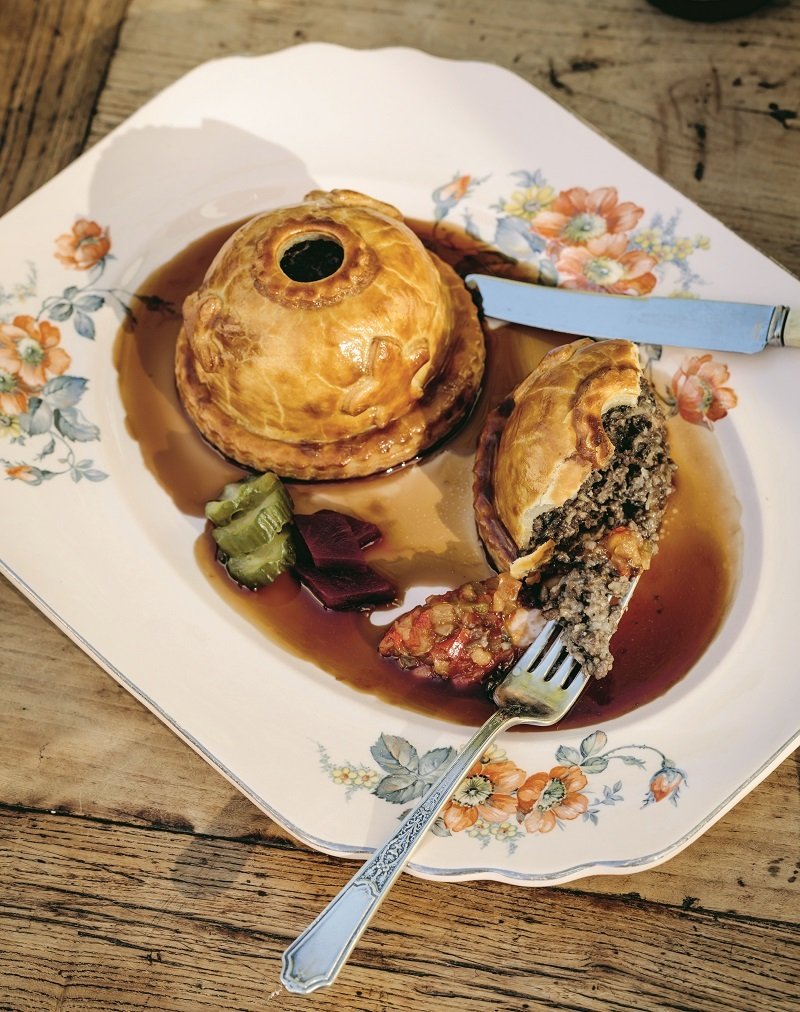 9-inch pie plate
2 tbsp unsalted butter
1 small yellow onion, finely minced
1½ tbsp chopped garlic
½ cup finely chopped button mushrooms
½ cup red wine, plus a glass for yourself
1.3 pounds (600g) ground venison
2½ tsp kosher salt
1 tsp tourtière spice mix (above)
1 cup grated potato (about 1 large)
5 ounces (150g) back fat or pork belly, ground
Preheat your oven to 425°F (220°C), with the rack in the centre position.
In a large pot on medium heat, melt the butter. Sauté the onion and garlic, stirring often, for 4 minutes. Add the mushrooms and cook, stirring often, until all of the liquid has evaporated, about 5 minutes. Stir in the red wine and drink your glass while letting it cook off completely, about 10 minutes. Add the venison, salt, and épices à tourtière, and cook for 5 minutes, stir- ring to break up the chunks of meat.
Using your hands, squeeze all the water out of the grated potato. Stir it into the pot, along with the back fat, and cook for 20 minutes. Taste for season- ing. Remove from the heat and let cool at room temperature.
Divide the pâte brisée in half. On a lightly floured work surface, roll out each half into a 1/16-inch thick (2 mm) circle that fits into the pie plate. Lay one circle in the bottom and up the sides of the pie plate. Fill it with the venison mixture. Cover with the other dough circle. Trim off the excess dough and pinch or decoratively flute the edges with your fingers to seal. Brush the top with the egg wash. Using a paring knife, poke a few holes in the top crust in a design that pleases you—you're the artist.
Bake the tourtière for 15 minutes. Lower the temperature to 375°F (190°C) and bake for 45 to 55 minutes, until the pastry is a nice golden brown. Transfer to a wire rack and let cool for 30 minutes at room temperature before serving.
Variation: If you prefer to make single servings, follow our lead at the restaurant, where we make individual tourtières in the form of a dome (pithivier) and fill them with 5 ounces (160 g) of the ground venison mixture.