Whether you're hosting a festive feast over the holiday season or a meal among friends and family in the coming months, it always pays to pair your main course with a seasonal accompaniment or two.
And when it comes to making the most of fall and winter ingredients, few do it better than Whitehorse chef Brian Ng and the culinary team at Wayfarer Oyster House. This roasted squash with burrata, burnt honey, crispy kale and brown butter comes courtesy of the recently-released Canada's Best New Cookbook, and since it offers such a versatile flavour profile, it can be paired with just about any protein.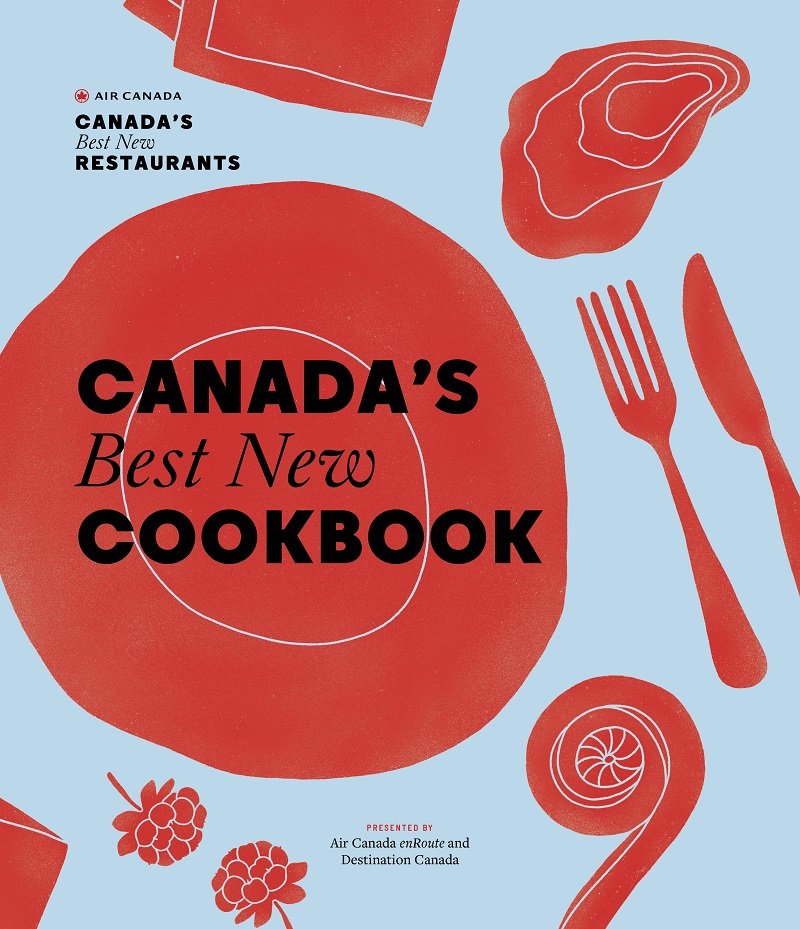 Burnt honey
2 cups liquid honey
4 tbsp water
splash apple cider vinegar
Preheat the oven to 350°F.
Add liquid honey to a large, high-walled pot over high heat and cook, stirring occasionally, until honey turns a dark amber colour and begins to smoke slightly.
Using extreme caution, bring the pot of honey over a sink and add about 4 tablespoons of water and a splash of vinegar. Be careful with this step as the honey will spit aggressively. Whisk until water, honey and vinegar are well blended. Allow to cool.
If the honey is very thick, whisk in hot water in 1 tablespoon increments until it is nice and runny again.
Taste and adjust seasoning with vinegar so that it's nice and tangy. Store in a sealed jar at room temperature for up to a year.
Crispy kale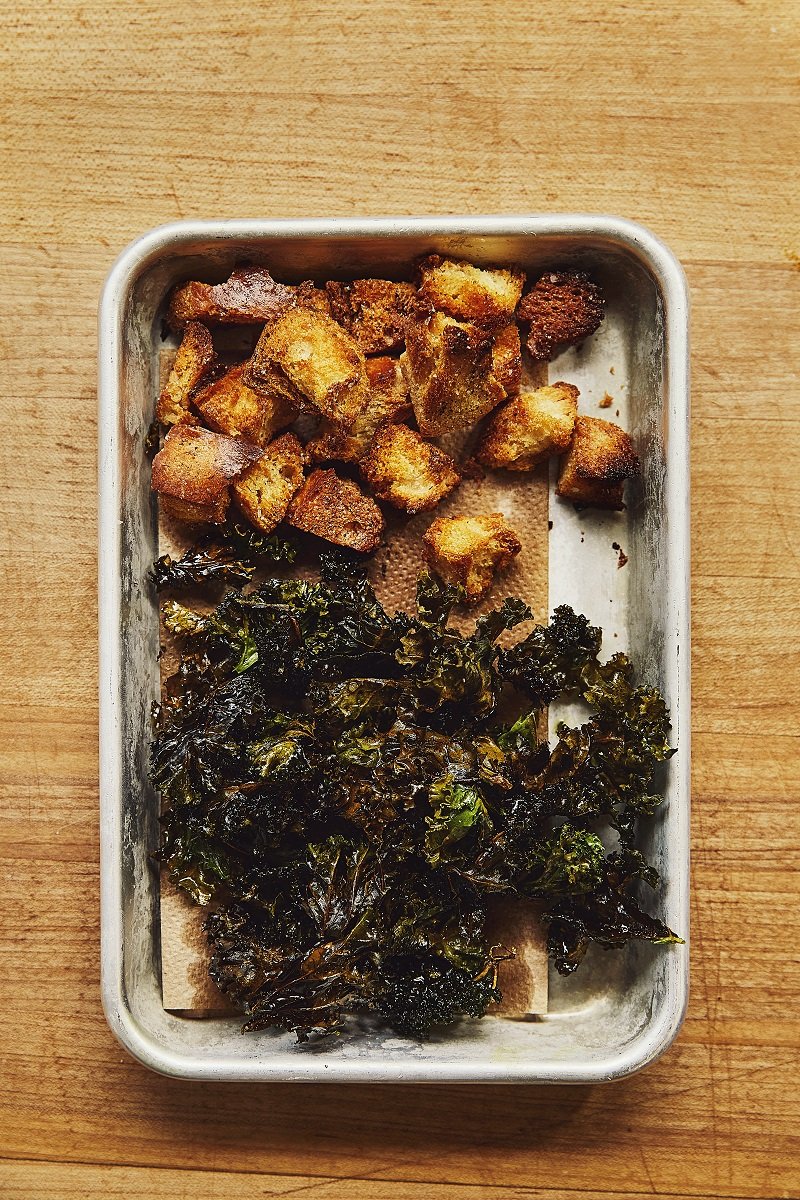 1 bunch curly kale, stems removed and torn into bite-sized pieces
2 tbsp olive oil
salt, to taste
Wash kale thoroughly and spin-dry in a salad spinner.
Toss dried kale in olive oil and spread out evenly on a rimmed baking sheet ensuring that there is space between each piece of kale.
Roast for 15 minutes, or until crispy. Season with salt to taste.
Brown butter croutons
2 cups sourdough bread, torn into 1-inch pieces
2 tbsp unsalted butter
5 cloves garlic
kosher salt, to taste
black pepper, to taste
Place bread pieces in a large bowl. In a medium saucepan over medium-low heat, add butter and garlic cloves, stirring occasionally until foaming subsides, and butter and cloves turn golden brown, about 6 to 8 minutes.
Drizzle garlic butter over bread, toss to coat and season with salt and pepper to taste. Tip onto a rimmed baking sheet and bake the croutons until golden brown and crisp, about 20 minutes.
Vadouvan squash and final steps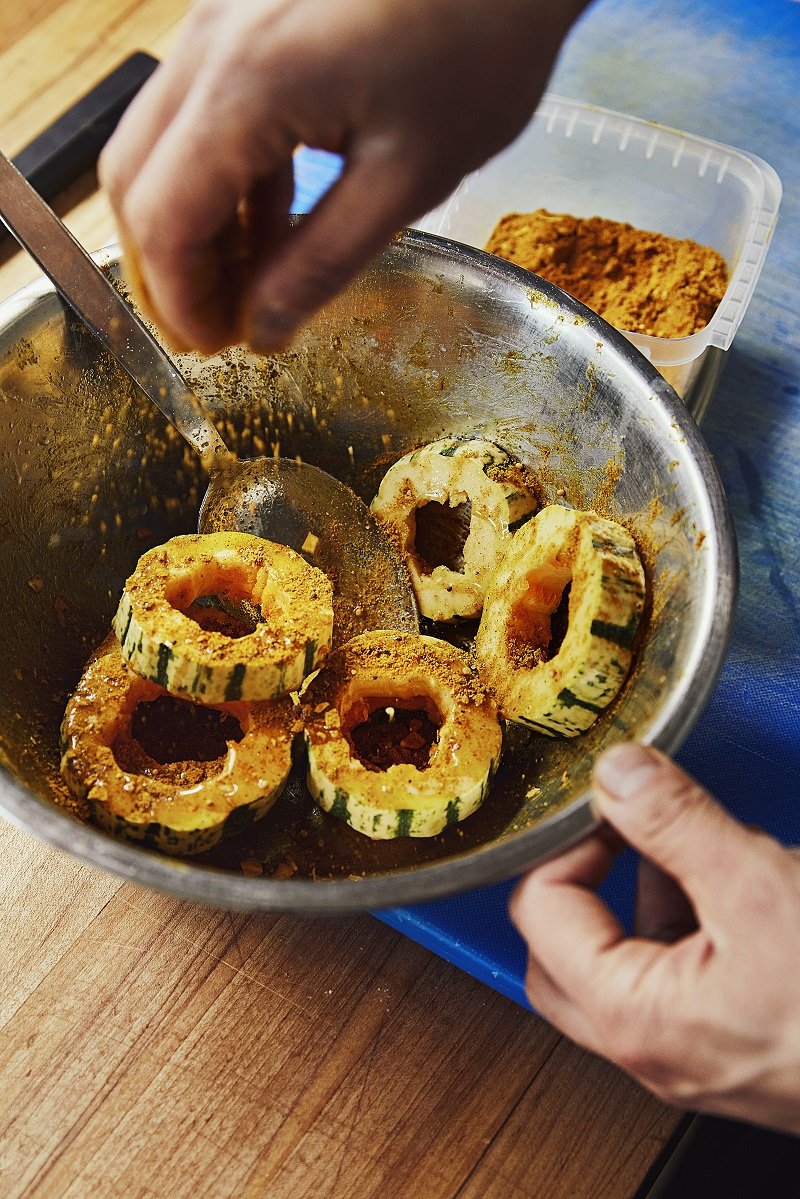 2-3 lbs squash, deseeded and cut into wedges (honeynut, butternut, red kuri or delicata squash)
2 tbsp vadouvan
1 pinch red pepper flakes
olive oil, for coating
kosher salt, to taste
1 250-g ball burrata cheese
2-3 tbsp creme fraiche
Increase oven temperature to 425°F.
In a bowl, toss squash, vadouvan, red pepper flakes, olive oil and salt together to combine. Transfer coated squash to a parchment-lined baking sheet and arrange so that squash pieces are not touching. Roast until tender, golden brown, and skin is slightly crisp, about 25 to 30 minutes.
Holding burrata over a bowl, gently pull apart into two halves, then mix it with 2 tablespoons of crème fraîche in the bowl, slightly breaking up the burrata ball. If your burrata is a little dry, mix in up to 1 more tablespoon of crème fraîche.
To serve, divide the squash between 2 plates, and add dollops of burrata on top of each. Drizzle generously with burnt honey. Finish with croutons and kale leaves, a sprinkling of sea salt, a drizzle of olive oil and a pinch of red pepper flakes.
Yield: