The aptly named salad-sisters, Mandy and Rebecca Wolfe, are at it again with the help of Meredith Erickson.
The co-authors of the cookbook, named after the namesake restaurant Mandy's Gourmet Salads, included this Lumberjack salad.
This salad came to fruition through their humble beginnings. With the business located in the back of a woman's fashion store, Mandy and Rebecca were noticing a consistent theme. The ladies who would come into the shop, but their male companion was almost always a little lost and confused.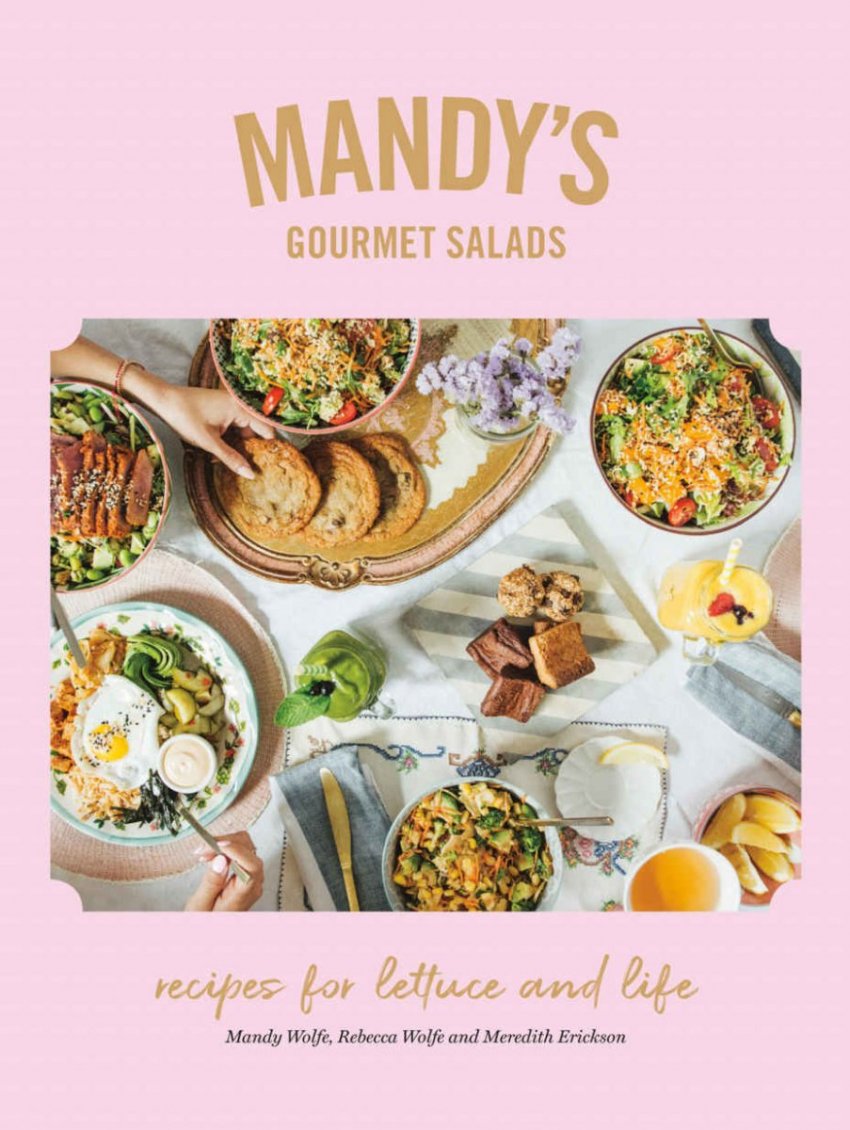 So, Mandy and Rebecca created a salad for those awkward shoppers, one where they could hunker down and get eating without being unsure of what they were getting. When developing this recipe, they tried to channel the most "hungry carnivore man" when thinking of ingredients. And from there, this salad became a permanent fixture on their menu.
Lumberjack salad
4 cups romaine lettuce, chopped
1/2 avocado, diced
1/4 cup cherry tomatoes, halved
1/4 cup white mushroom caps, sliced
1/4 roasted chicken breast
2 slices bacon, cut into pieces and fried until crispy
1/4 cup chopped sliced turkey
1/4 cup shredded mozzarella cheese
1/4 cup sliced scallion, green part only
1/2 cup homemade pita chips
1/3 cup caeser dressing
Combine all of the ingredients in a large stainless-steel bowl. Top with the dressing, and using tongs, toss until well mixed and dressed.
Homemade pita chips
2 thin 6-inch pitas
3 tbsp olive oil
fine sea salt and freshly ground black pepper
Preheat the oven to 375°F. Line a sheet tray with parchment paper.
On a chopping board, cut the pitas into 8 wedges, then pull each wedge apart to form 2 triangles.
Brush each side of the triangles with olive oil, then arrange on the tray. It's okay if the triangles are very close together. Sprinkle generously with salt and pepper.
Bake for 5 to 6 minutes, then remove the tray from the oven and turn the chips over, and continue to bake until crisp and golden, another 5 minutes. Set aside to cool completely. These chips will keep in an airtight container for up to 1 week.
Variation: Homemade garlic and thyme pita chips
Follow the recipe above, but sprinkle the wedges with 1 tablespoon garlic powder and 1 tablespoon dried thyme, as well as the salt and pepper.
Makes 4 cups (8 portions).
Caesar dressing
1/4 cup red wine vinegar
2 tbsp lemon juice
6 tbsp store-bought mayonnaise
1/2 cup packed grated parmesan cheese
2 tsp Dijon mustard
1 clove garlic
7/8 cup olive oil
1/2 tsp fine sea salt
1 1/2 tsp freshly ground black pepper
In a blender, combine the vinegar, lemon juice, mayonnaise, Parmesan, mustard, and garlic.
Process on medium-high speed until smooth and well combined, 15 to 20 seconds. Stop the blender and scrape down the sides of the jar with a spatula as needed.
With the blender running on low speed, slowly drizzle in the olive oil until the dressing is emulsified and thickened, about 30 seconds. Add the salt and pepper, adjusting the seasoning to taste. Transfer the dressing to an airtight container and refrigerate until ready to use.
This dressing will keep, refrigerated, for up to 7 days.
Note: For a keto variation on this dressing, replace the mayonnaise with 1 egg and 1 egg yolk and increase the olive oil to 1 cup. You may also prefer to use avocado oil instead of olive oil.
Yield: