Making friends with salads is easy when those salads offer something for palate.
The authors of Mandy's Gourmet Salads, Mandy and Rebecca Wolfe (co-founders and co-owners of Mandy's Gourmet Salads,) and Meredith Erickson (food and travel writer), introduce readers to a wide array of meals that range from smoothies and salads to sweet treats like salted pecan shortbread squares.
This expedition into the world of gourmet salads is not unfamiliar to the Wolfe sisters. These so-called salad-sisters opened up Mandy's Gourmet Salads in 2004, which at the time was Montreal's very first create-your-own salad bar... in the back of a woman's clothing store. The concept took off even though the two had no prior experience in the world of food, business or marketing, but that did not put a damper on their dream.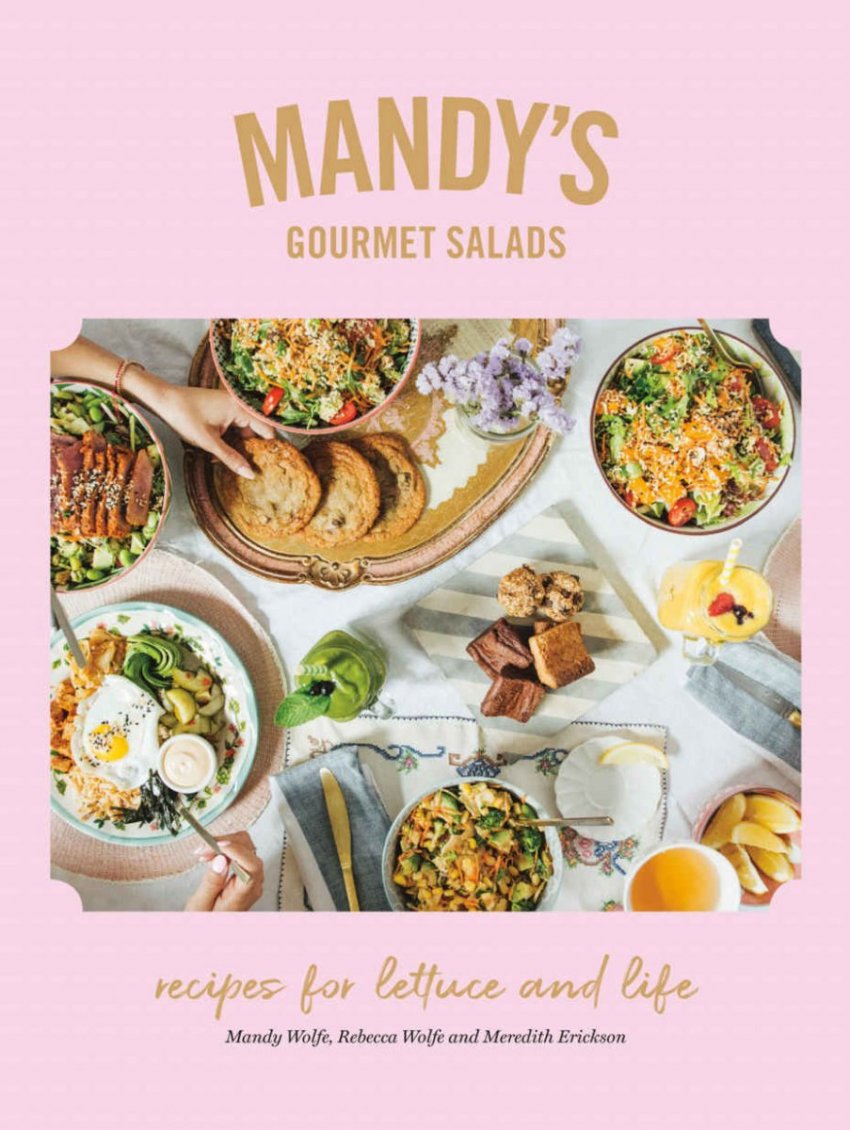 This salad was developed in the early days of Mandy's, by two of their greatly cherished employees who ate it for lunch--every single day. The salad is named after Raegan Steinberg and Danielle Samuelson, and as time went on, it got so popular it had to be officially put on the menu. And thus, the R&D Extraordinaire Salad was born.
Fast forward 16 years and Mandy's Gourmet Salads has grown into a salad empire, with seven locations in Montreal alone. These are definitely the ladies to look to when a salad is on the menu.
R&D Extraordinaire salad
2 cups romaine lettuce, chopped
2 cups mesclun greens
1/2 avocado, diced
1/4 cup shredded carrot
1/4 cup sliced strawberries
1/4 cup parmesan flakes
1/2 cup homemade pita chips
1/3 cup classic balsamic dressing, recipe below
Combine all of the ingredients in a large stainless steel bowl. Top with the dressing, and using tongs, toss until well mixed and dressed.
Homemade pita chips
2 thin 6-inch pitas
3 tbsp olive oil
fine sea salt and freshly ground black pepper
Preheat the oven to 375°F. Line a sheet tray with parchment paper.
On a chopping board, cut the pitas into 8 wedges, then pull each wedge apart to form 2 triangles.
Brush each side of the triangles with olive oil, then arrange on the tray. It's OK if the triangles are very close together. Sprinkle generously with salt and pepper.
Bake for 5 to 6 minutes, then remove the tray from the oven and turn the chips over, and continue to bake until crisp and golden, another 5 minutes. Set aside to cool completely. These chips will keep in an airtight container for up to 1 week.
Classic balsamic
1/2 cup balsamic vinegar
2 tbsp honey
2 tsp Dijon mustard
1 1/3 cups olive oil
1/4 tsp fine sea salt
1/4 tsp freshly ground black pepper
In a blender, combine the vinegar, honey, mustard, and olive oil. Process on medium-high speed until smooth and well combined, about 5 to 6 seconds. Be careful not to over-blend, as the dressing can become too thick.
Add the salt and pepper, adjusting the seasoning to taste. Transfer the dressing to an airtight container and refrigerate until ready to use.
This dressing will keep, refrigerated, for up to 7 days.
Yield: