Few food and beverage items are more synonymous with the winter holiday season than eggnog. And while there are many popular ways to put eggnog to good use in beverage form, an often-underutilized way to celebrate the festive favourite is by implementing it in dessert.
In the most recent cookbook from chef Mary Berg, Well Seasoned, the beloved Masterchef Canada alum provides a full year's worth of delicious and versatile recipes for every occasion, from seasonally-inspired dishes to warm and comforting creations that are perfect on a cold day.
Unlike a traditional cheesecake, Berg's eggnog Basque cheesecake combines a light and fluffy texture with a sweet and subtle caramelized flavour profile similar to that of a crème brûlée.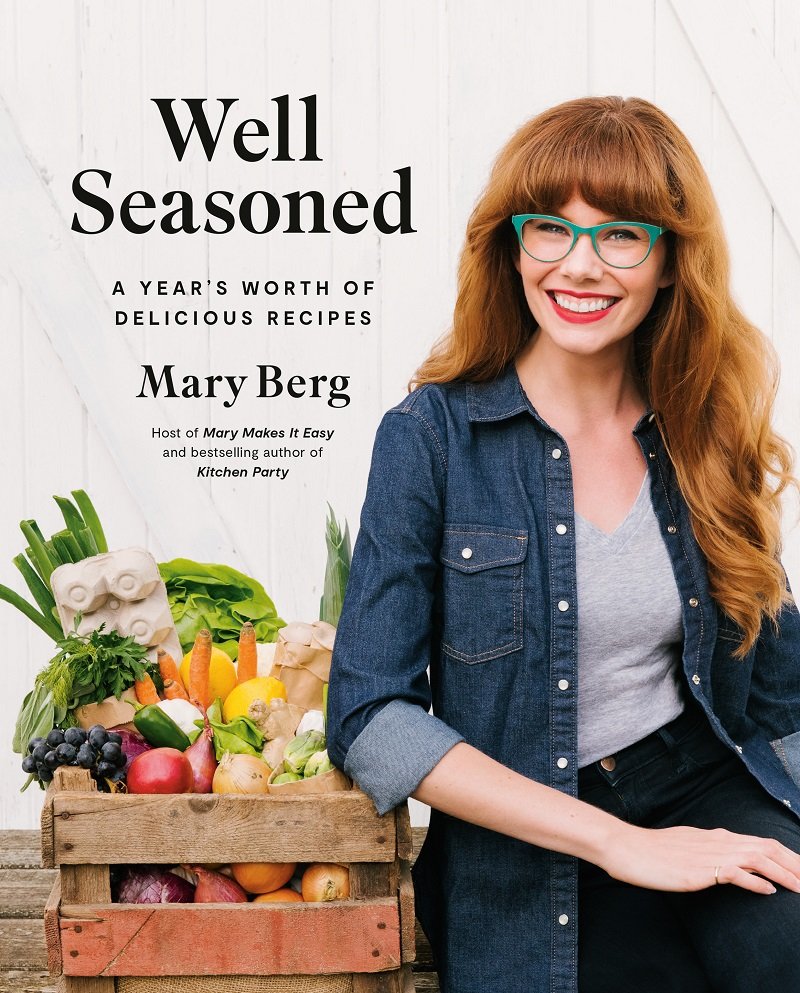 "Even though it looks and sounds fancy, Basque cheesecake is the easiest baked cheesecake out there," Berg explains in the recipe introduction. "Rather than having you make a crust and carefully and slowly bake the cheesy custard in a finicky water bath, a Basque cheesecake is purposely baked in a hot oven under direct heat with the whole goal being to burn the heck out of it. Thanks to the eggnog, spiced rum, and nutmeg, I can't think of a more decadent and jaw-dropping wintery dessert."
Cheesecake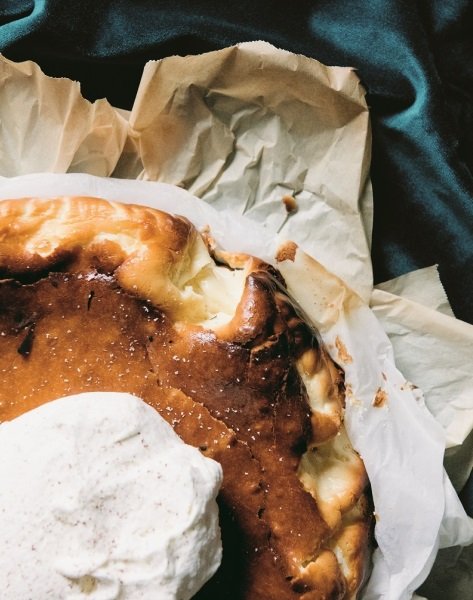 4 cups brick-style cream cheese, room temperature
1¼ cups sugar
½ tsp kosher salt
¼ tsp freshly grated nutmeg
6 eggs
1 cup whipping cream (35%)
1 cup eggnog
1 tbsp dark rum
1 tsp vanilla extract, (or ½ vanilla bean, scraped)
5 tbsp all-purpose flour
Preheat oven to 400°F and grease a 10-inch springform pan with cooking spray.
Using two overlapping pieces of parchment paper, line the greased pan by pressing the parchment along the bottom of the pan and haphazardly up the sides, leaving any crinkles and folds and making sure the parchment reaches at least 2 inches above the rim of the pan. Place the pan on a baking sheet and set aside.
For the cheesecake, place the cream cheese, sugar, salt, and nutmeg in a large bowl, or a stand mixer fitted with a paddle attachment, and beat on medium speed until smooth, about 2 minutes, scraping the bowl down at least three times. Beat in the eggs one at a time, mixing well and scraping down the bowl between each addition. Add the cream, eggnog, rum, and vanilla. Mix on low speed just until combined.
Remove the bowl from its stand and sift the flour over top. Reattach the bowl and continue to beat on low speed just to incorporate, about 30 seconds, scraping down the bowl halfway through.
Pour the cheesecake mixture into the prepared pan, bake for 50 minutes, then increase the temperature to 425°F and bake until the cheesecake is deeply golden brown, 15 to 20 minutes. Allow the cheesecake to cool to room temperature before removing it from the pan and peeling away the parchment paper.
Rum whipped cream
1 cup whipping cream (35%)
2 tbsp icing sugar
1 tbsp dark rum
½ tsp vanilla extract, (or ¼ vanilla bean, scraped)
freshly grated nutmeg
Whip the cream, icing sugar, rum, and vanilla on medium-high speed, just until soft peaks form, about 2 to 3 minutes.
Serve the cheesecake at room temperature or chilled, topped with a dollop of rum whipped cream and a grating of fresh nutmeg. This cheesecake will keep covered in the fridge for up to 5 days.
Note: When cutting the cheesecake, use a warm sharp knife and wipe it off in between each slice. This will ensure clean, perfect slices.
Yield:

Makes 1 (10-inch) cheesecake