In a food world where it feels like everything has been done before, or everything feels like it needs to shock to impress, this delicious recipe by Mary Berg gives us the damn-we-wish-we-had-thought-of-that feeling in the best way possible.
Taking the idea of chicken noodle soup and incorporating its core elements into a roast chicken recipe in her best-selling cookbook In Mary's Kitchen is both playful and clever.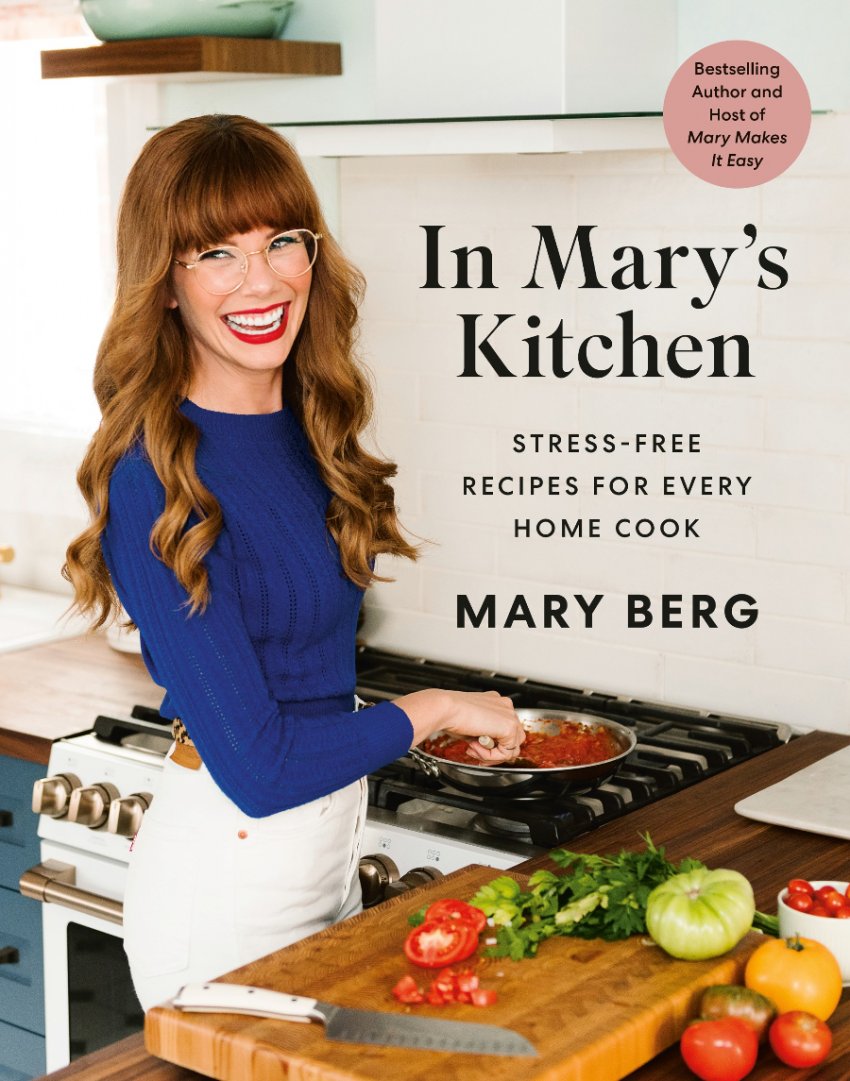 "If you can't tell by now, I am really into recipe mash-ups. I'll blame it on my general and lifelong inability to decide what I want to cook and eat. With its bright-yellow colour from the turmeric, this roast brings together a company-worthy classic and my childhood fave, neon-yellow chicken noodle soup from a packet," explains Mary Berg in her new cookbook.
You can find some other tasty mash-up recipes in her book too, but we'll leave those for to discover once you snag your own copy.
Chicken noodle roast chicken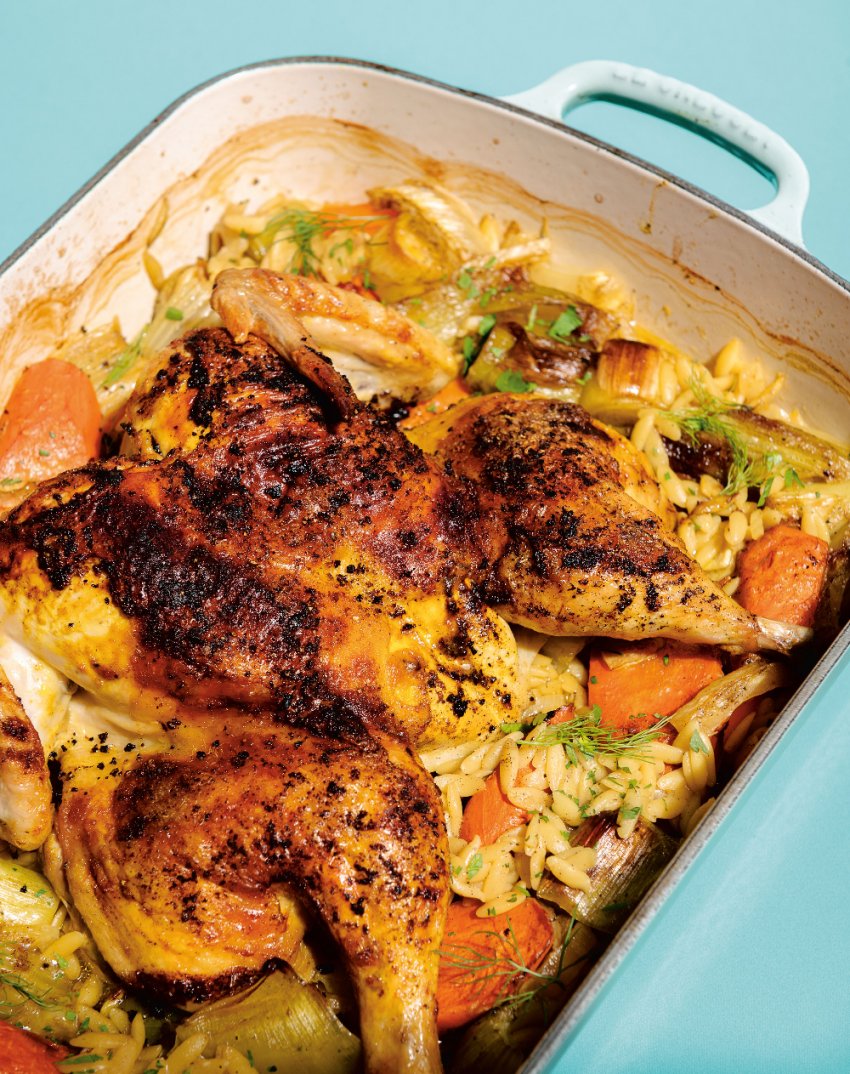 1 whole chicken
2 tablespoons butter, room temperature
1 teaspoon turmeric
1 teaspoon chicken bouillon kosher salt
Freshly ground black pepper
2 leeks, cut into 1-inch pieces (see note)
2–3 field carrots, peeled and cut into 1-inch pieces
2 stalks celery, cut into 1-inch pieces
½ fennel bulb, thinly sliced and fronds reserved
2 garlic cloves, thinly sliced
3 sprigs fresh thyme
1¼ cups orzo or pearl couscous
¼ cup dry white wine, optional 4 cups low-sodium chicken broth
1 tablespoon chopped parsley
Preheat your oven to 450°F.
Spatchcock or flatten the chicken by removing the backbone. To do this, flip the chicken over so that it sits breast side down and, using a pair of kitchen shears, carefully cut along either side of the backbone. Flip the bird over and press down to flatten it.
In a bowl, mash together the butter, turmeric, and bouillon. Using your fingers or a small spoon, separate the skin from the chicken breasts and thighs and spread half of the butter mixture as evenly as possible under the skin.
Place a braiser or heavy-bottomed roasting pan over medium-high heat. Season the chicken skin with salt and pepper, add half of the remaining butter mixture into the hot pan, and sear the chicken, breast side down, until golden, 5 to 8 minutes. Remove from the pan and set aside, breast side up.
Add the remaining butter to the pan along with the leeks, carrots, celery, and fennel and season with salt and pepper. Cook until the vegetables begin to pick up a little color, 6 to 8 minutes, stirring frequently. Stir in garlic, thyme sprigs, and orzo, and cook for 1 to 2 minutes.
Deglaze the pan with the white wine or ¼ cup of water, then add the chicken broth. Place the seared chicken, breast side up, into the pan and carefully transfer to the oven. If the pan looks a little full, place a large sheet pan or a piece of aluminum foil on the rack below in case of any boil-over. Cook for 40 to 45 minutes or until the internal temperature of the chicken reaches 165°F.
If the chicken skin begins to brown too much, place a lid or a piece of aluminum foil overtop.
When cooked through, remove from the oven and set aside to rest for 10 minutes. Scatter over the parsley and fennel fronds and serve.
to prepare and clean leeks, trim off the roots and dark-green tops. chop the white and light-green parts and place in a large bowl filled with tap water. run your hands through the leeks, so that any dirt falls to the bottom of the bowl. using your hands, scoop the leeks out of the water, allowing as much water as possible to drain away. If your leeks are particularly sandy, repeat this process with fresh water.
Yield: