The al fresco dining experience at Mission Hill Family Estate's Terrace Restaurant has gained global recognition over the years, thanks in part to its creative culinary program that centres around the celebration of locally, sustainably and seasonally sourced food.
While the Terrace Restaurant is currently closed for the season, executive chef Patrick Gayler is offering a new Harvest Lunch for the fall, where guests can enjoy two seasonal dish selections along with wine pairings in winery's beautiful Chagall Room.
This autumn-inspired chicken cacciatore from chef Gayler provides the perfect dose of comfort and heat as we transition into shorter days and cooler temperatures. The winery is also currently offering complimentary shipping on all wine orders. If you're looking to take your harvest dining experience to the next level, chef Gayler suggests pairing with Terroir Collection Splitrail 2014 merlot which can be delivered right to your door.
Chicken cacciatore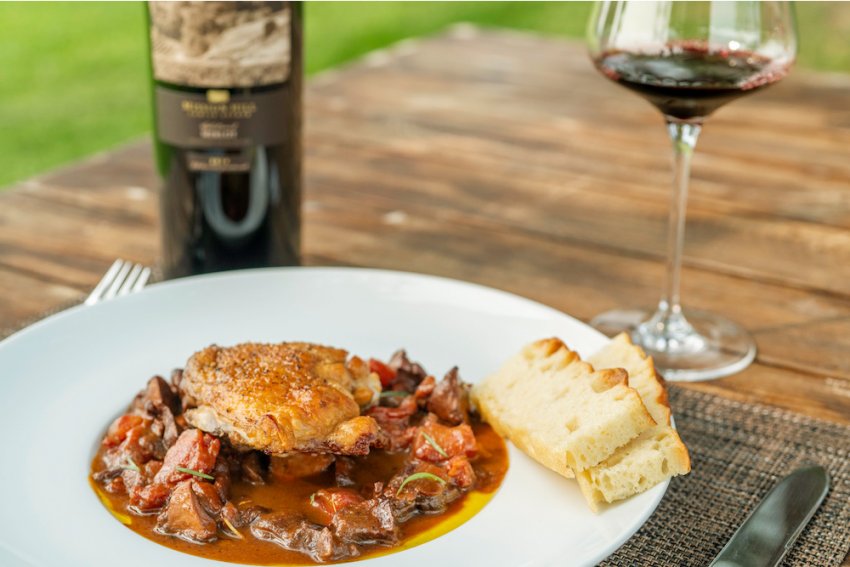 1 kg bone-in chicken thigh
2 diced red onions
3 tbsp Calabrian chili paste
2 cloves finely minced garlic
4 tomatoes, peeled and diced
2 cups red wine
2 cups chicken stock
1/3 cup olive oil
2 cups mushrooms
1 cinnamon stick
1 rosemary sprig
5 cloves, ground
2 bay leaves
Using vegetable oil and over high heat, thoroughly brown chicken pieces in large casserole, then remove and set aside.
In the same casserole on medium heat, sauté onion, garlic, mushrooms, and spices in olive oil until aromatic. Add tomato and chili paste and continue to sauté until the colour deepens, then deglaze with wine and then stock.
Bring to a simmer and adjust seasoning before returning the chicken to the mix. The liquid and vegetables should come about halfway up the chicken (not completely covering it).
Braise for 3 hours at 250°F or until meat is tender and comes away from the bone easily.
Garnish with generous amounts of shaved hard cheese and enjoy with grilled bread or Italian egg noodles. Serve with Terroir Collection Splitrail 2014 Merlot.
Yield: