There's nothing quite like summertime in the Okanagan, especially if you happen to be located in close proximity to an orchid that produces some of the region's finest bounty.
Since that is the case for Naramata Inn, chef Ned Bell has always designed his menus to make the most of the in-season fruits and vegetables at his disposal. This pan-seared halibut perfectly encapsulates that same spirit by combining fresh apricots, garden peas, elderflower, and honey with a buttery, freshly-caught wild Pacific halibut.
"Though there are beautiful apricots to be eaten all over this region, this dish begins with some pretty special apricots grown by Marika," chef Bell explains. "Located only 2km from Naramata Inn, Marika has a 400-tree orchard and farm that she and her partner Norman have been homesteading for 14 years. 50 of those acres have been held within the same family's larger acreage since the second world war. It is an extraordinary place that makes me feel transported to another part of the world."
Apricot compote
1 lb apricots, fresh, ripe, but firm, cut in half and pitted
3 tbsp flower honey
2 tbsp elderflower vinegar (below)
1 tsp sea salt
1 tbsp whole salted butter
Preheat a cast iron, or a heavy bottomed stainless steel, pan over medium heat.
Add 2 tbsp butter to the pan. Once melted, add the apricots, cut side down.
Gently roast for 1 minute, flip them over and add the honey and salt top.
After 30 seconds, add vinegar, remove from the heat and set aside.
Try not to overcook the apricots, though they are delicious no matter what.
Elderflower vinegar
1 litre white wine
1 litre pickling vinegar
1 cup honey
3 tbsp salt
1 lb fresh elderflower
Bring the wine, vinegar, salt and honey to a simmer in a pot on the stove.
Immediately remove from heat and pour over the elderflower.
Place everything in a large mason jar, sealed tub or other container.
Put mixture in fridge to cool, it will last for months and is delicious on its own or mixed with organic Canadian canola oil as a salad dressing or as a replacement for other vinegars.
Creamy pea puree
3 cups fresh peas
2 tbsp shallots, finely diced
3 tbsp butter
1 tsp salt
2 cups spinach
1 cup heavy cream
Melt the butter in a medium size pot, over medium heat.
Add shallots and saute for 2 minutes.
Add peas and saute for 2 minutes.
Add cream and simmerall for 3 minutes until the peas are tender.
Add spinach and remove from the heat.
Puree in a blender for 1 minutes until the mixture is vibrant green and ultra smooth.
Halibut and final steps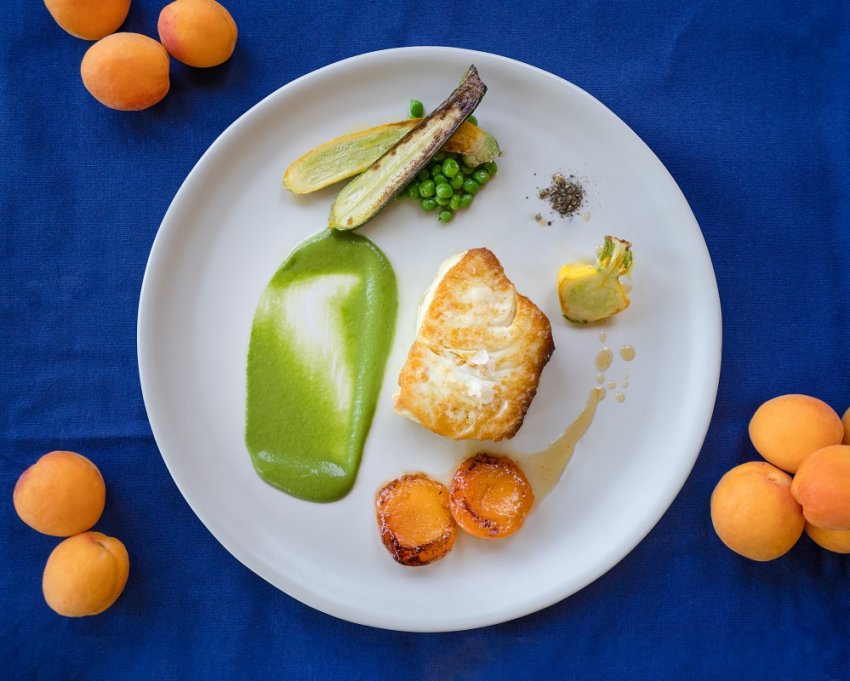 two to four 5 oz. portions Ocean Wise wild pacific halibut
¼ tsp of kosher salt per portion
summer squash, for garnish
fresh peas, for garnish
Preheat a cast iron, or a heavy bottomed stainless steel, pan to high heat.
Lay portions of seasoned fish into the pan.
Pan sear the fish for 20 seconds to begin the caramelization and then place the pan into a pre-heated oven at 400 degrees for 5 minutes.
Remove the pan and fish from the oven, gently flip the fish over, add a knob of butter and baste the fish for 20 seconds.
Remove the fish from the pan and set aside.
Perfectly cooked warm fish is always way better than overcooked hot fish.
In the same pan, add the cut summer squash, cut side down, place the pan in the oven for 3 minutes until the squash is golden brown and tender, add a handful of freshly shucked summer peas, saute for 1 minute and then serve..