Love Toronto's restaurants, but can't go out for dinner every night? With the new Toronto Eats cookbook, a follow up to Toronto Cooks, you can re-create some of your favourites in your own kitchen. The cookbook includes recipes and stories of 100 of Toronto's most popular restaurants and dishes, like this paella from Carmen spanish restaurant on Queen St. West.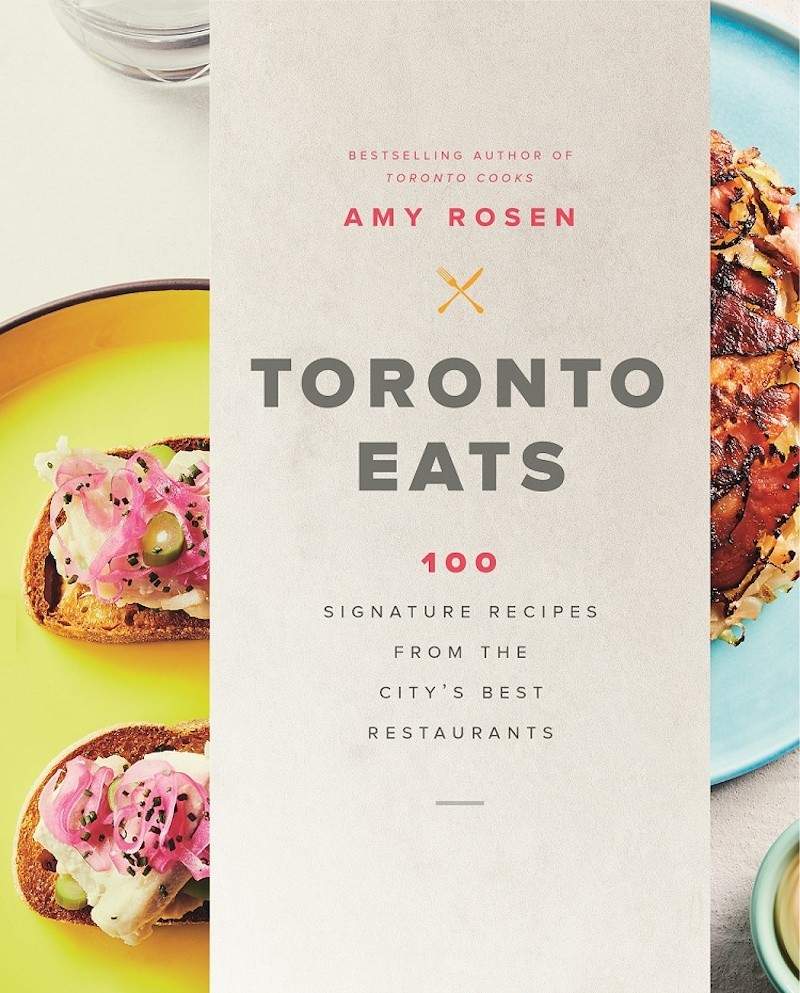 2 tbsp Arbequina olive oil
2 bone-in chicken thighs, cut into quarters
1 semi-cured chorizo sausage, cut into quarters
6 shrimp like B.C. spot prawns, heads on
1 small onion, finely minced
1 pinch saffron
1 cup bomba rice
3 cups chicken stock, divided
1/2 cup snap peas
1 cup mussels, cleaned
1 cup clams, cleaned
6 basil leaves, for garnish
1 lemon, cut into wedges, for garnish
1/4 red pepper, seeded and finely chopped
1/4 yellow or green pepper, seeded and finely chopped
1 clove garlic, minced
1/2 small zucchini, finely chopped
1/4 cup halved snow peas
1 tsp paprika
salt, to taste
Heat olive oil in a large paella pan or frying pan on medium. Add chicken and cook for 20 minutes, until well browned. Transfer to a plate. Add chorizo and cook for 2 minutes. Transfer to a separate plate. Add shrimp and cook for 2 to 3 minutes, until shells are opaque. Transfer to the plate of chorizo and set aside.
In the same pan, add onions and cook on medium-low heat for 10 minutes, or until translucent. Add peppers, stir, and cook for another 10 minutes. Add garlic, zucchini, and snow peas and cook for another 10 minutes. Add paprika, salt, and saffron, and then stir in rice.
Return chicken thighs to the pan, add 1 cup stock (enough to cover), and bring to a boil on medium-high heat. Gradually add remainder of stock, 1/2 cup at a time, and simmer for 10 minutes. Add snap peas, mussels, and clams, cooking for 5 minutes, or until clam and mussel shells have opened. Leave the pan of rice undisturbed (to release the gluten in the rice, which gives the paella a nice starchy finish). Discard any clams or mussels that have not opened.
Return chorizo and shrimp to the pan and cook for another 5 minutes. You want to build a light crust, known as socorat, at the bottom of the pan, which is the prized part of the paella. Turn off the heat and let the paella rest, covered, for 5 to 8 minutes before eating. Scatter basil leaves over the paella and serve with a lemon wedge, if using.