Although we're lucky enough to have most root vegetables available to us year round in Canada, the fall season is when root vegetables really start to hit their stride. In-season carrots are no different, offering a deeper and sweeter flavour profile than their out-of-season counterparts.
In Renée Kohlman's recently-released Vegetables: A Love Story cookbook, the acclaimed author doubles down on the inherent sweetness of in-season carrots with the addition of a balsamic glaze, but manages to achieve a beautiful balance thanks to the herbaceousness of her kale-based pesto.
"Making pesto is a great way to use up any wilted greens in the crisper. I love how the boldness of the kale is taken down a notch by the toasty nuts, aromatic herbs, and salty cheese," Kohlman explains in the recipe introduction. "When I have a jar of this in the refrigerator, it goes on all sorts of things, like roasted vegetables, hot pasta, pizza (base and topping), dips, and sandwiches. The pesto is also a fabulous companion to the caramelized balsamic carrots."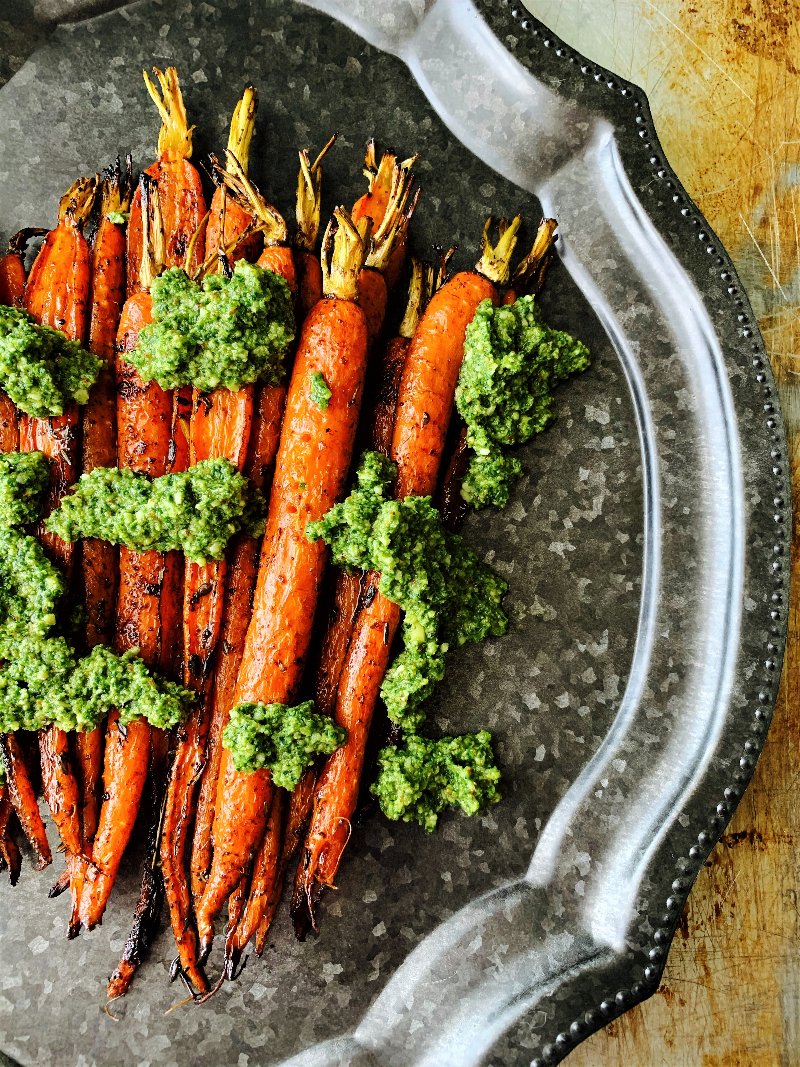 Pesto
3 cups chopped kale, centre ribs removed (or use spinach, chard, arugula, or a mix)
½ cup toasted pecans, (or almonds, walnuts, hazelnuts)
¼ cup fresh mint, (or basil, parsley leaves, or a combination)
2 garlic cloves
2 tbsp fresh lemon juice
½ tsp salt
¼ tsp pepper
¾ cup extra virgin olive oil
¾ cup grated Parmesan cheese, (or Asiago or pecorino)
Place the kale, pecans, mint, garlic, lemon juice, salt, and pepper in a food processor fitted with a metal blade.
Pulse until smooth. Scrape down the bowl.
With the motor running, gradually pour in the oil. Stop and scrape down the bowl.
Add the cheese and process just until smooth. Taste and adjust the seasonings. Scrape into a jar.
The pesto keeps well in the refrigerator for up to 10 days, or you can freeze it for up to 6 months. Makes about 1¼ cups.
Balsamic roasted carrots
1 lb carrots, little green tops attached, cut in half lengthwise
1 tbsp balsamic vinegar
1½ tbsp canola oil
½ tsp garlic powder
½ tsp salt
¼ tsp pepper
6 fresh thyme sprigs, (or 1 tsp chopped fresh thyme, or ½ tsp dried thyme)
Preheat the oven to 375°F. Line a rimmed baking sheet with parchment paper.
Place the carrots in a large bowl. Add the rest of the ingredients (balsamic vinegar through thyme) and toss well.
Transfer to the prepared baking sheet, being sure to scrape all of the oil and herbs from the bowl.
Spread the carrots out into an even layer.
Roast until the carrots are very tender and easily pierced with a fork, stirring four times, about 40–50 minutes.
Place the roasted carrots on a serving platter and spoon about ¼ cup of pesto over top. Serve immediately.
Yield: