Following the resounding success of her award-winning 2017 cookbook, All the Sweet Things, acclaimed author Renée Kohlman is finally set to release her highly anticipated follow-up this weekend.
Vegetables: A Love Story showcases an array of easy-to-follow vegetable-forward recipes organized alphabetically from asparagus to zucchini, along with seven captivating essays detailing the charming story of the popular food blogger and her love for a handsome vegetable farmer.
This roasted acorn squash with maple goat cheese and pecans recipe is one of 92 delicious recipes within the cookbook which, in addition to making wonderful use of in-season ingredients, also makes for an ideal Thanksgiving dinner side dish.
"I love seeing those gathered around my table tuck into their individual squash, my mom marvelling at how it's almost like dessert," says Kohlman in the recipe intro. "These roasted squash halves are quite delightful when served alongside juicy ham, tantalizing roast turkey, or even a platter of pot roast. They make a welcome contribution to any vegetarian feast, too."
Roasted acorn squash with maple goat cheese and pecans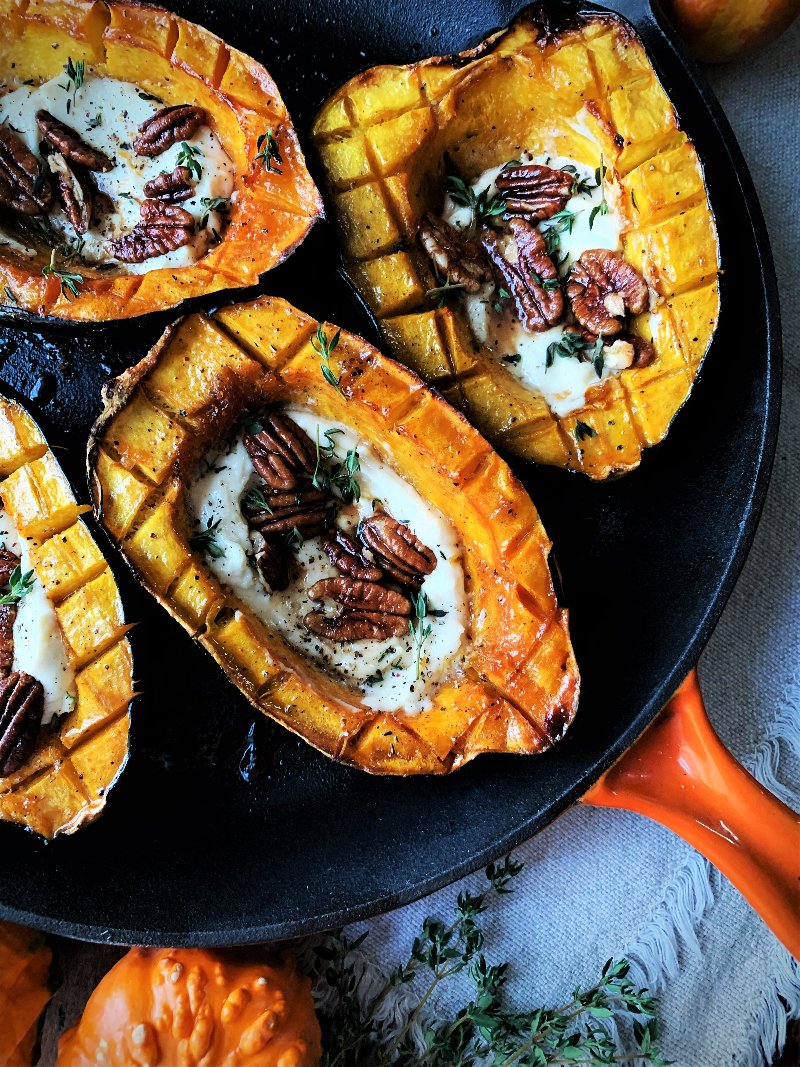 2 small (each about 1¼ lb) acorn squash, scrubbed
2 tbsp butter
¼ cup (firmly packed) brown sugar
¼ tsp salt, plus more to taste
pepper, to taste
1 package (5oz/140g) goat cheese, softened
2 tbsp maple syrup
⅓ cup pecan halves
fresh thyme leaves, for garnish (optional)
Preheat the oven to 425°F.
Cut each squash in half lengthwise. Scoop out and discard the seeds. Carefully trim about 1/8 inch off the bottom of each half so each squash will sit flat, cut-side up, in a 12-inch cast-iron skillet or on a rimmed baking sheet lined with parchment paper. Using a sharp knife, score the flesh of each squash. Rub with the butter, sprinkle with the sugar, and generously season with salt and pepper.
Bake the squash until tender, about 45–55 minutes, depending on their thickness. Using a pastry brush, baste each half at the 30-minute mark with the brown sugar butter juice that will pool in the middle of each squash. When the squash halves are roasted and tender, let them cool in the pan for 10 minutes.
In a medium bowl, beat together the goat cheese, maple syrup, and the ¼ tsp salt.
Place the nuts in a small bowl. Remove the brown sugar syrup from each squash half (a ¼ cup measure works well for this) and pour it over the pecans, tossing to coat.
Fill each squash half with some of the maple goat cheese. Top with the pecans, leaving the brown sugar syrup in the bowl. Return the squash to the oven and roast until the pecans are toasted, another 7–8 minutes. Remove from the oven and drizzle the remaining brown sugar syrup from the bowl over each squash half. Garnish with fresh thyme leaves, if desired.
Note: For even cooking, be sure the squash are of a similar size.
Yield: