A Greek salad could be considered as one of the most perfect all-season salads. With both locally-produced feta available in most major Canadian cities as well as greenhouse-grown cucumbers and tomatoes, this fresh-tasting dish can hit the spot any month of year.
It can also become a complete meal when you add some protein into the mix and that's exactly what Ricardo Larrivée is doing with this simple recipe from his latest cookbook, Sheet Pan Everything.
As the name might imply, the food personality's approach to a Greek salad calls for the use of a sheet pan where chicken and several of the salad ingredients are (eventually) roasted together. Roasting the tomatoes and onions help bring out a touch of sweetness and provide a subtle new flavour profile to the classic salad most of us know so well.
Dressing
1/4 cup olive oil
3 tbsp fresh lemon juice
1 tbsp honey
1 tsp dried oregano
2 garlic cloves, finely chopped
In a large bowl, whisk together all of the ingredients. Season with salt and pepper.
Greek chicken salad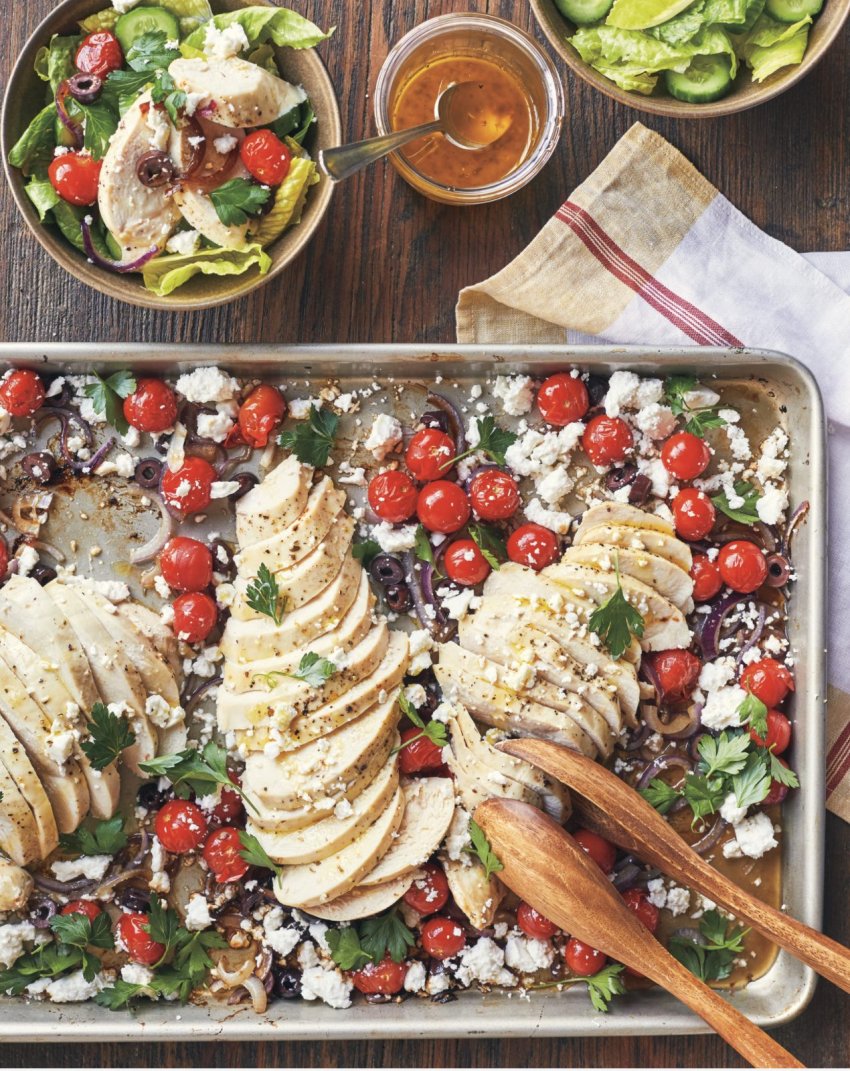 1 1/2 lbs skinless boneless chicken thighs
2 cups cherry tomatoes
1/4 cup pitted kalamata olives, cut into rounds
1 red onion, halved and thinly sliced
7 ounces crumbled feta cheese
1/4 cup fresh flat-leaf parsley leaves
4 Lebanese cucumbers, cut into 1/4" rounds
2 romaine hearts, torn
With the rack in the middle position, preheat the oven to 400°F (200°C).
On a non-stick sheet pan, toss the chicken with 2 tbsp (30 ml) of the dressing and bake for 15 minutes. Set the remaining dressing aside.
Remove the sheet pan from the oven. Arrange the tomatoes, olives and onion (see note) around the chicken. Bake for another 5 minutes or until the chicken is cooked through.
Let cool for 5 minutes. On a work surface, thinly slice the chicken and return to the sheet pan. Adjust the seasoning. Sprinkle with the cheese and parsley.
Add the cucumbers and lettuce to the bow1of dressing. Mix well. Serve the salad in bowls. Top with the chicken mixture.
(Author's note: By adding the onion at this stage, it loses its strong raw onion taste while staying crisp. If desired, you can cook the onion longer by adding it at the same time as the chicken.)
Yield:

Prep Time:

Cook Time: