You may already know what the best restaurants in Winnipeg are, but did you know that you can take home the recipes for some of your favourite dishes from those restaurants?
Winnipeg Cooks, the new cookbook from a suite of city-based cookbooks by Figure 1 Publishing, features chefs' recipes for some of the most popular dishes in Winnipeg, MB. If you love Segovia Tapas Bar and its octopus, you can make it at home using this recipe. It may look complicated, but it's really worth a try.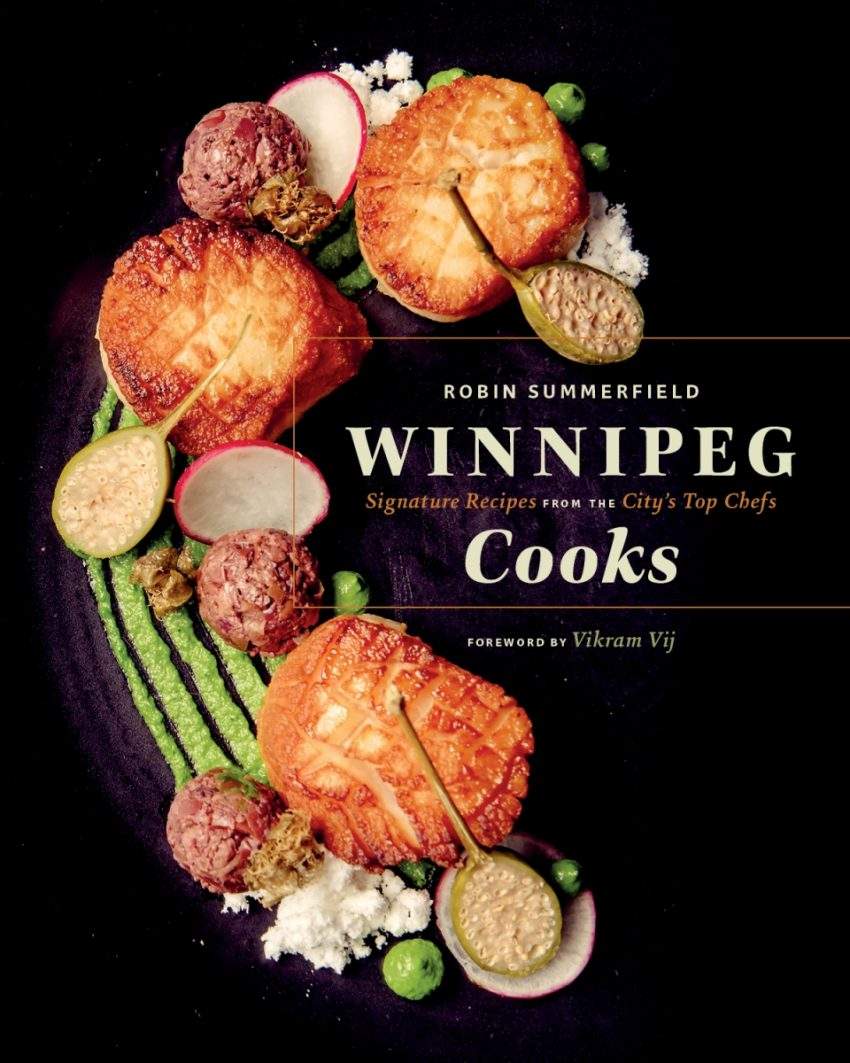 Brine
1/2 cup salt
1/2 cup granulated sugar
15 cups warm water
1 small whole octopus
In a container large enough to submerge octopus, combine salt, sugar, and warm water. Stir until salt and sugar are completely dissolved. Let cool.
Using a sharp knife, cut through the sac-like body of the octopus, separating the tentacles from the body (discard head and beak). Submerge tentacles in brine and transfer to the refrigerator for 2 1/2 hours to soak.
Blanch
17 cups water
1/4 cup salt
In a large pot, bring water and salt to a boil.
Add brined octopus tentacles and boil for 1 minute.
Drain tentacles and pat dry with paper towel. Remove any slime and other impurities on octopus skin. Rinse under cool running water and set aside.
Braise
2 bulbs garlic, halved
1 lemon, halved
8 bay leaves
Fill a large pot with water. Add garlic, lemon, and bay leaves and bring to a boil. Reduce heat, maintaining temperature between 190˚F and 200˚F.
Place blanched octopus in pot, ensuring it is completely covered in liquid, and bring to a boil. Reduce heat and simmer for 1 hour (start timer once water reaches between 190˚F and 200˚F).
Drain octopus (discard solids) and set aside.
Potatoes
4 cups fingerling potatoes, sliced lengthwise and cut into 1/4-inch pieces
1 tsp dried oregano
1 tsp hot paprika
1/4 cup olive oil
salt and black pepper, to taste
1/2 lemon, zest only
Preheat oven to 350˚F. Line a baking sheet with parchment paper.
In a large bowl, toss together all ingredients until well coated.
Transfer potatoes to a prepared pan. Roast in preheated oven for 35 minutes or until tender. Set aside.
Chimichurri
2 serrano chilies
1 cup olive oil
1/4 cup sherry vinegar
1 1/2 tbsp dried oregano
1 tsp salt
1 bulb garlic, minced
2 tsp hot Spanish paprika
1 tsp dried thyme
1 bunch fresh flat-leaf parsley leaves, finely chopped
Over an open flame or on a hot grill, roast chilies just until blistered. Transfer chillies to a bowl and cover with plastic wrap; set aside for 5 minutes to cool (this helps loosen the skin).
Remove skin and seeds and finely dice.
In a small bowl, combine peppers with remaining ingredients. Set aside.
To serve
Preheat grill to high.
Sprinkle half of the chimichurri on octopus; place remaining chimichurri in a large bowl.
Shake off any excess chimichurri and place octopus on a hot grill. Grill for about 2 minutes per side or until octopus is slightly charred all over. Remove from grill and place octopus in reserved chimichurri. Let rest.
In a skillet over medium heat, heat oil. Add shallots and sauté for 2 to 3 minutes or until soft. Add roasted potatoes, lemon zest and lemon juice, water, and salt and pepper to taste. Cook until potatoes are heated through.
Serve potatoes family-style: transfer to a platter and top with grilled octopus. Drizzle chimichurri around platter and garnish with parsley.
Yield: