There are many baking authorities in this world, but if we had to place our trust in just one individual, it would be Anna Olson. The long-time Food Network Canada personality has become a baking encyclopedia thanks to the pastry chef sharing her expertise via television shows and cookbooks.
Her latest cookbook Anna Olson's Baking Wisdom: Everything You Need to Know to Make You a Better Baker will be released on March 14, 2023 and promises to feature her top essential baking tips and over 150 no-fail recipes. All of which can likely help even the most unskilled home bakers become more confident in the kitchen.
From savoury dishes like salmon and spinach wellingtons or bacon, beer and mushroom quiche to brown butter pecan pie and a stunning (but easy-to-make) pink lemonade eton mess, there's plenty to get excited about within the (464!) pages of Anna Olson's Baking Wisdom.
"I love these bars when you want to fill a CCC (chocolate chip cookie) need but you don't have the time, patience or volunteers to help you scoop cookies. Super chewy, these bars are easy to slice and they freeze fantastically well, too," says Anna Olson in the introduction to the recipe in her new cookbook.
If you're curious why it calls for cornstarch in the cookie dough, Olson explains: It's my secret for the perfectly chewy centre of my signature chocolate chip cookies, and it also keeps these bars nice and chewy."
As you will discover below, this recipe is both a breeze and undeniably rewarding.
Chewy chocolate chip cookie bars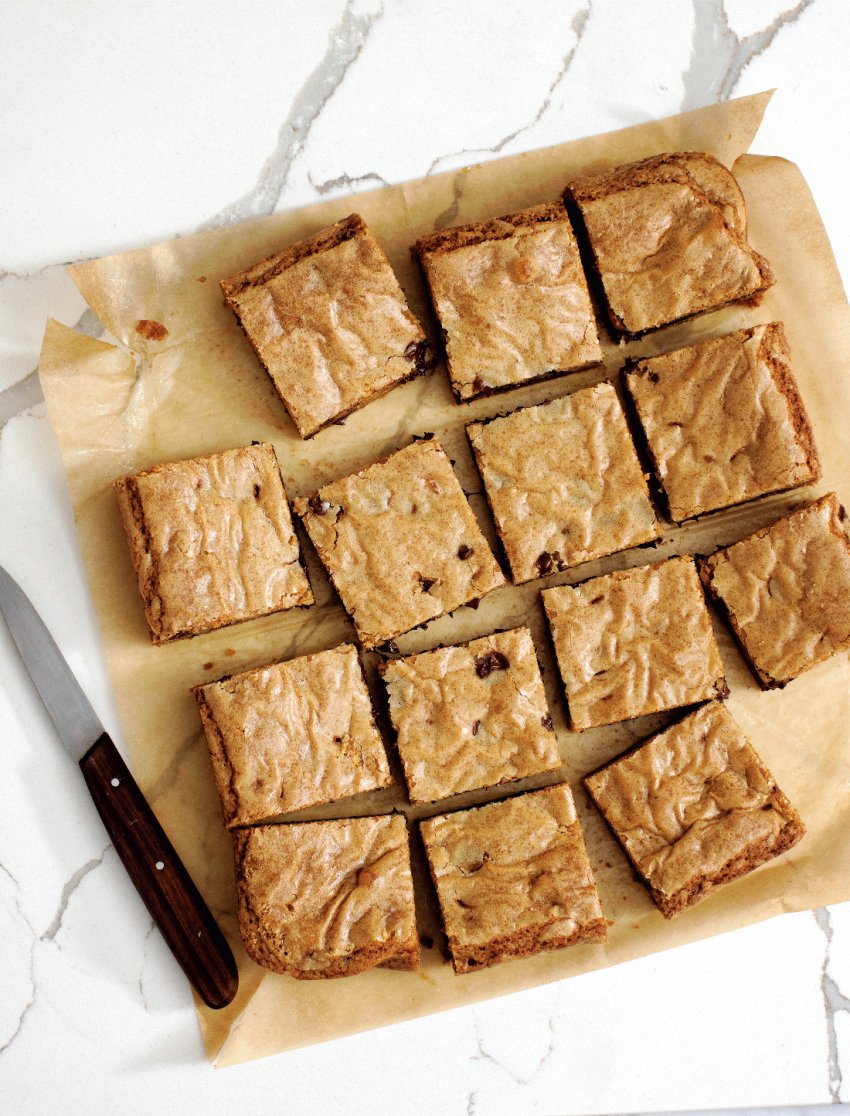 1 cup unsalted butter, melted and cooled
1 cup packed light brown sugar
1/2 cup granulated sugar
2 large eggs
2 tsp good quality vanilla extract
2 1/4 cups all-purpose flour
1/4 cup cornstarch
3/4 tsp baking soda
3/4 tsp fine salt
1 1/2 cups chocolate chips
Preheat the oven to 350°F (180°C). Lightly grease and line a 9-inch (23 cm) square pan with parchment paper so that the paper comes up the sides.
Combine the butter and sugar. Whisk the melted butter with the brown and granulated sugars. Whisk in the eggs and vanilla.
Sift in the flour, cornstarch, baking soda and salt and stir until evenly combined. Stir in the chocolate chips. Scrape the batter into the prepared pan and spread to level it.
Bake the square for about 30 minutes, until it starts to rise at the edges. Cool in the pan on a rack, then use the parchment paper to lift the square out of the pan and cut into squares.
The bars will keep, well wrapped, in the fridge for up to 5 days or frozen for up to 3 months.
Yield:

One 9-inch square pan (16 to 25 squares)

Prep Time:

Cook Time: