"In the spring, when I need inspiration for a quick dinner, I slip on rain boots and head outdoors. When I see spinach leaves waving at me from the garden, I immediately know what I'll make. Spinach is one of the first crops up in the garden, and I gather a bowl of leaves, as well as a few eggs from the chicken coop. Together they will be the base for an easy pasta sauce and we will be eating within 20 minutes. If having two superfoods in one dish doesn't convince you to make this dish, then perhaps the simplicity of the recipe will." - Aimée Wimbush-Bourque, author.
You heard the woman. You only need a handful of ingredients and some inspiration for this spinach pasta. Oh, yes, and superfoods, there are two in this dish. So, you can have this as often as you'd like.
Spinach and Ricotta Pappardelle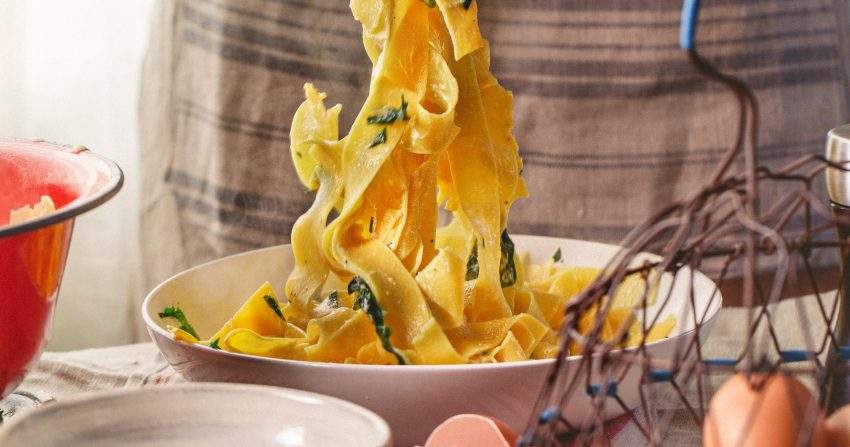 2 tbsp salted butter
5 cups packed fresh baby spinach
salt, to taste
500 g pappardelle pasta
2 egg yolks
2 tbsp light cream (15%)
1/2 cup ricotta cheese
1/4 cup grated Parmesan cheese
pepper, to taste
Bring a large pot of salted water to a boil over high heat.
Meanwhile, melt butter in a large frying pan over medium heat. Add spinach to the pan, salt lightly, and cook until it is wilted, but not completely cooked, about 2 minutes. Remove from heat.
Cook pasta for 5-7 minutes ,or according to the package's recommended cooking time.
While the pasta is cooking, whisk together the egg yolks, cream and ricotta in a large bowl.
Drain pasta and add it to the ricotta mixture. Toss well to coat. Add wilted spinach and Parmesan to the pasta and mix well. Season with salt and freshly ground pepper as needed and serve at once.
Yield:

Prep Time:

Cook Time: