While we're obviously of the mindset that eating is one of the funnest activities one can enjoy in life, sometimes it takes a while for kids to get there—that is, if they even get there at all. Food writer Joanna Fox set out to find out if the same was true for Canada's top chefs, and to her surprise, it turns out they too struggle with picky eaters.
Thankfully, in her recently published Little Critics cookbook, those chefs shared some of the dishes they designed to solve the problem. The result is more than 100 no-fail recipes that are sure to satisfy even the most fastidious of fussy eaters.
This carrot ginger soup comes courtesy of Calgary-based chef Rogelio Herrera, who for well over a decade has helmed the kitchen at Alloy, helping it become one of the city's most popular and most acclaimed eateries.
Carrot ginger soup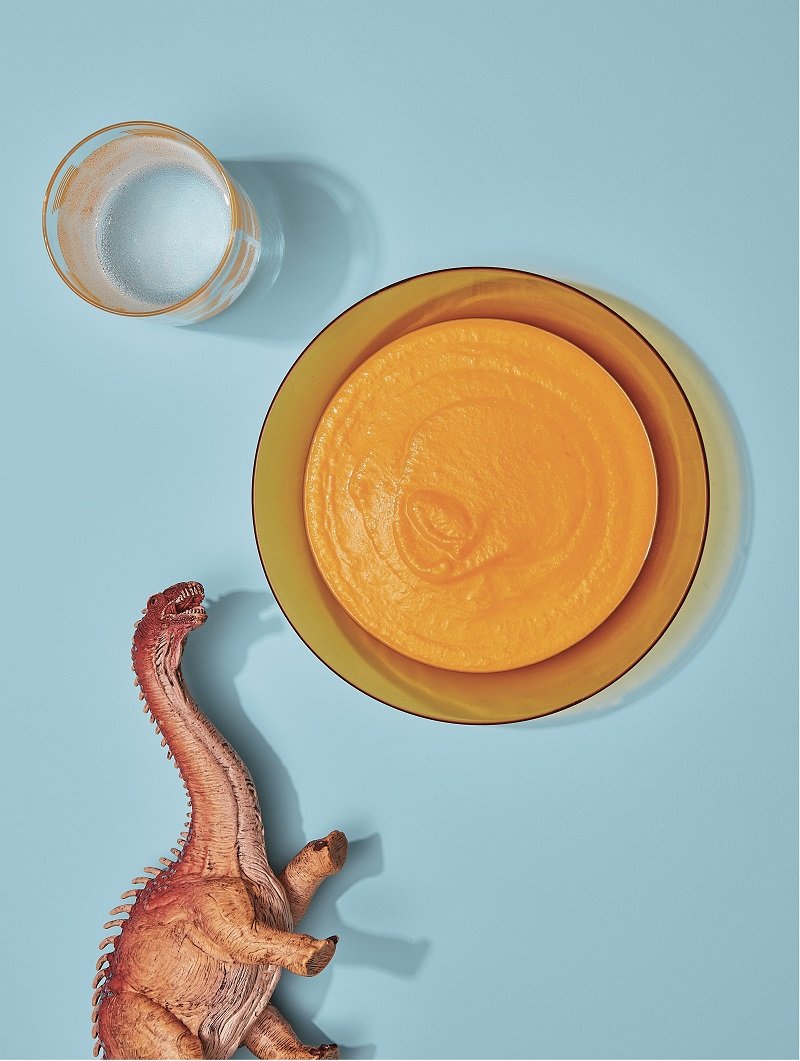 2 tbsp olive oil
1.1 kg (2½ lb) organic carrots, peeled and chopped
½ cup chopped onions
1 tbsp ground ginger (or ½ tbsp grated fresh ginger)
½ tsp ground turmeric
4 cups cold water
2 cups coconut milk
salt, to taste
1 cup Balkan yogurt, in a squeeze bottle
In a large pot over medium heat, heat the oil. Add the carrots and onions and sauté until soft, about 8 minutes, stirring constantly to prevent scorching.
Add the ginger and turmeric and stir until the carrots are coated with the spices, about 2 minutes.
Add the water and coconut milk, and season with salt to taste. Bring the soup to a boil, then reduce to a simmer and cook for 30 minutes, stirring occasionally.
Remove from the heat and let cool for 10 minutes. Using a blender, purée the soup a few cups at a time until smooth. Pass the purée through a fine-mesh sieve. Taste and adjust the seasoning as needed.
To serve, ladle the soup into bowls and drizzle with the yogurt in the shape of a happy face, if you like. Store in an airtight container in the freezer for up to 3 months.
NOTE: This recipe is vegetarian and gluten-free, and if the yogurt is left out, it's vegan.
Yield:

Prep Time:

Cook Time: