With a wildly popular blog It Doesn't Taste Like Chicken and two previous best-selling cookbooks (Fuss-Free Vegan and Fast Easy Cheap Vegan), Toronto's Sam Turnbull is a happily celebrated creative mind in the plant-based food community.
Turnbull is back with her third book, Craving Vegan and the 101 recipes are as fun and easy-to-make as ever. One of the most fun things about this new vegan cookbook is that she's organized her recipes by craving—Think "chocolatey", "crunch", "spicy", et al.)
We're into it!
This cookie recipe from her new cookbook is sure to be a hit with plant-based eaters and omnivores alike.
"Is it a brownie? Is it a cookie? It's BOTH! These cookies are chewy and fudgy and taste just like brownies with the crunch of walnuts. Yuuuuummmm. This recipe is simple to make, and that's a good thing, because you'll probably be making these again, and again, and again, and again," writes Sam Turnbull in the introduction to this recipe in Craving Vegan.
Brownie walnut cookies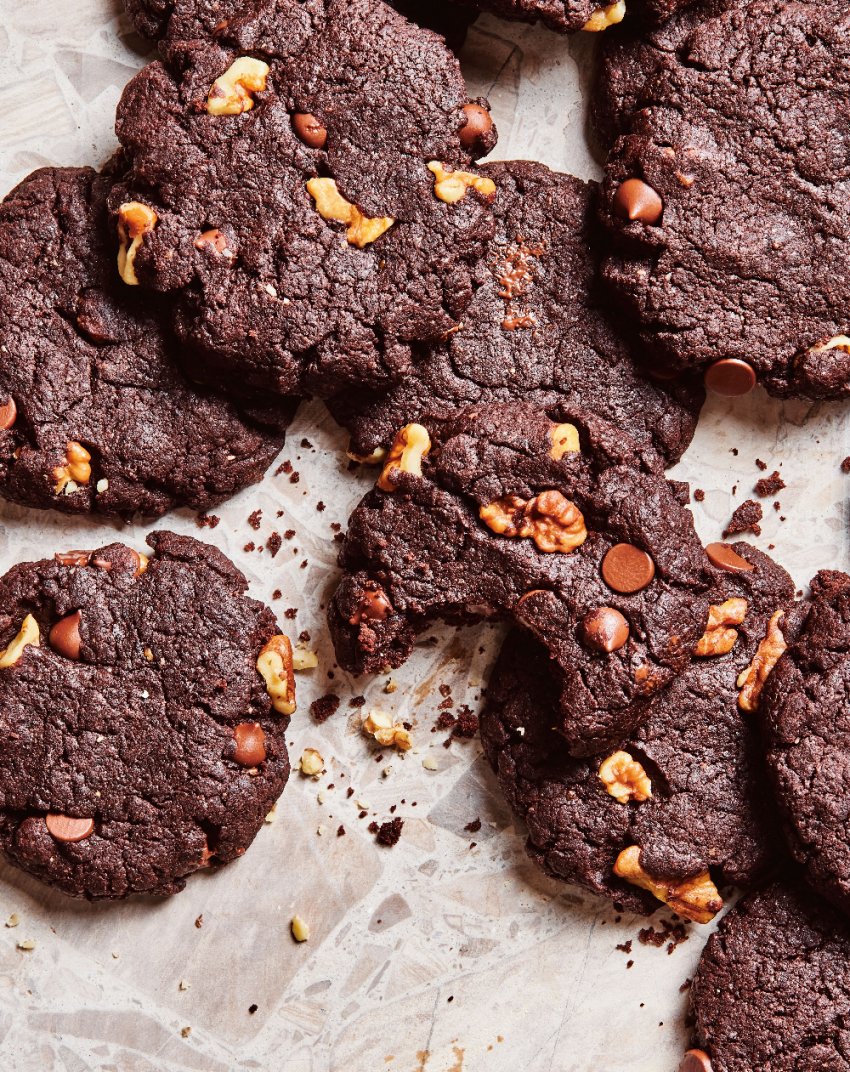 1 cup (250 mL) white sugar
¾ cup (185 mL) melted vegan butter
½ cup (125 mL) cocoa powder
¼ cup (60 mL) plant-based milk (such as oat or soy)
1 Tbsp (15 mL) ground chia or ground flax
2 tsp vanilla extract
½ tsp baking powder
½ tsp salt
1⅓ cups (330 mL) all-purpose flour
½ cup (125 mL) chopped walnuts (see note)
¼ cup (60 mL) vegan chocolate chips
Preheat your oven to 350°F (175°C). Line a large baking sheet with parchment paper or lightly grease it.
in a large bowl, place the sugar, vegan butter, cocoa powder, plant-based milk, chia, vanilla, baking powder, and salt and mix until combined. Add the flour and mix until just combined. Lastly, stir in the walnuts and chocolate chips.
Scoop about 2 Tbsp (30 mL) dough and form into a cookie shape. The cookies will not spread much, so make each cookie the desired size and thickness. Bake for 10–12 minutes, until the edges appear set.
Let cookies cool on the baking sheet. Store the cookies in an airtight container at room temperature for up to 6 days or in the freezer for up to 3 months.
Yield:

Prep Time:

Cook Time: