Candies and chocolates aren't the only sweet treats you can indulge in for Halloween. For grown ups, this Halloween cocktail from Vancouver's UVA is where it's at, and you can get it between Friday, October 25 and Thursday, October 31. You can also make it at home with this recipe.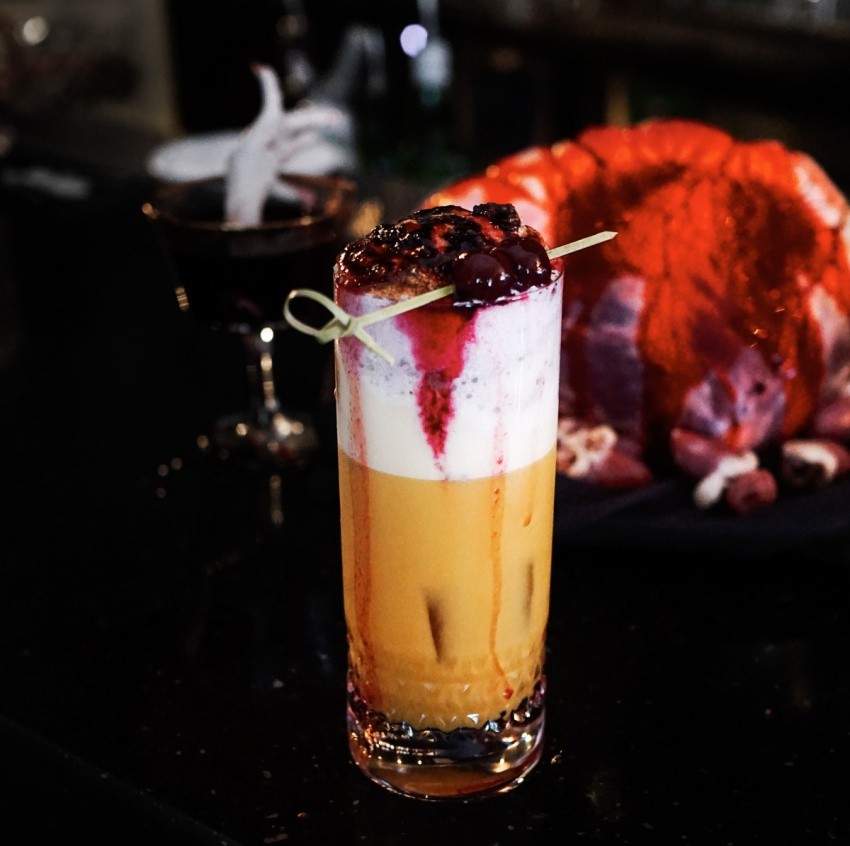 Meringue
3 egg whites
1 oz. creme de cassis
If you have a whipped cream canister, charge the cartridge twice with a N20 charge to get that extra frothiness, then add the 3 egg whites and crème de cassis to a whipped cream canister. Shake vigorously and put aside.
If you don't have a whipped cream canister, you can whip the egg whites as you normally would with a beater.
Cocktail
3/4 oz. Evan Williams Bourbon
1/4 oz. Fernet-Branca
2 tsp Laphroaig 10 Year Old single malt whisky
3/4 oz. lemon juice
1/2 oz. maple syrup
1 dash Angostura Bitters
1 egg yolk
grated chocolate, for garnish
granulated sugar, for garnish
Brandied cherries, for garnish
Place all cocktail ingredients, except garnish, into a shaker without ice. Dry shake to froth the egg yolk. Add ice and shake again.
Fine strain into a Collins glass and add ice. Very slowly top with the meringue. You want it to sit on top, not mix in with the cocktail.
Sprinkle grated chocolate and sugar on top of the egg whites, then, using a blow torch, crisp the top of the egg whites. If you like, add two brandied cherries or any other garnish you prefer.

Yield: