More than just the ancient art of turning pork and other proteins into the pâtés, rillettes and other cured meats that we love, the term "charcuterie" has come to describe sharing boards including various meats, preserves, breads and cheeses. With many chefs curing their own charcuterie in-house the world over, you'll be hard pressed to find a restaurant in your city that doesn't offer a delicious board. With embellishments like chutneys and olives, charcuterie has been taken to a whole new level.
Don't be convinced that the assembly of modern day charcuterie is relegated to only those behind the line in the country's top restaurants. Throwing together your own board is not only impressive, it's damn easy. There's no cooking, barely any prep and there's nothing more delicious than meat, cheese and bread. Hell, my friends and I call this our dinner most of the time.
So, grab yourself a big ol' cutting board and make your next dinner party a little more interesting!
Meat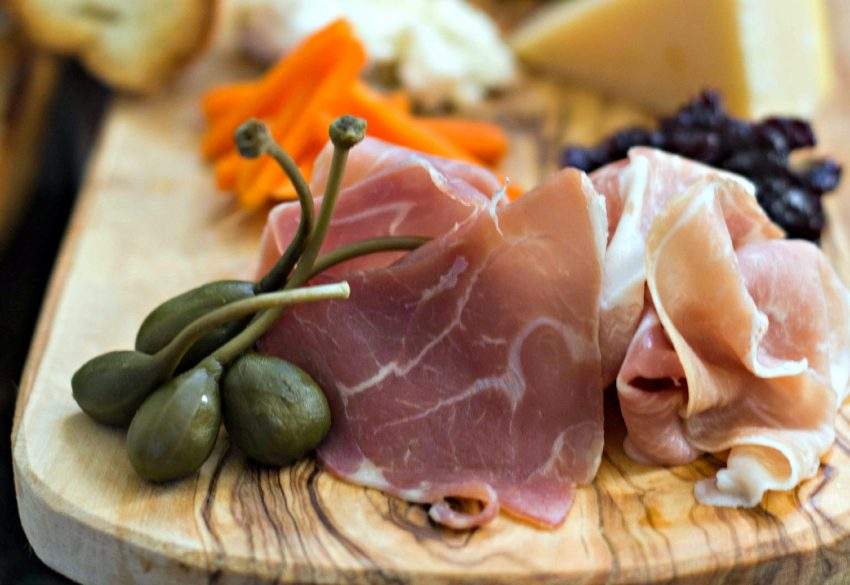 If it's cured, it's a go. Prosciutto, Genoa, pancetta, coppa, Bündnerfleisch, guanciale, bresaola, chorizo — use all of them! And don't just stop there; up your charcuterie game by including pâté, rillette, and terrine. If you're lucky enough to have a local charcuterie shop like our Charcuterie Ratinaud, selecting unique items like duck prosciutto or rabbit rillette will have you winning at charcuterie in no time. And, there's no need to limit yourself to beef or pork either; well-smoked salmon is always welcomed on my board.
Cheese
When it comes to cheese, think variety. A sharp aged Gouda, an earthy Camembert and a pungent blue cheese will have all your bases covered. Though, is there really such a thing as too much cheese? That Dutchman's Old Growler aged gouda and its Dragon's Breath Blue (not as scary as it sounds!) are some of the best varieties you can get your hands on in the province.
Pickles
Pickles, meat and cheese are best friends. Sure, a simple garlic dill is a good start. But, pickled onions, carrots, garlic, asparagus, and beans all work wonders with charcuterie. Olives? Always. Any of the local markets (Seaport, the Historic Brewery Market and the Alderney Landing Farmers Market in Dartmouth) will have a huge selection of preserves and pickles straight from grandmothers' recipes the province over. Another amazing pickle supplier that's also at Seaport is the Naked Pickle.
Preserves and Mustards
Adding a sweet element to the board balances out the saltiness of a pancetta or Gorgonzola and the richness of a pâté. Any homemade jam, jelly or chutney will work, although hot pepper jelly is among my top picks. Plus, a spoonful of whole grain mustard is a requirement. Pat's Preserves is available at the Halifax Seaport Farmers Market by the man, Pat, himself. His jellies are a must!
Fruits
If you've ever had blue cheese with pears or melons with prosciutto, you'll know what I'm talking about. A thinly-sliced local Honeycrisp apple or pear, a handful of dried cranberries, even some dates — anything goes. Pete's has pretty much everything you're looking for, from fresh fruit to dried fruit like figs and currants.
Bread
Sliced baguette is as simple as it gets, but adding something crunchy like crostini or crackers is the way to go. Show the gluten-free gang some love by including rice crackers. They'll think you're the shit. Again, Pete's is definitely your stop for some quality bread.
Board
Last, but not least, you're going to need something on which to serve all of this deliciousness. A regular dinner plate is just not going to cut it. In Halifax, we have an amazing local spot called Swaine Street Woodworking. Jana, the artist, will not only craft you a beautiful board, but personalize it as well. It doesn't really get any better than that. If a show-stopping, sexy charcuterie board isn't in your budget, then a a large wooden cutting board will definitely do the trick.