If you're stressed out over the holidays, you can breathe a sigh of relief because Ricardo magazine's Holiday 2016 issue is full of ideas and make ahead recipes that you can tackle over the next few days and keep in the freezer until later. You'll find this mousse cake recipe in the issue, which is Ricardo's homage to the Canadian favourite McCain's chocolate cake, just in time for the holidays. The mousse is made with cream instead of egg whites, and the cake is topped with a gooey ganache. Just pull it out of your freezer and let it get up to temperature for when you're ready to serve.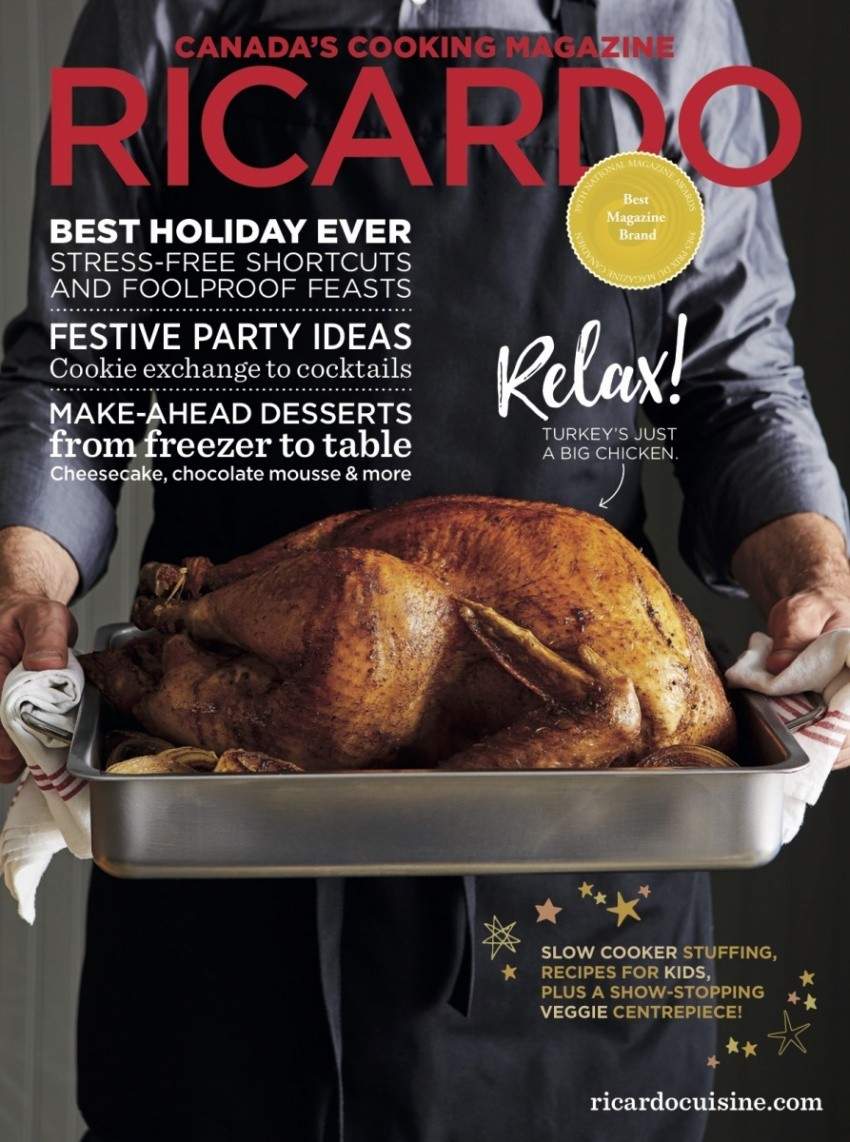 Cake
1/2 cup unbleached all-purpose flour
1/4 cup sugar
2 tbsp cocoa powder, sifted
1/4 tsp baking soa
1/3 cup water
2 tbsp canola oil
1 tsp white vinegar
With the rack in the middle position, preheat the oven to 350°F (180°C). Butter an 8-inch (20 cm) springform pan and line the bottom with parchment paper.
In a bowl, combine the dry ingredients. Stir in the water, oil and vinegar with a whisk until smooth. Spoon into the prepared pan.
Bake for 10 to 12 minutes or until a toothpick inserted into the centre of the cake comes out clean. Let cool on a wire rack. Do not unmould.
Chocolate mousse
7 oz. dark chocolate, chopped
1 tsp gelatin
2 tbsp water
1/2 cup sugar
2 cups heavy cream
In a bowl placed over a pot of simmering water or in the microwave oven, melt the chocolate. Let cool slightly.
In a small bowl, sprinkle the gelatin over the water and let bloom for 5 minutes.
In a small saucepan over medium heat, heat cup (60 ml) of the cream with the sugar until the sugar has dissolved. Remove from the heat and stir in the gelatin until completely dissolved. Add the cream mixture to the melted chocolate and stir to combine.
In another bowl, whip the remaining one cup of cream with an electric mixer until stiff peaks form. Combine one-quarter of the whipped cream with the chocolate mixture. With a spatula, gently fold in the remaining cream. Spoon onto the cake in an even layer. Refrigerate for 4 hours or freeze.
Ganache and assembly
3 oz. dark chocolate, chopped
1/3 cup heavy cream
Unmould the cake and place on a serving platter. If frozen, leave the cake at room temperature for 1 hour.
Place the chocolate in a bowl. Set aside.
In the microwave oven or in a small saucepan, bring the cream to a boil. Add to the chocolate and let melt for 1 minute. With a spatula, stir the ganache until smooth. Pour over the cake, letting it run over the sides.
Yield:

Prep Time:

Cook Time: