Fall is the perfect time for apples, but don't just eat them raw. They are excellent cooked, in savoury dishes or in desserts and snacks like this cookie.
Applesauce oatmeal cookies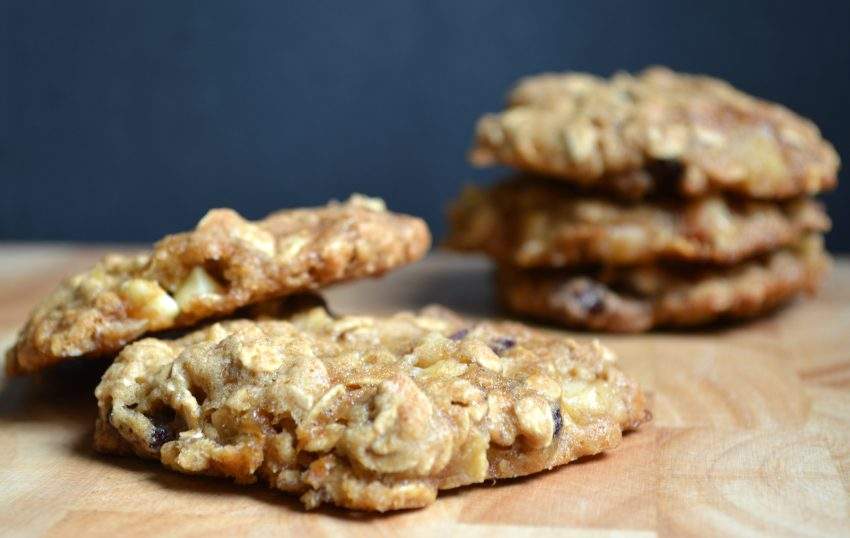 1/4 cup butter, soften
2 cup brown sugar
2 eggs
1/2 cup applesauce
2 cups all-purpose flour
2 tsp baking powder
1 tsp baking soda
1 tsp salt
1 tsp ground cinnamon
2 cups rolled oats
1 cup peeled and diced appled, sautéed (see instructions below)
1 cup white chocolate chips
1 cup dried cranberries
Preheat over to 350F.
Blend together the butter and brown sugar to form a smooth paste.
Stir in the eggs and applesauce. Beat until smooth.
Add the remaining ingredients, including the sautéed apples, and stir until everything is well incorporated.
Working in batches, spoon the dough onto parchment lined baking sheets and bake for 10 to 12 minutes.
Cool and enjoy!
Sautéed apples: Add apples to pan set over medium heat with a small spoonful of butter until they start to get some colour on them. Then add a pinch each of cinnamon and sugar to flavour them, cooking until caramelized and golden. Remove the apples from the heat and allow them to cool before adding them to the cookie dough.
Yield: