Not impermeable to adaptations, classic and traditional dishes can often be changed into something more interesting, decadent and easier to make. Take the tiramisu, traditionally made by alternating layers of coffee- and booze-soaked ladyfingers with mascarpone cream and topped with cocoa; it can be changed up with many different flavour combinations for a modern version.
As a substitute of ladyfingers, you can use anything from puff pastry and graham crackers to waffles and sponge cakes. Then, you can layer on ice cream (like the semifreddo seen above) instead of mascarpone, if you so choose. Add an additional layer of filling, which can be anything from nutella to lemon curd. Finally, top with nuts, fruits or chocolate.
Here's the recipe for a chocolate fig "tiramisu", and four other ideas to make your tiramisu-inspired dessert extra special.
Chocolate fig tiramisu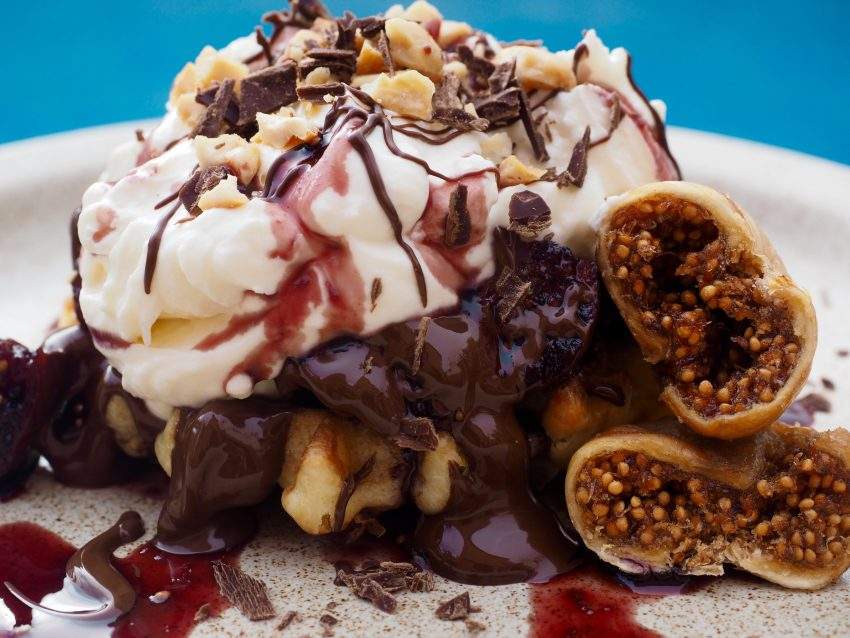 1½ cups red wine
4 tbsp sugar
8 dried figs, stems removed, cut in quarters
1 cup heavy cream
2 tbsp icing sugar
1/2 cup mascarpone cheese
1/4 cup dark chocolate (62%), melted
2 mini waffles, toasted
cashews, roughly chopped, for garnish
In a small pot over medium heat, add wine and sugar, stir to dissolve.
Let wine and sugar bubble and reduce for approximately 15 minutes or until reduced by half.
Add figs to the wine and let sit for about 5 minutes. Let cool.
In a medium bowl, whip cream and icing sugar until firm peaks form.
Gently fold 1/3 the whipped cream into the mascarpone. Gently fold the remaining whipped cream into the mascarpone.
To assemble, spoon the figs and wine over the waffle. Spoon the melted chocolate over the top. Dollop on the mascarpone mixture.
Drizzle with wine reduction and melted chocolate. Sprinkle with cashews.
Serves 2.
White chocolate tiramisu with lime and pistachios
Use graham crackers, drizzled with lime juice, as the base. Layer on quark and chantilly cream and melted white chocolate, then top with lime zest and crushed, roasted pistachios.
Apple walnut tiramisu
This treat is much easier to make than an apple pie. Over a puff pastry base, spoon on a layer of apples cooked with your favourite spices (cinnamon, pumpkin pie spice, ground ginger, nutmeg, mace) and some apple cider. Add a layer of mascarpone before topping with roasted walnuts and maybe even a caramel sauce, if you're feeling indulgent.
Chocolate peanut butter tiramisu
Chocolate and peanut butter is a popular flavour combination. Over a mini-waffle base, spread on a layer of peanut butter, then a mixture of cream cheese and chantilly cream. Drizzle with melted dark chocolate and top with crushed, roasted salted peanuts.
Coconut mango tiramisu
For this fruity take on the dessert, start with a pound cake base drizzled with coconut milk, then layer on sliced ripe mango, mascarpone and chantilly cream. Top with toasted coconut.