Let us pause on November 11th to remember those veterans who fought for our country and their sacrifices so that we, today, could enjoy peace and freedom — the very things that make us Canadian. Eat North would like to show our respect the best way we know how: recreating a classic wartime recipe.
During World War II, food shortages limited access to basic items, so families needed to get creative with what they got from the coupons they received each month for their ration of eggs, milk, butter and other necessities.
Although the War Cake (very similar to Wacky Cake often made during the Depression) was created to accommodate tougher times, this eggless, butterless and milkless cake quickly became a wartime favourite. Recipes varied depending on what was available each day. To replace the lost richness, moisture and flavour of dairy and eggs, raisins and spices were used to enrich the flavours (although these were also sometimes rationed). This cake wasn't only eaten domestically; it was often shipped overseas to soldiers on the ground in care packages as a reminder of home. The recipe has since been passed down from generation to generation and is now recognized as a hefty, budget-friendly and simple recipe.
Fun fact: Canadian housewives earned the title of "housesoldiers" as they fought to provide their families with healthy, nourishing meals on a limited budget, with a shortage of key ingredients. Check out the awesome cookbook made by the famous "housesoldiers".
War Cake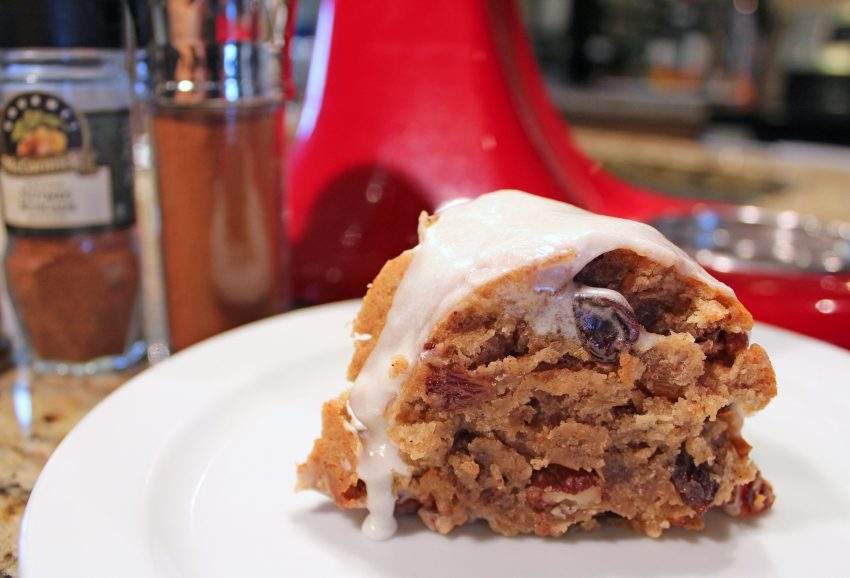 2 1/2 cups raisins
2 cups lightly packed brown sugar
2 cups plus 2 tsp water, divided
3/4 cup shortening
1 tsp salt
1 tsp cinnamon
1 tsp nutmeg
1/2 tsp ground cloves
1/4 tsp ground ginger
1/8 tsp ground cardamom
2 tsp baking soda
3 cups all-purpose flour, sifted
pecans (optional), chopped
Preheat oven to 350 degrees.
Combine raisins, sugar, 2 cups water, shortening, salt and spices in a saucepan over medium-high heat. Boil for 5 minutes, stirring occasionally. Cool to room temperature.
In a separate small bowl, dissolve baking soda in 2 teaspoons of water, set aside.
Stir flour and pecans (if using) into raisin mixture and beat until well incorporated. Stir in dissolved baking soda mixture.
Pour into greased cake pan or tube pan and bake 45-50 minutes, or until a toothpick inserted in centre comes out clean.
Let cool for 5 minutes in the pan, then invert onto a wire rack to cool completely.
*War cake was not traditionally frosted, but rather served with a scoop of ice cream or whipped cream, if available. Feel free to add your favourite icing to it. After all, it's because of our wonderful veterans that we now have access to any ingredients we wish for.
#LestWeForget