Nk'Mip Cellars is known for producing quality wines on the Osoyoos Reservation in the Southern Okanagan, but did you know, they are one of only two Indigenous-owned wineries in all of Canada and were the very first Indigenous-owned winery to open in North America? The Osoyoos Band has been planting grapes in the region since 1968, with a number of their vineyards dating back as far as 1977, giving them some of the oldest rootstock in all of British Columbia.
Justin Hall, winemaker at Nk'Mip, who initially had no great expectations for his future in the wine industry, says, "It was after four days of working… that I realized I wanted to be in the wine industry for good. I had never known previously what I wanted to do, I was an auto mechanic for a short term, but when it hit me, it hit me like a sledgehammer." Since then, his passion for wine has taken him across the world where he participated in crush at Goundrey Winery in West Australia, and then graduated from New Zealand's Lincoln University with a diploma in Oenology and Viticulture before coming back to Nk'Mip, where he assumed the role of winemaker in 2017.
When asked what he loves most about the wine industry, Hall says "Its ability to bring people closer together, families and friends, to sit down over a good glass of wine. Today's world really needs that connection and building those strong relationships.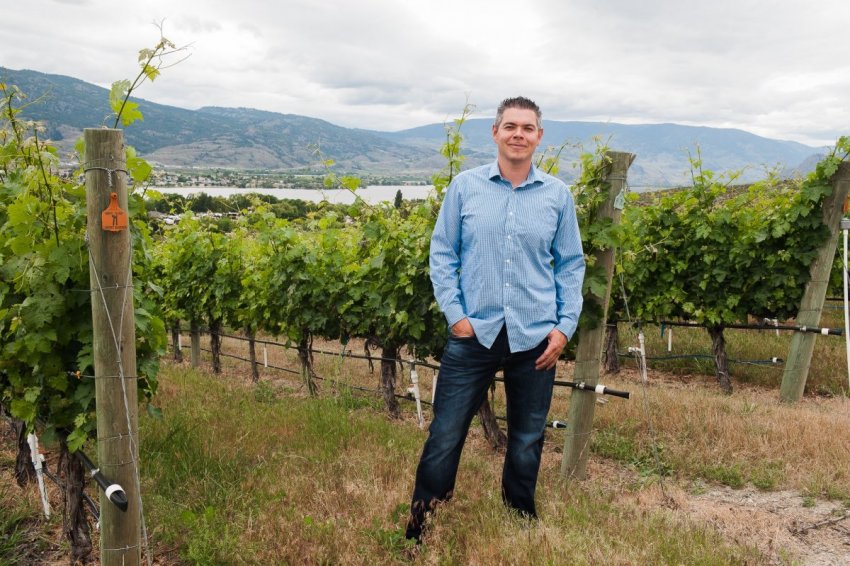 One of the most attractive things about the wine industry is its connection to the land, where each glass of wine gives you a sense of place and time, encapsulating all the elements in play when the wine was made.
"What we put into the land, Mother Nature is going to give back to us. If you put love and care into the land and don't plunder and pillage the earth, you're going to get really good things like grapes, food growing out the ground, and nutrition that you need." This deep connection to wine and food, and respect for the land is reflected at the Nk'Mip's restaurant where Hall works closely with chef Orlin Godfrey to create seasonal dishes with thoughtful pairings.
Typically, the winery hosts their annual Elements dinner to honour National Indigenous People's Day, but with COVID limiting this year's celebrations, they've created a menu with wine pairings and instructions to prepare each dish for people to enjoy in the comfort and safety of their own home. True to the nature of Nk'Mip, the menu features local and seasonal ingredients with spot-on pairings.
And the million-dollar question, what has Hall been drinking lately?
"I've really been digging the syrah, the Qwam Qwmt Syrah. Qwam Qwmt is achieving excellence in the Okanagan language. But wine is a frame of mind. It all depends on what you're doing and how you're feeling. Some days, you just want to have a refreshing glass of wine… pinot blanc is there, that's exactly what it's meant to be."
I couldn't agree more.