For a period of my life, I travelled three weeks each month for work, during which Winnipeg was a regular stop and a place I looked forward to visiting. I embraced the opportunity to explore the exciting arts scene, beautiful parks, and most of all, the diverse food scene.
It has been more than seven years since my last visit to the city's thriving culinary scene has come up time and time again in conversation, which is why when the opportunity came up recently to travel to Winnipeg, I jumped at the chance to eat my way through the city.
Arriving late in the evening, I was entranced by the vibrant energy driving into downtown. New buildings and development had popped up over the past few years. It was apparent that revitalization projects were occurring all around Winnipeg's downtown.
I had 32 hours to make the most of my trip. Here are the highlights.
173 McDermot Ave.
Located in the Exchange District, Wet and Dry Dept. is a great option for a late night cocktails and snacks. It is located in a historical brick warehouse, above its sister restaurant The Mitchell Block. The décor is modern and warm with wood and brick walls. The food and drink program offers a twist on comfort classics. The Prairie Penicillin cocktail made with whisky, honey, and lemon was spirit-forward and a nice welcome to Winnipeg.
288 William Ave.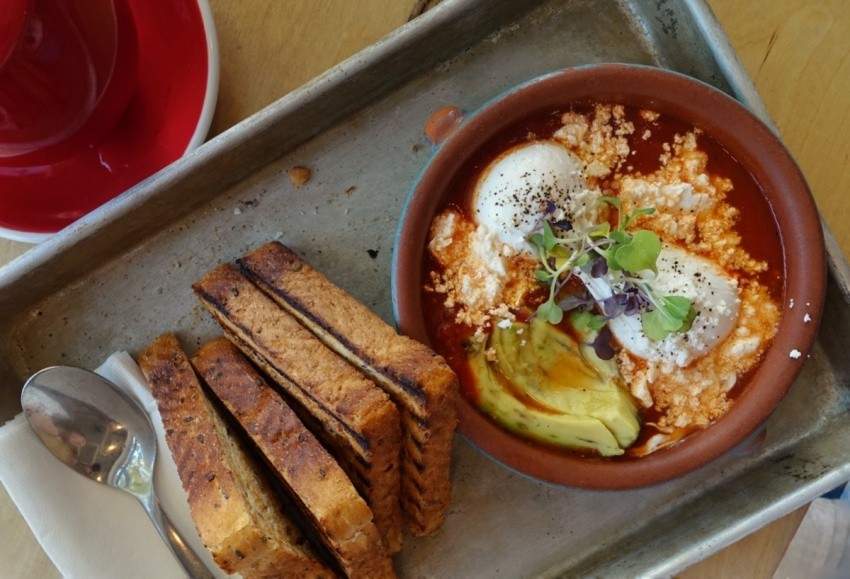 Miss Browns is known for its juicy house-smoked brisket, but with deliciously strong coffee, local ingredients, and early opening hours each day, Miss Browns is also a popular spot for breakfast and brunch. The menu is extensive and it's difficult to choose from their offerings of eggs Bennies, brisket hash, and bagel sandwiches. I decided on the shakshuka, which consisted of poached eggs swimming in a bowl of tangy and spicy sauce topped with feta. Seated at the counter by the window, overlooking the trendy Exchange District, I savoured each bite of my breakfast, dipping the toast that came on the side of the shakshuka into the flavourful spicy tomato and red pepper sauce.
91 Albert St.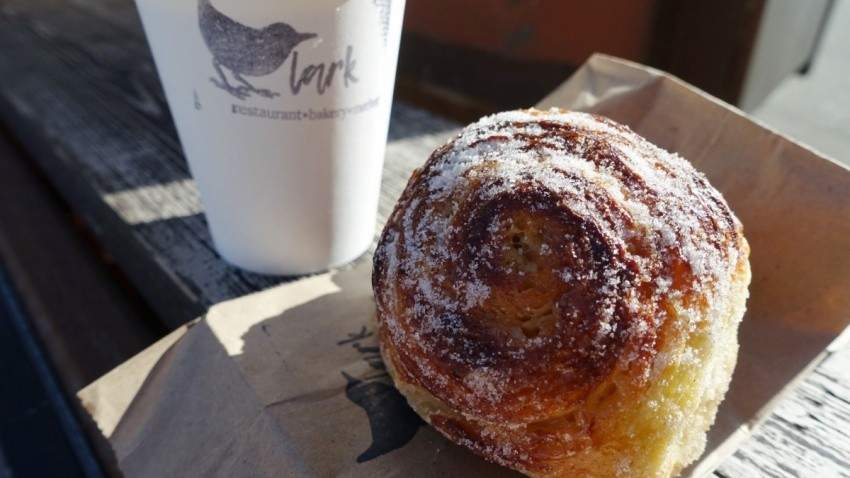 Part bakery, part market, Lark occupies a large, lofty space offering customers a bounty of baked goods, scrumptious sandwiches, and fresh salads. They even make their own bagels, which are chewy and baked fresh every day! Customers can also shop prepared meals, quality grocery items, and locally made products. Be sure to order one of their famous pistachio lattes, an enjoyable mid-morning treat to accompany a morning bun.
103-211 Bannatyne Ave.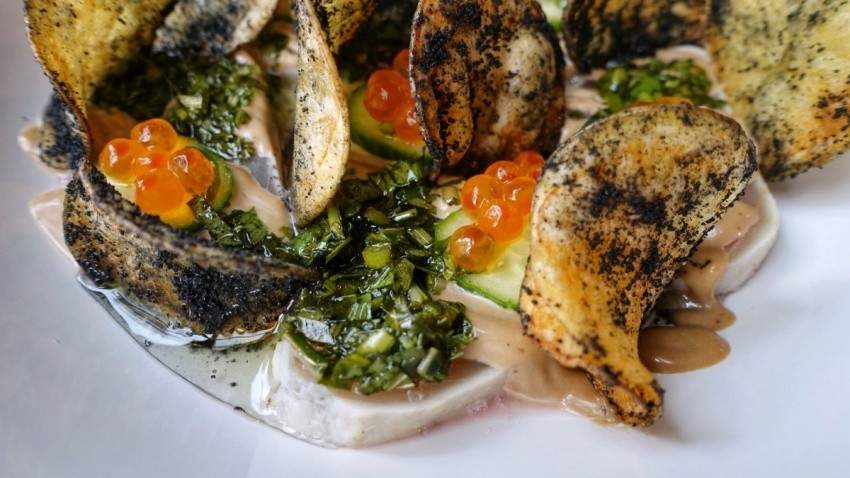 Tea is the central focus of this restaurant. The owners' vision was to provide Winnipeggers with a licensed tea room serving carefully curated teas and tea based cocktails. If you're a tea lover like me, this is a must-visit in Winnipeg, but be warned: you may get lost in the lengthy list of tea on offer. I reveled in a couple of their tea cocktails while talking tea with the friendly and welcoming Mark Turner, co-owner. The ATR Old Fashioned with Diplomatico rum, lapsang sugar, and chocolate bitters was well balanced with a hint of smokiness from the lapsang. The menu contains shareable dishes that are robust in flavour and pairs well with drinks. Amsterdam Tea Room is on its fourth version of tuna Francesco, a popular menu item with lightly-torched tuna, black garlic, salsa verde, and fish roe, served with charcoal-dusted potato chips. If you fall in love with one of the teas, the tea leaves are also available for purchase (by weight) so you can drink and enjoy at home.
1 Forks Market Rd.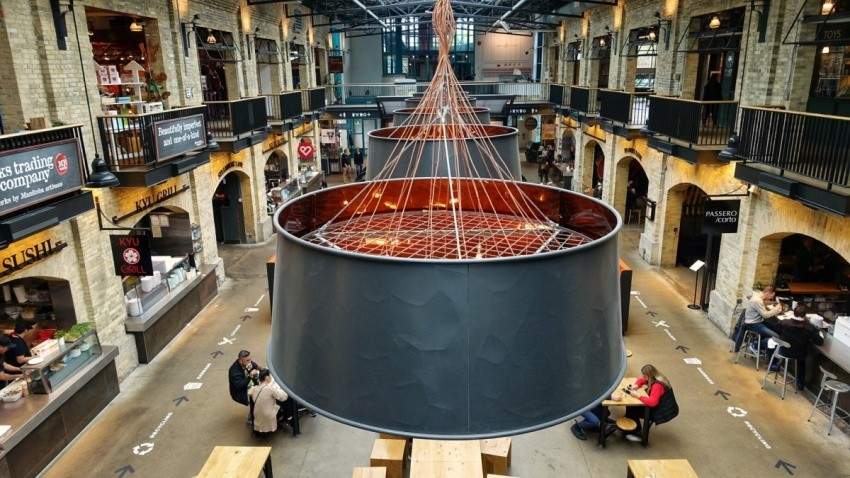 The market at the Forks first opened in 1989, but has undergone some significant renovations in the past few years, which includes plenty of shops to peruse and a revitalized food hall boasting a roster of local businesses like The Common and its wide selection of craft beer and wine. I couldn't resist the lunchtime special at Corto, Passero's daytime concept, that offered a sandwich, side, and a glass of wine for only $22. It's how I found myself eating a second lunch of a succulent crispy pork belly sandwich with apple mustard, washed down with a glass of white wine and a side of its beet and smoked cambozola salad with blood orange and pistachio. The freshness and natural sweetness in this salad was amazing and it's easy to see why this is one of its most popular items.
550 Osborne St.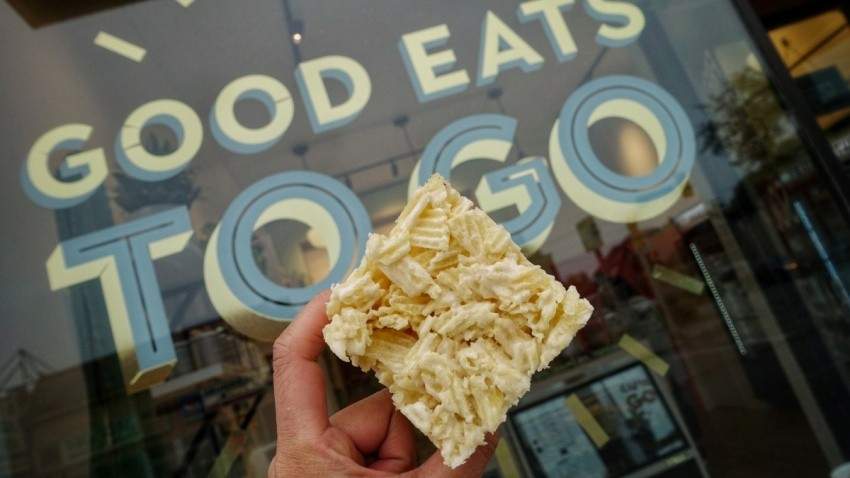 After browsing through their Instagram feed, I knew Black Market Provisions was going to be a stop on my trip. I felt a need to bring home some of its goodies, like the Ruffles potato chip Rice Krispies squares. Walking into the store, I was amazed by the selection of products available for purchase, from frozen pre-made meals to vegan grocery items, to local pottery. Each nook and cranny is stocked with an endless supply of curated Canadian gourmet foods, such as Amy Rosen's famed cinnamon bun spread and Smak Dab's mustards. During my short visit, it was apparent that Black Market Provisions is a regular stop for many in the community who would come in to pick up a pastry or frozen soup and cheerily chat with Angela Farkas, co-owner. The small space is not an indicator for the huge spirit and selection of product in this shop.