You don't need to have multiple deep fryers to make pub fare at home. If you can't make it out to the bar for whatever big Sports event might be happening, have a little party of your own in the safety of your own home with these delicious boneless dry ribs. Grab a few cool craft beers to wash the ribs down with while you're at it.
The sweet and sour herb honey sauce works great with chicken wings, barbecued fish and steak too!
Boneless dry ribs
3 cups water
1/3 cup white vinegar
1 tbsp cane sugar
2 cloves garlic
1 bay leaf
2 1/2 tbsp sea salt, divided
8 ice cubes
1 2-lb pork tenderloin, cut into 1" cubes
1 1/2 cups all-purpose flour
1/2 cup cornstarch
1 tsp cayenne pepper
2 tsp ground black pepper
3 eggs, whisked
canola oil, enough for frying
To make the brine, combine the first 5 ingredients and 2 tbsp salt in a medium pot over medium heat and cook until salt and honey dissolve and liquid is hot, but not burning.
Remove from heat, add ice cubes and let cool to room temperature.
Place cubed pork into a deep dish and pour brine over top. Cover, and chill in refrigerator for 2 hours.
After 2 hours, discard liquid and pat meat dry with paper towel.
Heat canola oil in a large pot to prepare for frying.
Combine flour, constarch, cayenne and black pepper and divide mixture into 2 bowls. To coat, dip pork in the first bowl of flour, then dip in egg and again in the second bowl of flour.
Once oil is hot, working in several batches, fry pork until crispy and golden brown, approximately 3 to 4 minutes per batch.
If you are not serving immediately, place on a baking tray and keep warm in the oven.
Honey herb dip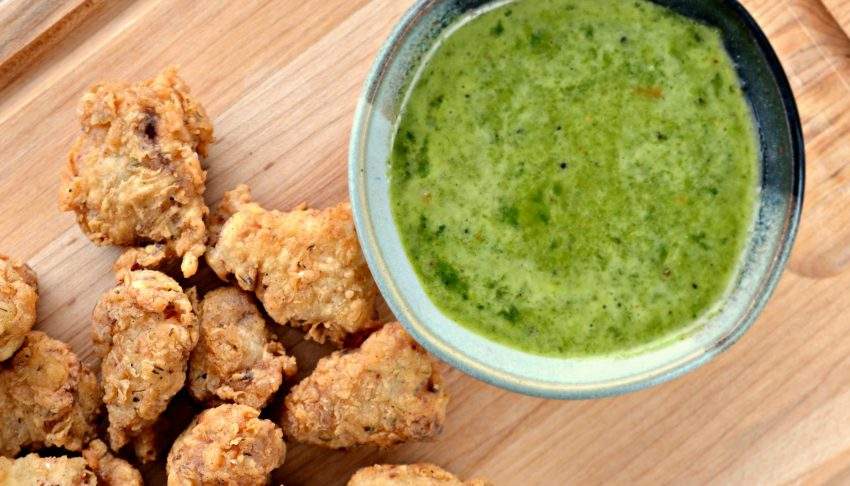 1/2 cup fresh basil leaves, roughly chopped
1/2 cup Italian parsley leaves, roughly chopped
2 tbsp honey
2 tbsp extra virgin olive oil
1 tbsp grainy dijon mustard
2 green onions, thinly sliced
1 lemon, zested and juiced
salt and pepper, to taste
Place all ingredients in a food processor and puree until smooth.
Season to taste with salt and pepper and set aside until ready to serve.
Yield:

Prep Time:

Cook Time: