After months of construction, co-owners of L'Abattoir, Jack Chen and Lee Cooper, just opened the doors to their newest concept, Coquille Fine Seafood. Chen and Cooper assumed the space that was formerly known as Secret Location in the heart of Gastown on the corner of Carrall Street and Water Street earlier this year, and they have transformed it into a bright and airy space filled with blush pale pink booths and a spectrum of greys, from the light speckled tiled floor to dark grey dining room dividing walls that both playfully mimic fish scales in their texture.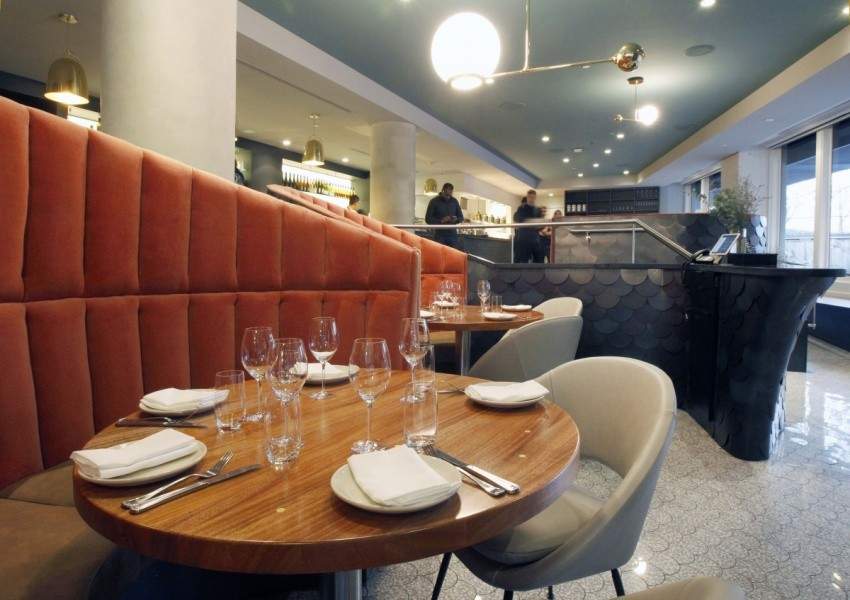 "Jack and I have long been friends on and off the line and Coquille represents a concept that we've both had on our minds for a while," says Cooper. "We saw that there was room for this type of restaurant in Vancouver and wanted to fill that void by offering a modern spin on a classic fish house."
As the name (pronounced "co-key") implies, the menu at Coquille is dedicated to sustainable seafood and shellfish and ranges from freshly shucked oysters and chilled dishes like crudo (mackerel with cucumber, scallion and soy, pictured at the top of the article), spot prawn cocktails and seafood platters, to plenty of hot dishes including baked lobster and skate wing à la meuniere.
In addition to an interesting cocktail menu and well-curated wine list that boasts a mix of notable B.C. international wines, L'Abattoir's restaurant director Lisa Haley has also sourced two exclusive cuvée (small batches of wine) that have been bottled and branded for Coquille.
The first is a sémillon from celebrated Okanagan winery Lock and Worth and the second is a young vines syrah via Nichol Vineyard. The latter of the two propriety labels is just finishing its bottling process and should be available within the next two weeks.