Headed up by sisters Elysia and Natasha Vandenhurk, Three Farmers has certainly come a long way since setting its humble roots on a trio of Saskatchewan farms back in 2011. Originally hitting the market with the unique and high smoke point camelina oil, the Vandenhurks have grown their business substantially. Their oils are widely available across the country, as are their roasted chickpea snacks and the newly available pea pops.
Yesterday, the pea pops won Three Farmers the SIAL Canada Innovation Contest gold award in Montreal, where they were recognized for their achievements in marketing position, manufacturing process, packaging, as well as being a healthy and natural consumer food option. The product beat out nine other finalists as well as hundreds of original entries from around the globe.
"It's really an honour because there are thousands of products that get submitted to the contest," says Elysia Vandenhurk.
"Our company is evolving organically. We're making the right decisions, putting the right products out there, but we also have access to the amazing ingredients we need. Saskatchewan grows the world's chickpeas, green peas and lentils and camelina works really well on the crop rotation side of things because it adds nitrogen to the soil. Our aim is to always offer more of Saskatchewan [to the rest of the country]."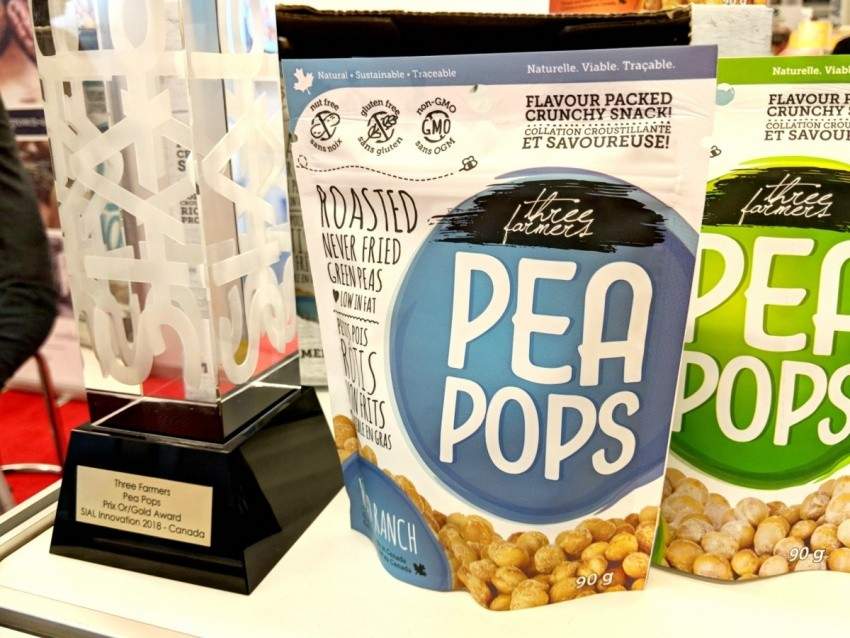 The SIAL Innovation silver award went to Cucina & Amore for its ready-to-eat vegan meals and the Bronze Award was given to Crickstart's cricket-based protein bars.
Hear more from Three Farmers co-owner Elysia Vandenhurk and Sial Canada president Xavier Poncin on the next podcast episode of More Than Maple Syrup out Monday, May 7.