As independent restaurants across the country continue to struggle with pandemic-related restrictions on dining, there can never be enough reminders for all of us to support these eateries via takeout and delivery when it's within our means.
Today in Calgary, popular local deli and restaurant Empire Provisions launched an innovative localized bingo card that features 25 local businesses. Participating restaurants and bars include Empire Provisions and Lil' Empire, Calgary Heritage Roasting Co., Sukiyaki House, Proof, Annabelle's Kitchen, Made By Marcus, Rain Dog Bar, Con Mi Taco, Alforno, Calcutta Cricket Club and many more.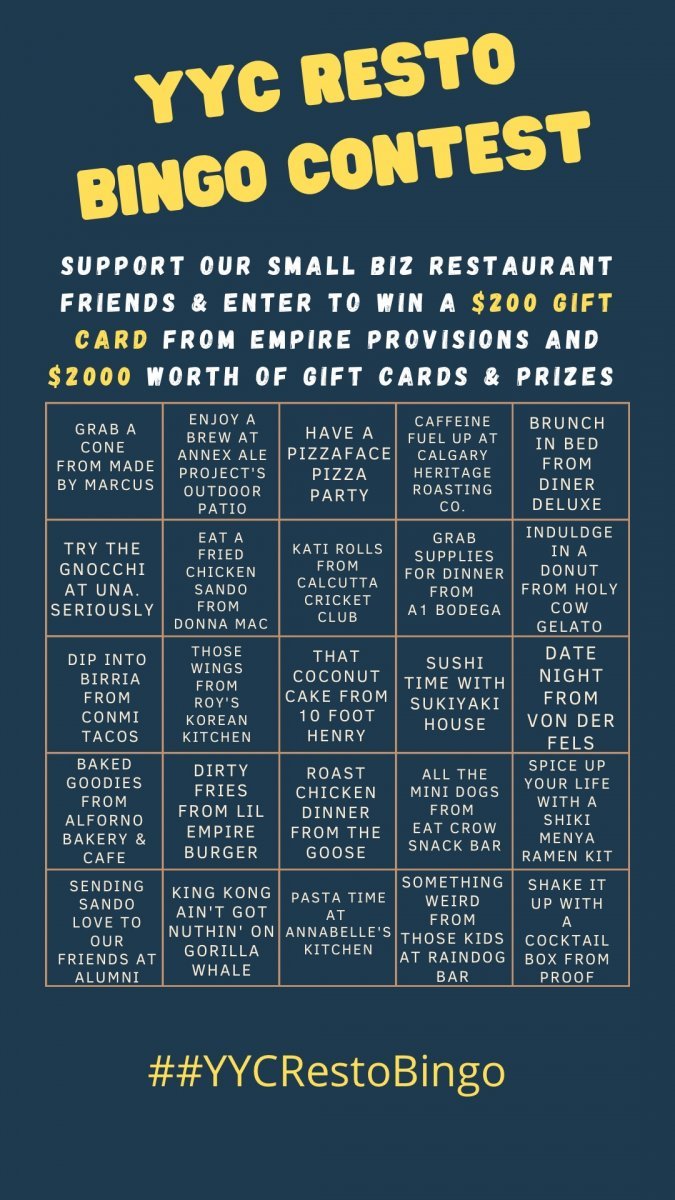 Between now and April 26, Calgarians are encouraged to partake in their YYC Resto Bingo Contest by "dabbing" off squares on the bingo card by way of posting a picture on Instagram (as a story or as a static post) of dishes ordered from an applicable restaurant or bar. Valid entries must tag both Empire Provisions (@empireprovisions) and the related business as well as use the hashtag #YYCRestoBingo.
There are two substantial grand prizes up for grabs. Each prize is a mix of gift cards from the local businesses with a combined total of $1,000.
To be entered to win, a person must post about at least three of the participating restaurants by ordering takeout or visiting an outdoor patio. As well, anyone who gets a "bingo" (i.e. posts featuring five of the box items) will automatically receive a $20 gift card to Empire Provisions and bonus entries for the grand prizes.
"We want our friends to know that while Dave and I have been fortunate to stay open, [we recognize] it's been tough for everyone who has had to start and stop and start and stop...We hope people will help spread the word and hopefully play along too," says Empire Provisions co-owner Karen Kho.
Full contest details can be found on Empire Provisions' Instagram.