If you ask me, pitas don't always get the appreciation that they deserve.
When freshly baked, they offer a deliciously chewy texture and are enjoyed simply as-is or torn and dunked in hummus, babaganoush, spinach dip...the list goes on. A few days old and they still happily hold their form when you're making a quick wrap for lunch or dinner–and yes, they also work well with the TikTok wrap technique.
Once you approach a week old, you end up with pitas that are still very much edible, but not as flexible as they once were. It's in this situation that I love turning pitas into pita chips.
Adding garlic and parmesan into the process makes the pita chips extra tasty (obviously), but also makes them ready and willing to be paired up with a bowl of soup or crushed on top of a salad in lieu of croutons. Of course, you can add a pile of pita chips to charcuterie boards too. They are the perfect stand-in for your everyday crackers.
Make a batch of these garlic parmesan pita chips once and I guarantee it will become a regular occurence in your kitchen.
Garlic parmesan pita chips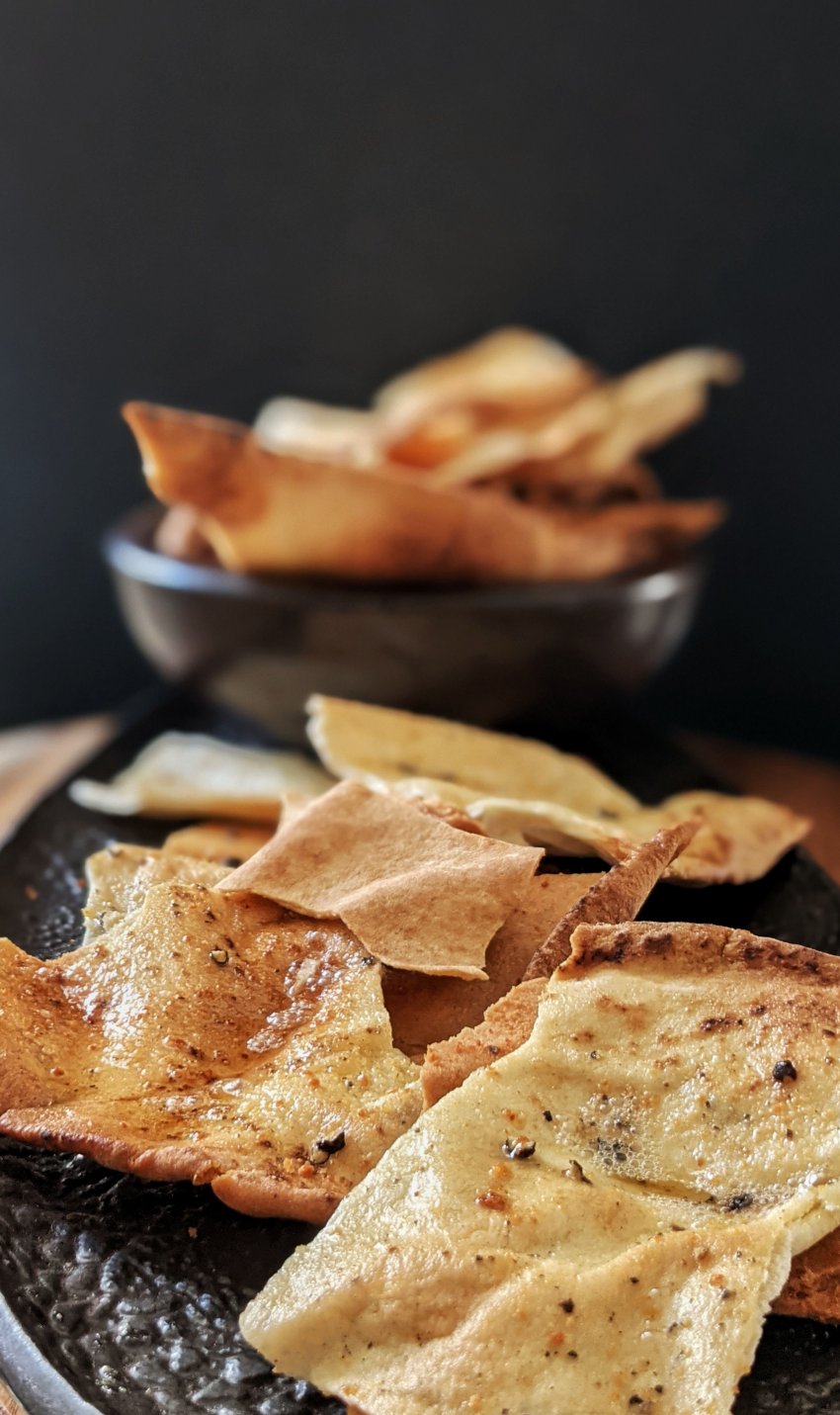 3 tbsp salted butter
2 tbsp finely grated Parmesan
1/2 tsp coarsely ground black pepper
1 garlic clove
4 large white or whole wheat pitas
sea salt, to season
Preheat oven to 375 degrees.
Place the first 4 ingredients in a small pot. On medium heat, let cook until butter has melted, approximately 2 minutes. Remove from heat and stand for several more minutes to allow garlic to further infuse.
Lay out pitas on baking sheets (2 pitas per sheet, some overlap is ok) and use a pastry brush to evenly coat one side of each pita with garlic butter mixture.
Bake in oven until pitas turn golden brown, approximately 10 minutes. Season liberally with saly, let cool slightly and break into large pieces by hand.*
Once completely cooled, use as desired. Any extra pita chips can be stored in an airtight container for up to a week.
*If uniform pita chips are desired, slice pitas after brushing with butter mixture before baking.
Yield:

Prep Time:

Cook Time: