Although we've been celebrating the holiday season at Eat North HQ for some time now, if you haven't yet begun considering your Christmas dinner options in Vancouver, there's no time like the present to begin sorting through the incredible array of holiday offerings from the city's dynamic culinary scene.
From heat-and-serve dinner packages loaded with traditional and non-traditional holiday favourites to curated selections of seasonal side dishes, grazing platters, and desserts, to luxurious dine-in options from some of the region's top eateries, here are 14 delicious ways to celebrate the holidays in Vancouver.
Boulevard Kitchen and Oyster Bar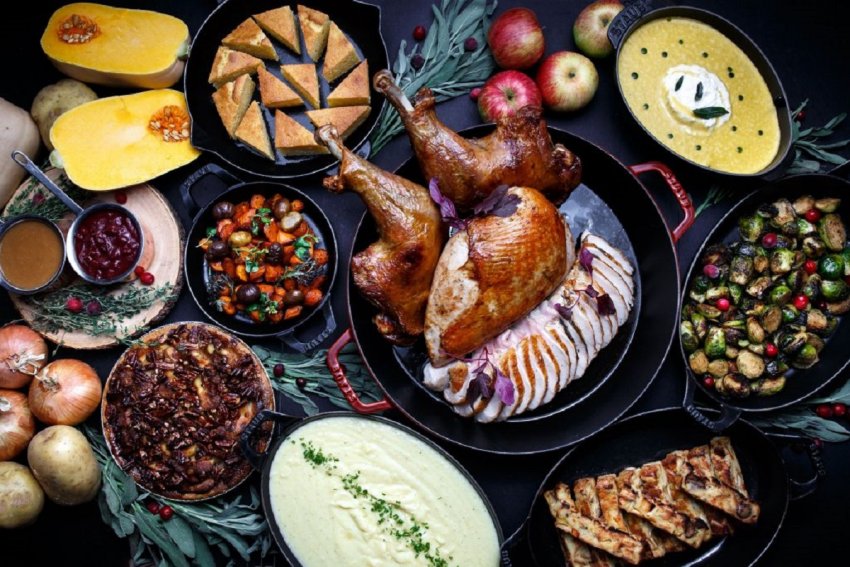 Boulevard chef Alex Chen's popular Holiday Turkey To-Go package has returned for 2021 with a large assortment of festive fare from appetizers like cornbread and spiced butternut squash soup to main courses like brined and sage-roasted turkey breast and slow-roasted turkey legs, to Bûche de Noël for dessert.
For those looking for elevated options that go beyond the traditional, Boulevard will also be offering luxurious multi-course Christmas Day brunch and dinner menus on December 25.
Fanny Bay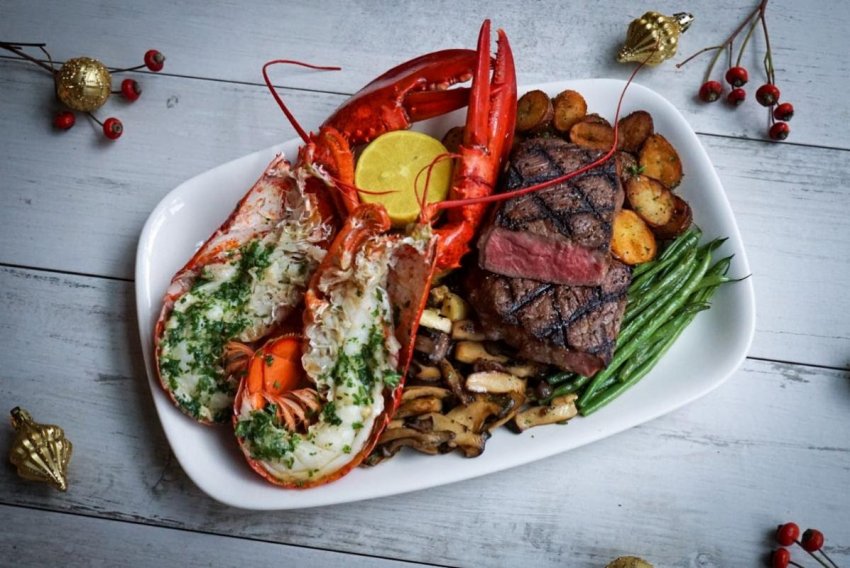 Every Sunday until New Years, Fanny Bay Oyster Bar and Shellfish Market will be hosting surf-and-turf Dinners for Two featuring a prix-fixe menu that includes six oysters to start, a choice between half a Dungeness crab or Canadian lobster, prawns, scallops, a New York striploin, and crème brûlée or chocolate tart to finish.
If you'd prefer to bring the sea home with you for the holidays, on December 10 the Shellfish Market will begin offering up a full bounty of fresh, cured, smoked, and frozen seafood as well as specialty curated boxes and kits.
Five Sails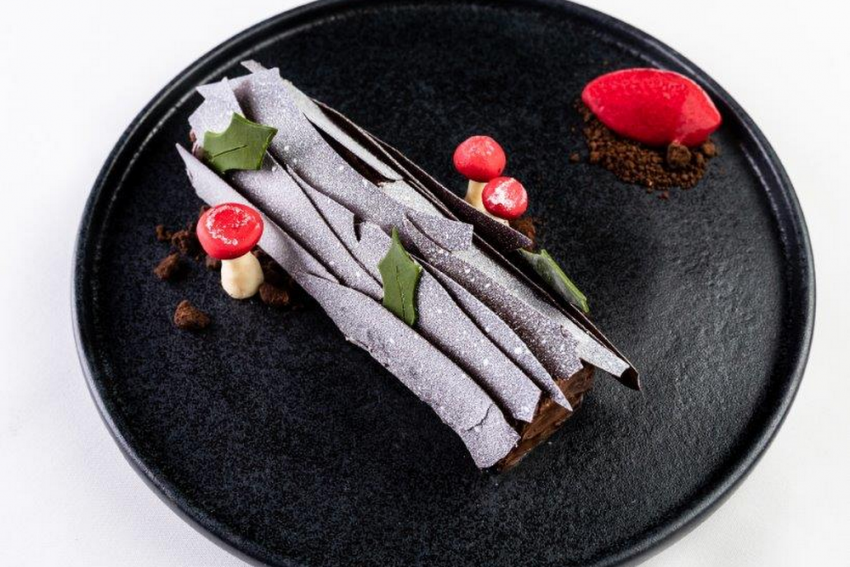 Five Sails has designed a luxurious Christmas Menu that will be available at the Vancouver restaurant from December 24 to 26. The five-course menu is highlighted by options such as foie gras with quail ballotine quince mustarda, seared monkfish with lobster tortellini and black salsify, roasted turkey breast with confit leg stuffing, truffle pomme puree, and cranberry compote, and a yule log for two for dessert.
Heritage Asian Eatery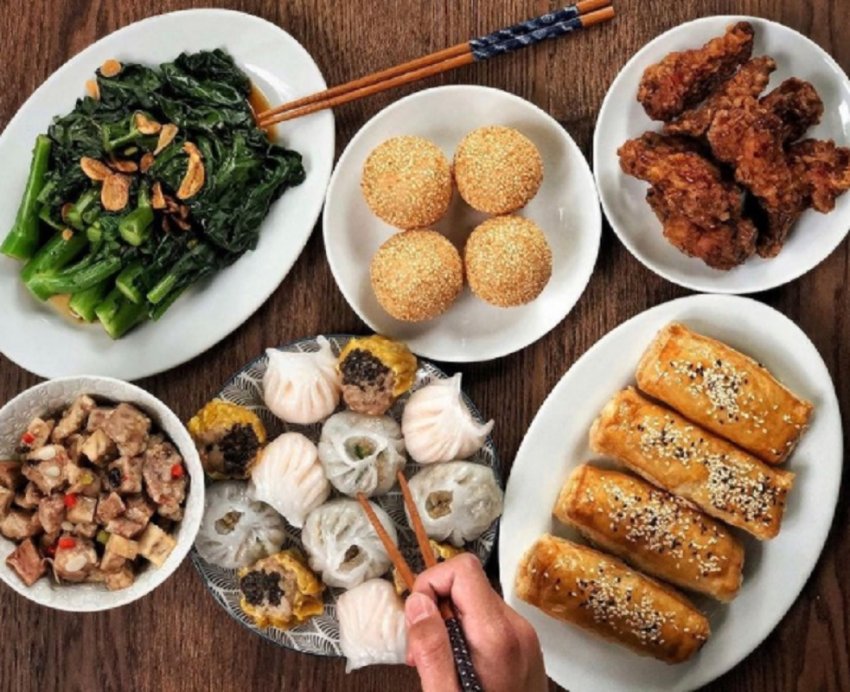 Heritage Asian Eatery is offering a holiday feast for four featuring a wide variety of its most popular dishes, including wonton soup, five-spice chicken wings, honey barbecue pork, roasted duck, dumplings, and more, along with jars of its Heritage XO Sauce and Heritage Ginger Scallion Sauce.
Juke Fried Chicken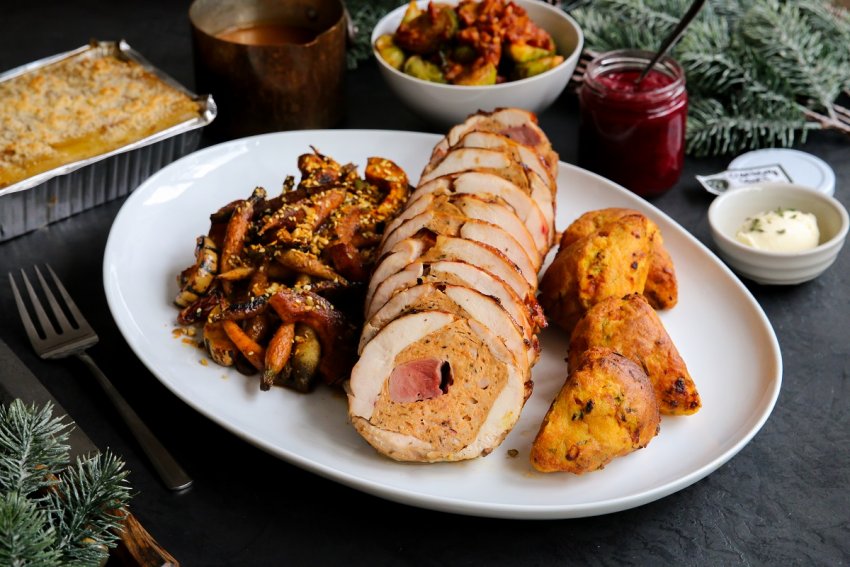 Always a crowd-favourite when it comes to comforting holiday eats, Juke Fried Chicken recently announced the return of its show-stopping three-in-one Turducken Meal Kit.
In addition to the centrepiece Turducken itself, Juke's holiday meal kit includes an array of hearty accompaniments like leek and sausage stuffing, Brussels sprouts with bacon jam, jalapeno cornbread with honey thyme-whipped schmaltz, and more.
Le Tigre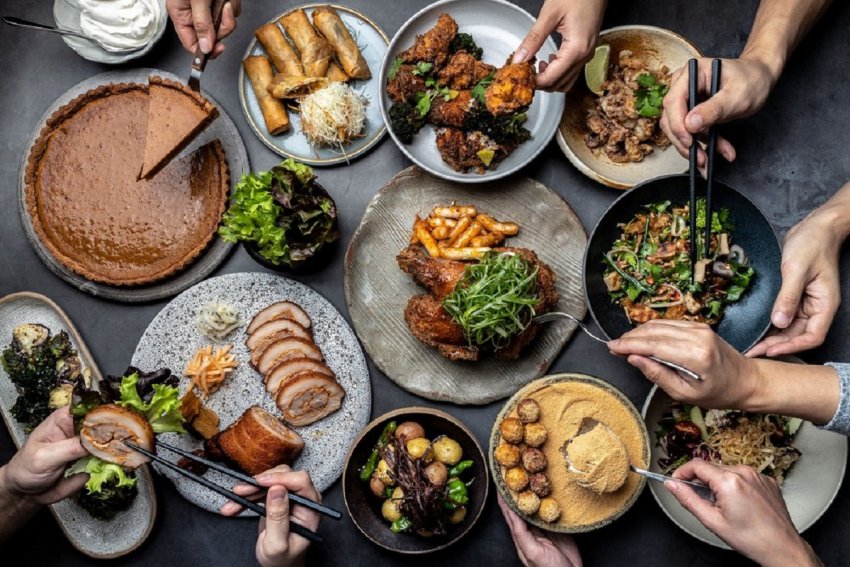 The locally-loved Le Tigre food truck and its talented catering team are offering a selection of holiday sets with fan favourite dishes as well as all-new creations. Some of the highlights include the Crispy Kickass Rice Salad with grilled Vietnamese pork ham, shallot, ginger, herbs, and ssamjang dressing, deep-fried Brussels sprouts, cauliflower, and broccoli with cabbage and ponzu, and Korean fried chicken with deep fried rice cake, green onion, and sweet and spicy sauce.
Nuba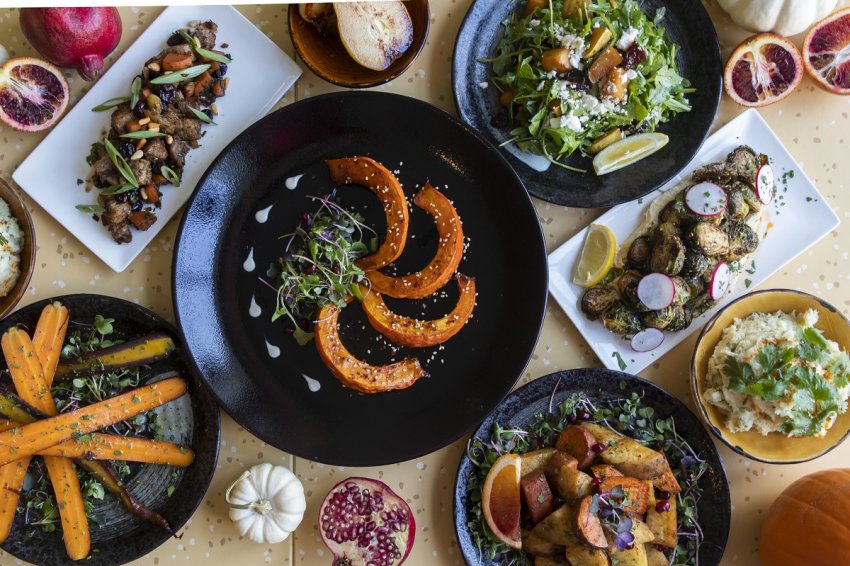 All Nuba locations are once again offering the ultimate array of festive sides for those who prefer to handle the main course themselves, but would rather not spend the entire day stuck in the kitchen.
Nuba's holiday side package comes complete with a comprehensive selection of accompaniments including onion walnut bread, Za'atar Brussels sprouts, pomegranate-braised carrots, mashed parsnip, pear and feta arugula salad, and roasted sweet potatoes with yam and pumpkin.
Potluck Hawker Eatery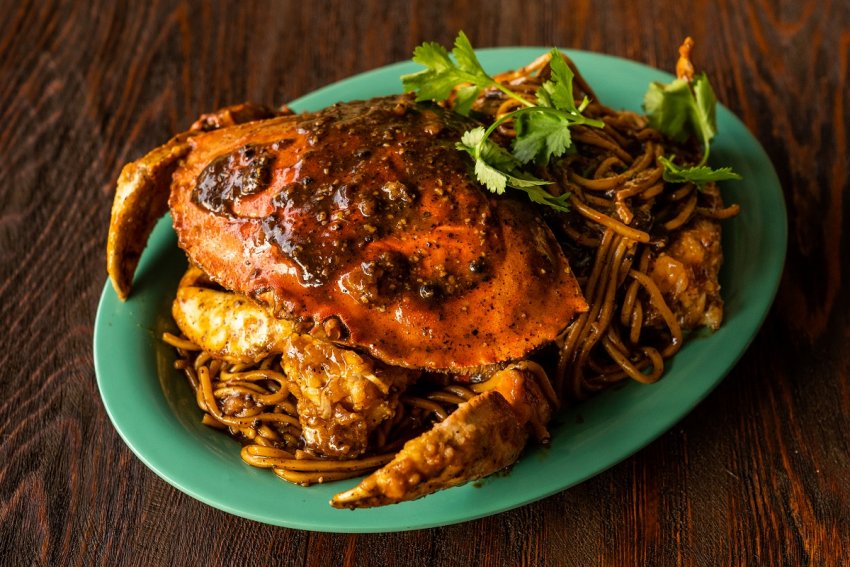 Potluck Hawker Eatery and chef Justin Cheung have assembled a slew of seasonal specials for the holiday season. Beginning December 3 and 4, the restaurant will be offering weekly crab-centric takeout feasts with whole Dungeness crab done in a variety of fashions.
On December 12 and 13, chef Cheung is hosting a special ticketed event in collaboration with The Dessert Club featuring house-made snacks and beverages, two mains, and three desserts. Potluck has also released a new Hot and Sticky Chicken Sando for the holiday season made with coconut-fried boneless leg glazed in a buldak fish sauce caramel with green apple slaw, sesame, and lemongrass.
Railtown Catering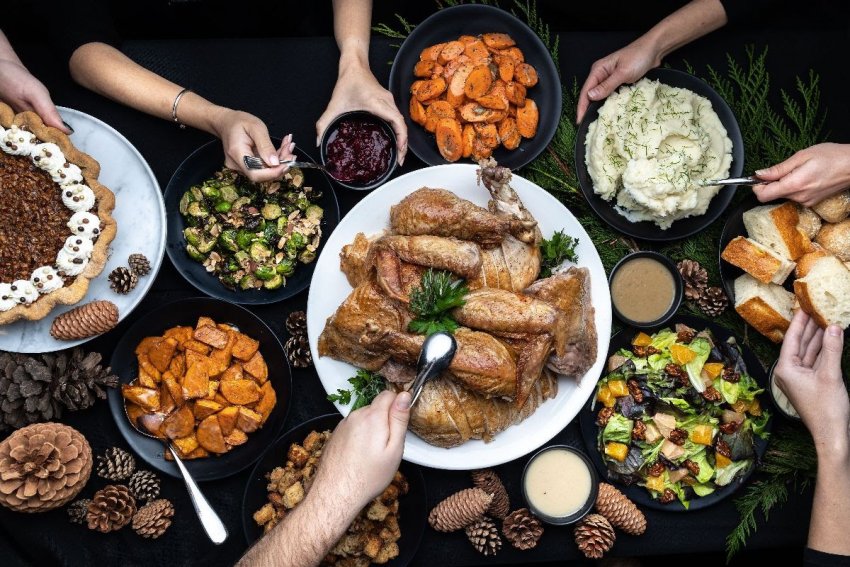 As one of Western Canada's premier caterers, Railtown has been providing patrons with award-winning holiday-focused meal packages for years.
For the 2021 holiday season, Railtown has put together another amazing multi-course family-style package that includes a whole sage-roasted turkey with sides such as wildflower honey- and ginger-infused cranberry sauce, dried apricot chestnut and brioche bread stuffing, maple-glazed sweet potatoes, and a classic pecan pie with chantilly cream for dessert.
Savoury City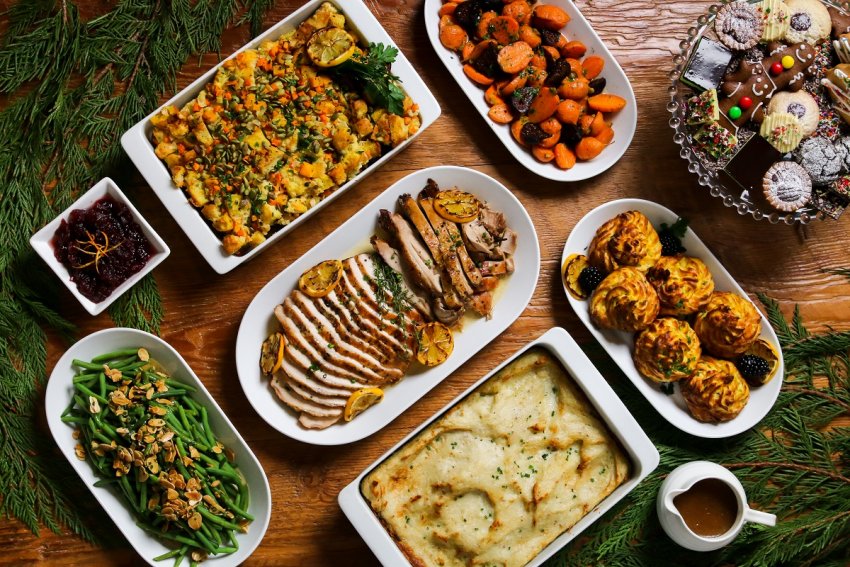 Award-winning caterer Savoury City has created a gourmet Turkey To-Go package featuring a selection of chef-prepared holiday favourites, including a pre-carved slow-roasted turkey, brined with herbs and lemon, and sides including roasted garlic mashed potatoes, classic herb stuffing, green bean almondine and more. The package also includes an abundance of seasonal sweet treats, squares, and cookies.
St. Lawrence
For the entire month of December, fine dining institution St. Lawrence will be celebrating the holiday season by offering in-house diners a selection of its greatest hits from throughout the years, including famed dishes like the Vol-au-Vent Aux Champignons (mushroom ragout in puff pastry), Tartare de Bison, Tourtière de Cerf (venison tourtière), and Tarte au Sucre.
Tickets can be reserved for $75 per person and each include Pain à l'érable, financiers, and a three-course dinner.
The Teahouse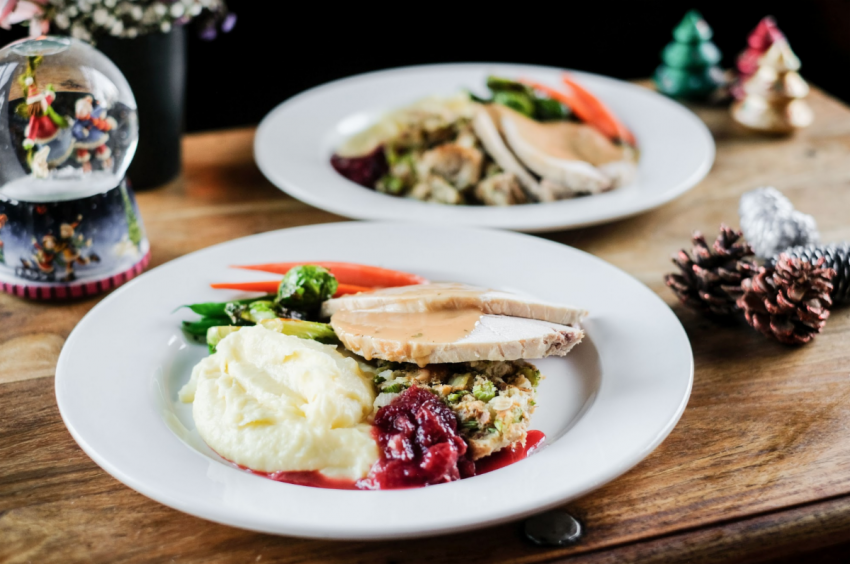 The Teahouse will be hosting in-house holiday dinners on Christmas Eve and Christmas Day. Christmas Eve menu offerings include seasonal main course classics like slow-roasted prime rib, seared arctic char, and turkey with all the trimmings, along with torta Milano, dulce de leche apple tart, or eggnog panna cotta for dessert.
The Christmas Day dinner menu includes an amuse-bouche of smoked salmon mousse, green apple sorbet and mint oil palate cleanser, a selection of appetizers and entrées, and torta Milano, dulce de leche apple tart, or eggnog panna cotta for dessert.
The Graze Company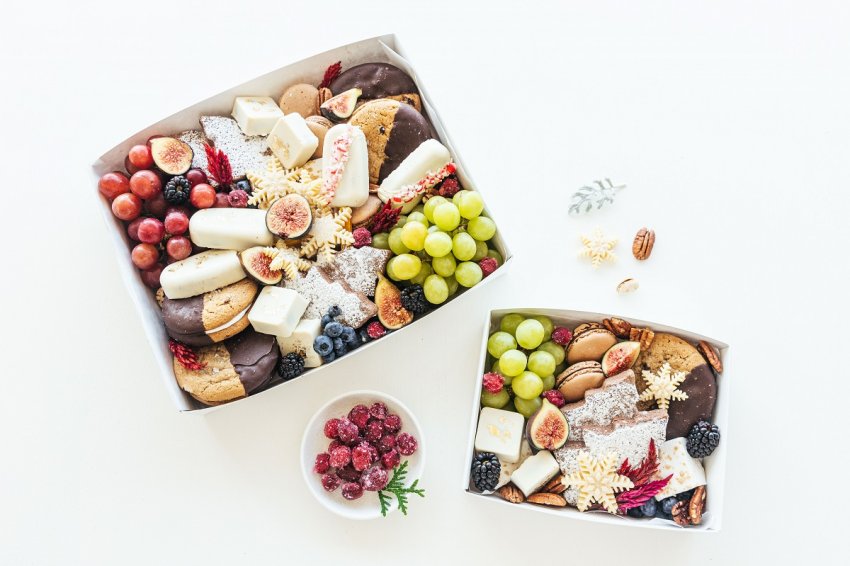 If you're planning to host any holiday get-togethers this season, finger foods and gourmet grazing options are a must, and few do holiday spreads better than The Graze Company.
In addition to the Graze Holiday Box filled with a luxe assortment of signature charcuterie staples, Graze has also assembled a Holiday Dessert Box featuring items such as truffle manchego and red velvet gold-foiled cake pops, snowflake shortbread, candied pecans, and much more.
Tractor At Home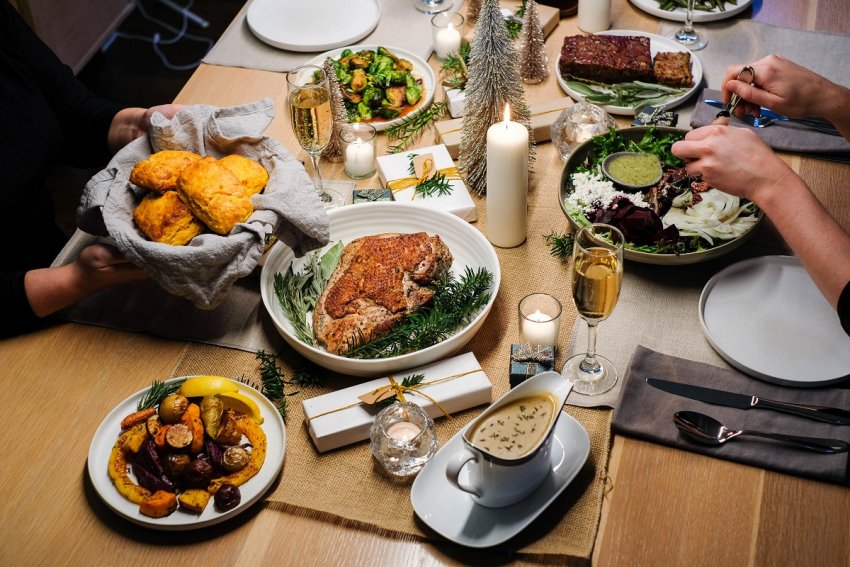 Another acclaimed Vancouver caterer whose holiday offerings are perennially quick to sell-out, Tractor At Home recently introduced a new lineup of signature Holiday Heat-and-Eat Meal Bundles that will be available to order until December 10.
The Traditional Holiday Bundle showcases an excellent assemblage of locally-sourced offerings that range from a sous-vide Rossdown Farms garlic lemon butter turkey breast and butternut squash and Granny Smith apple stuffing to vegan options such as maple-glazed Brussels sprouts, rosemary lemon sheet pan vegetables, and pomegranate-glazed carrots.