The sixth annual BC Distilled tasting festival took place recently and for the fourth consecutive year, Ampersand Distilling Co. has received the award for Audience Favourite Vodka. Since its inception in 2014, the Cowichan Valley-based distillery has accrued ongoing acclaim for both of its organic wheat-grown spirits, Per Se Vodka and its flagship floral and citrus-forward Ampersand Gin.
"BC Distilled is such an important event for us. The founder, Alex Hamer, is such a huge supporter of the B.C. craft industry and does a fantastic job connecting the distillers to the public," says Ampersand co-founder Jessica Schacht. "For us, it's a chance to connect with people in person and have them not only learn about our spirits but to get to know us as well. Having our vodka take home the win for a fourth consecutive year is a huge accomplishment. There's nowhere to hide with vodka--it's the pure spirit, by itself."
The Schacht family's uniquely versatile array of experience and expertise has been instrumental in setting them apart from other artisan distilleries in Canada. With backgrounds that range from chemical and electrical engineering to organic farming, Ampersand has excelled at fusing science and art with tradition and innovation to produce superior spirits.
Despite the distillery's overwhelming popularity, the Schacht family remains dedicated to producing small batches in their homemade stills to ensure the incomparable quality of product that has earned and maintained its reputation as one of Canada's top distilleries. In addition to implementing a batch distillation process that removes unwanted compounds often missed in continuous distillation, the Schachts also donate all of their spent mash to local farmers to use as livestock feed.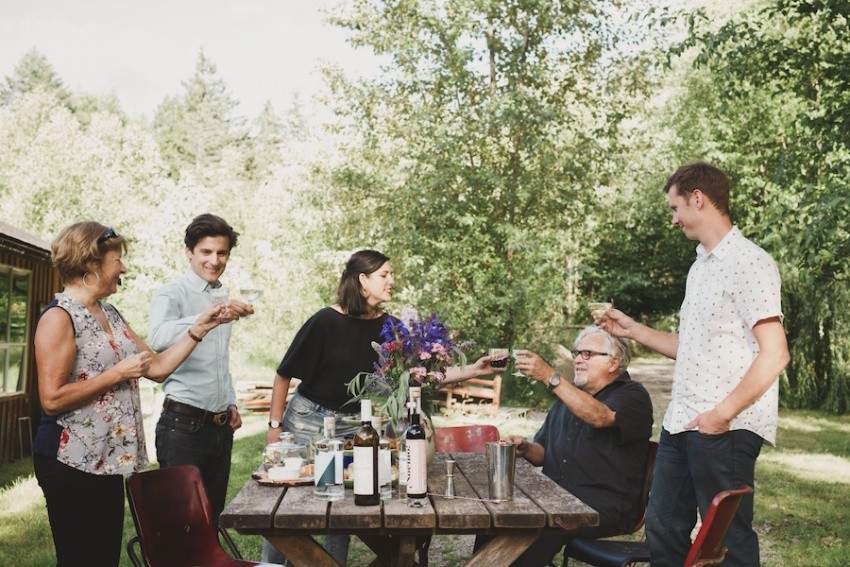 Adding to Ampersand's many accolades, the newest offering from the distillery, Nocino!--an Italian-style green walnut liqueur spiced with cinnamon and sweetened with local honey--recently claimed a Gold Medal at the 2019 CASC Awards.
This month, Ampersand is set to unveil its latest creation in collaboration with Victoria farm-based winery, Rathjen Cellars. The upcoming 2019 iteration of its Imperative Dry Vermouth is made with organically harvested Ortega and Petite Milo grapes grown on the Saanich Peninsula. The vermouth will be available for purchase at select private liquor stores, Rathjen Cellars' tasting room, and can be sampled at various farmers markets, fine bars, and restaurants throughout B.C.
"The collaboration with Rathjen Cellars was a fantastic opportunity for us to create a product that had really been missing from the B.C. craft market – all this gin with no local dry vermouth to make martinis," says Jessica. "Rathjen Cellars is a winery whose ethos aligns with ours – they use natural and organic methods to grow their grapes and make their wine. It took about four months to develop the recipe, which we rigorously tested in martinis made not just from Ampersand Gin and Per Se Vodka, but with craft spirits from across B.C. We knew we wanted something much drier than commercial vermouth."