It's not quite summer, but that doesn't mean you can't bring some sunshine to the dinner table with a bright, delicious dessert.
"Berries and shards of crisp, pink meringue are folded into chantilly cream with swirls of tart lemon curd to add a little sparkle," says the introduction to this recipe in the brand new cookbook Anna Olson's Baking Wisdom: Everything You Need to Know to Make You a Better Baker.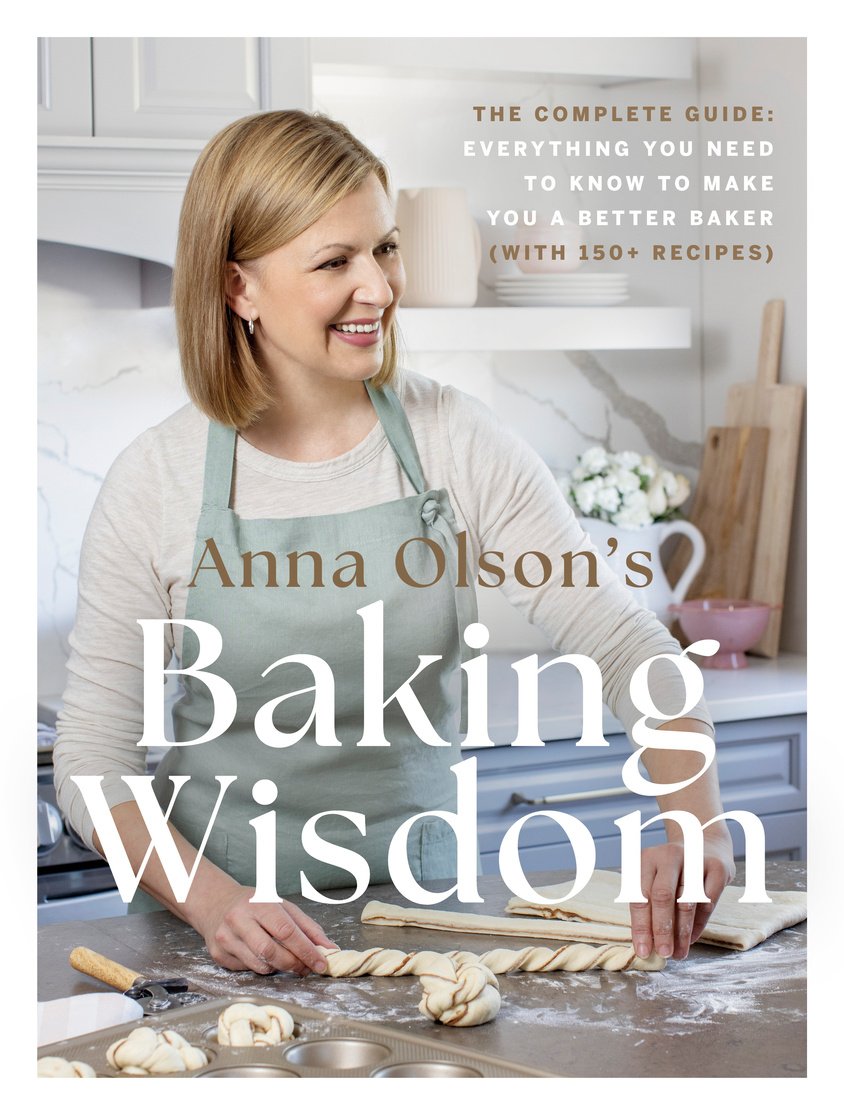 Inside her new book, you'll find no shortage of creative recipes, as well as a spectrum of tips from the insightful baking aficionado and Food Network Canada personality. While some recipes—like this clever spin on classic Eton mess—may require several steps to get to the beautiful end product, Anna Olson's clear instructions and baker's notes are right there beside you every step of the way.
Her pink lemonade Eton mess was created to celebrate strawberry season, but it can taste just as a delicious out-of-season too. Head to a local grocer and find some Canadian-grown berries in the freezer section.
If you're in Alberta, you can even get your hands on greenhouse-grown strawberries at Sunterra Market all year long and we think that's pretty neat!
Tart lemon curd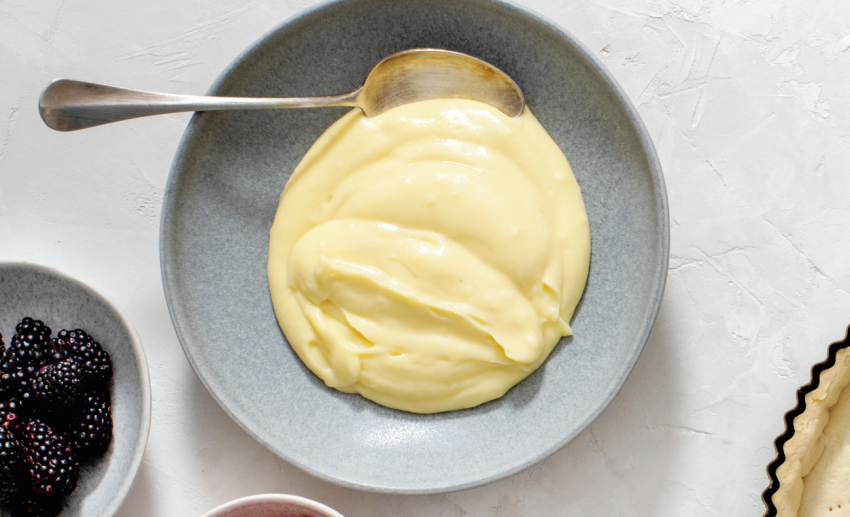 1/2 cup fresh lemon juice
2/3 cup granulated sugar
1 large egg
3 large egg yolks
1 tbsp freshly grated lemon zest
2 tsp cornstarch
1/2 cup unsalted butter, cut into pieces
1/4 cup sour cream or crème fraîche
Cook the curd
Whisk the lemon juice, sugar, egg, egg yolks, lemon zest and cornstarch together in a medium saucepan. Add the butter and place the pan over medium heat, whisking constantly until the curd thickens slightly and just begins to show signs of starting to bubble, about 7 minutes. The curd should coat the back of a spoon but it will remain fluid.
Acid ingredients like the lemon juice and lemon zest make it harder for the proteins in eggs to bond and coagulate, which is why you can fully cook the curd without actually curdling the eggs.
Cool and chill the curd
Remove the curd from the heat and whisk in the sour cream (or crème fraîche). Transfer the curd to a container to cool to room temperature. Cover the container and chill until set, at least 3 hours.
Adding the sour cream off the heat stops the curd from cooking by cooling it down a little.
The curd will keep in an airtight container in the fridge for up to 10 days or frozen for up to 3 months.
Chantilly cream
1 cup whipping cream
1 tbsp instant skim milk powder, optional
1 1/2 tbsp icing sugar
1/2 tsp good quality vanilla extract or vanilla bean paste
Whip the cream and skim milk powder, if using, by hand or with beaters on high speed until it holds a soft peak.
Use the skim milk powder if you are whipping the cream ahead of time. It stabilizes the whipped cream so that it holds its shape for hours (whereas regular whipped cream will start to deflate within a few hours).
Whip in the icing sugar and vanilla and chill until ready to use.
Store in an airtight container in the fridge for up to 2 days.
Pink lemonade Eton mess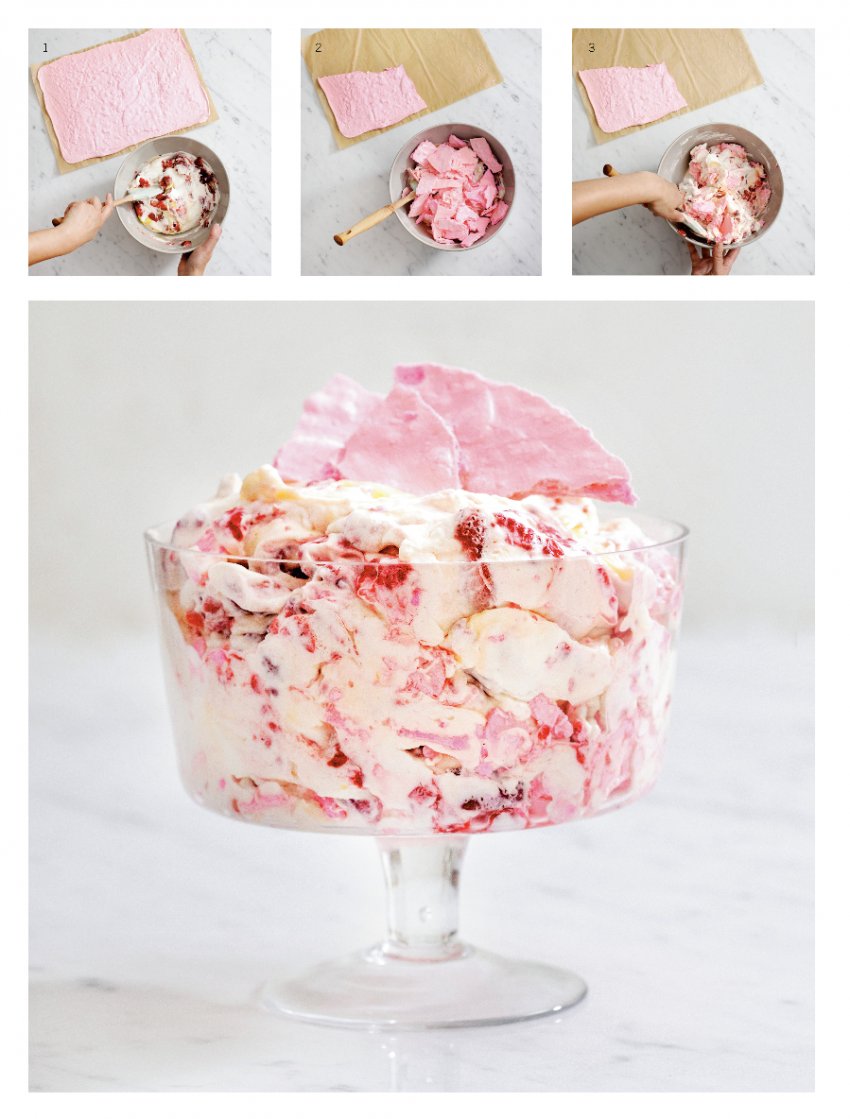 2 large egg whites, at room temperature
1/2 tsp cream of tartar
1/2 cup granulated sugar
pink food colouring
1 recipe chantilly cream
1/2 cup lemon curd
2 cups fresh berries
Make the meringue
Preheat the oven to 250°F (120°C) and line a baking tray with parchment paper.
Whip the egg whites and cream of tartar using electric beaters or a stand mixer fitted with the whip attachment on high speed until they become foamy. Slowly pour in the sugar, whipping continuously on high speed until the whites hold a stiff peak when the beaters are lifted. Stir in a few drops of pink food colouring. Spoon the meringue onto the prepared baking tray and spread it out to a thin, level layer that fills the tray.
Bake the meringue for about 40 minutes. If the meringue shows signs of browning, crack the oven door open and continue to bake. Remove the tray of meringue to a wire rack to cool. The meringue will crisp up as it cools, but if you notice that the centre still seems soft, return the meringue to the oven for another 5 to 10 minutes to dry out (even if the meringue has cooled completely). Cool the meringue completely.
You can make the meringue a day ahead. Keep it, broken into large pieces, in an airtight container at room temperature.
Mixing and assembly
Mix the cream, curd and berries. Spoon the Chantilly cream into a large bowl. Dollop the curd onto the cream and sprinkle the berries overtop. Gently fold the curd and berries into the cream a few times, but do not fully combine them (1).
If you really want to bring on the pink, add a few drops of pink food colouring to the Chantilly cream. You can assemble the cream, curd and berries a day ahead and chill until ready to serve.
Add the meringue immediately before serving. Crumble the meringue over the lemon cream and fold in gently but quickly (2, 3). Spoon this mixture into a large serving bowl or divide into individual glasses or dessert coupes and serve immediately.
Anna Olson's note: Do not try to keep an assembled Eton mess—within an hour you will have a literal hot mess of soft meringue and weeping berries.
Yield:

Prep Time:

Cook Time: