For foodies in Canada and those who have visited Whistler, B.C., Araxi needs no introduction. The acclaimed restaurant is the go-to for a memorable dining experience with locally-sourced ingredients and incredible hospitality. While you may not be able to use the same ingredients and hire a server for your dinner at home, you can now recreate some of those dishes with executive chef James Walt's new cookbook, Araxi: Roots to Shoots, Farm Fresh Recipes. The new cookbook from the award-winning chef includes step-by-step recipes from the restaurant that have been adapted for your home kitchen.
"We are absolutely delighted with how this cookbook has come to life," Chef Walt said. "It's the culmination of several years of effort from our entire team, and really summarizes our philosophy of working closely with local farmers, ranchers, and coastal fisher folks."
For this dish, chef James Walt suggests using cow's milk ricotta if you can't find buffalo ricotta at your local cheese shop. And, if you are in a hurry, you can use your favourite pasta noodle instead of the gnudi and use good-quality frozen peas if fresh peas are not in season in your area.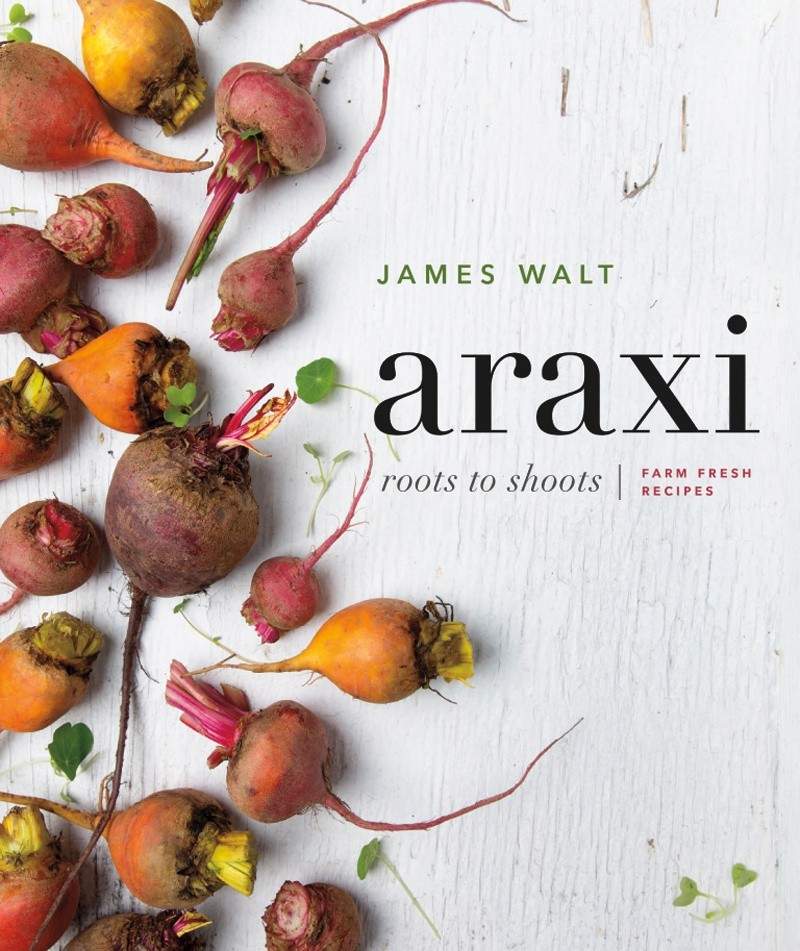 2 lbs whole milk or buffalo ricotta, drained
2 large eggs, lightly beaten
2 tbsp extra virgin olive oil
2 tsp kosher or sea salt
2 cups Italian 00 flour, plus 3 tbsp for dusting
3/4 cup vegetable nage
2 tbsp unsalted butter
1 1/2 cup fresh or thawed frozen peas, blanched
2 tbsp chopped fresh mint
1/2 cup grated ricotta salata
In a large bowl, mix together the whole milk (or buffalo) ricotta, eggs, olive oil and salt until thoroughly combined. Add 2 cups of the "00" flour all at once and, using a pastry cutter or a fork, gently and swiftly work it into a soft dough. Using your hands, gently gather the dough into a ball, wrap it in plastic wrap and refrigerate for at least 30 minutes.
Lightly dust a clean work surface and a large plate or baking tray with flour. Divide the dough into 4 roughly equal parts. Roll each piece between your palms to form a log about 1 inch in diameter. Place the logs on the counter and, using a pastry scraper or paring knife, cut each one into 1-inch pieces. (You will have about 15 to 18 per log, or 60 to 72 pieces total.) Arrange the gnudi in a single layer on the baking tray and refrigerate for at least 30 minutes or until needed. You can freeze the gnudi at this point for up to 1 month.

Bring a large pot of salted water to a boil on high heat. Bring the vegetable nage to a simmer in a large sauté pan on medium-high heat, cook for 3 to 4 minutes until reduced by half, then add the butter. When the butter has melted, add the peas.

Add half of the gnudi to the boiling salted water and cook until they float to the surface, 2 to 3 minutes. Using a slotted spoon, add them to the peas. Cook the second batch of gnudi and add them to the peas too. Once all the gnudi have been cooked and added to the pan, remove from the heat and stir in the mint. Season lightly with sea salt, then transfer to a serving bowl. Serve topped with the ricotta salata.
Yield: