Being an iconic breakfast food, chances are that you're pretty comfortable making pancakes at home. With that said, when was the last time you have gotten a bit more creative with them?
In his latest cookbook Flavorbomb, Food Network Canada personality and best-selling author Bob Blumer shows you how to do just that with his approachable, but unique recipe for cornmeal pancakes.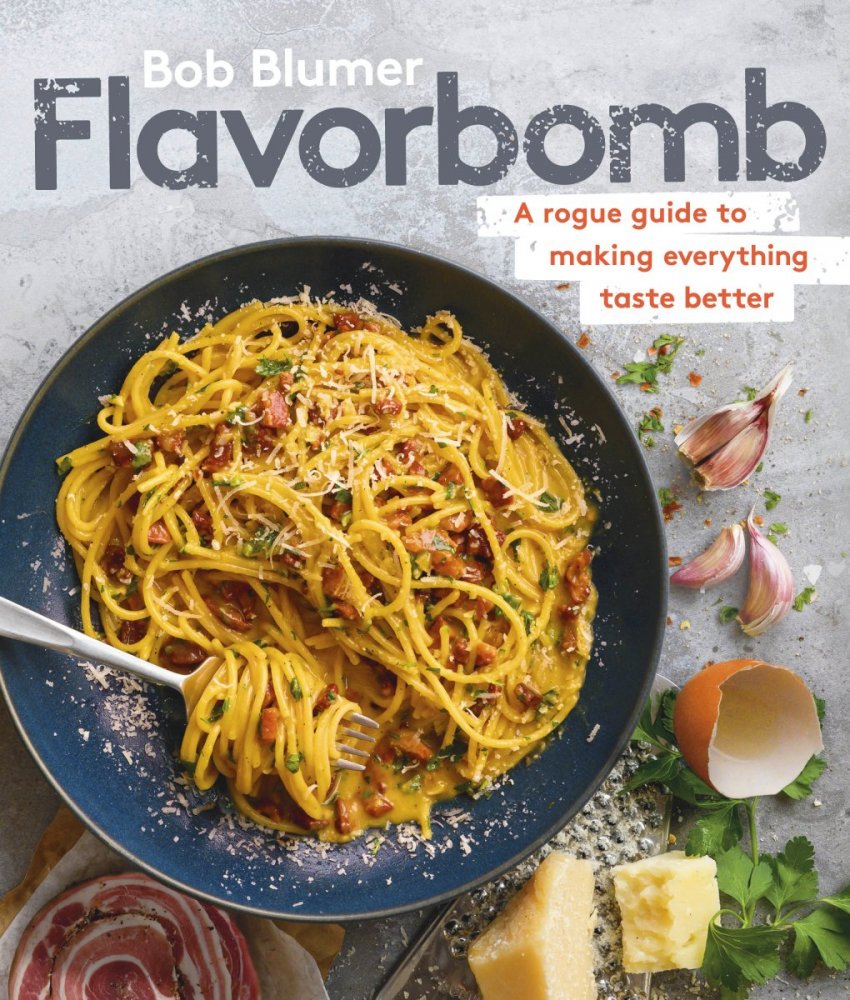 "These pancakes were inspired by a transcendent dinner I had at Fäviken, Magnus Nilsson's now-closed 16-seat restaurant that was nestled in the middle of Jämtland, Sweden. Magnus is at the vanguard of new Nordic cuisine (along with Noma's René Redzepi). His cooking honors local ingredients that sometimes appear to be foraged by wood fairies.
"This recipe doesn't require you to make your own birch syrup, but it does honor the Scandinavian sensibility of incorporating savory, herbaceous ingredients in places North Americans would least expect them. The result is a pancake that's sweet enough for breakfast, but savoury enough to keep you from bouncing off the walls," writes Blumer in the introduction to this blueberry cornmeal pancakes recipe in his cookbook.
The blueberry and rosemary-infused syrup component of this recipe can also be utilized in savoury applications such as glazing a whole chicken, baby potatoes or pork tenderloin.
Blueberry cornmeal pancakes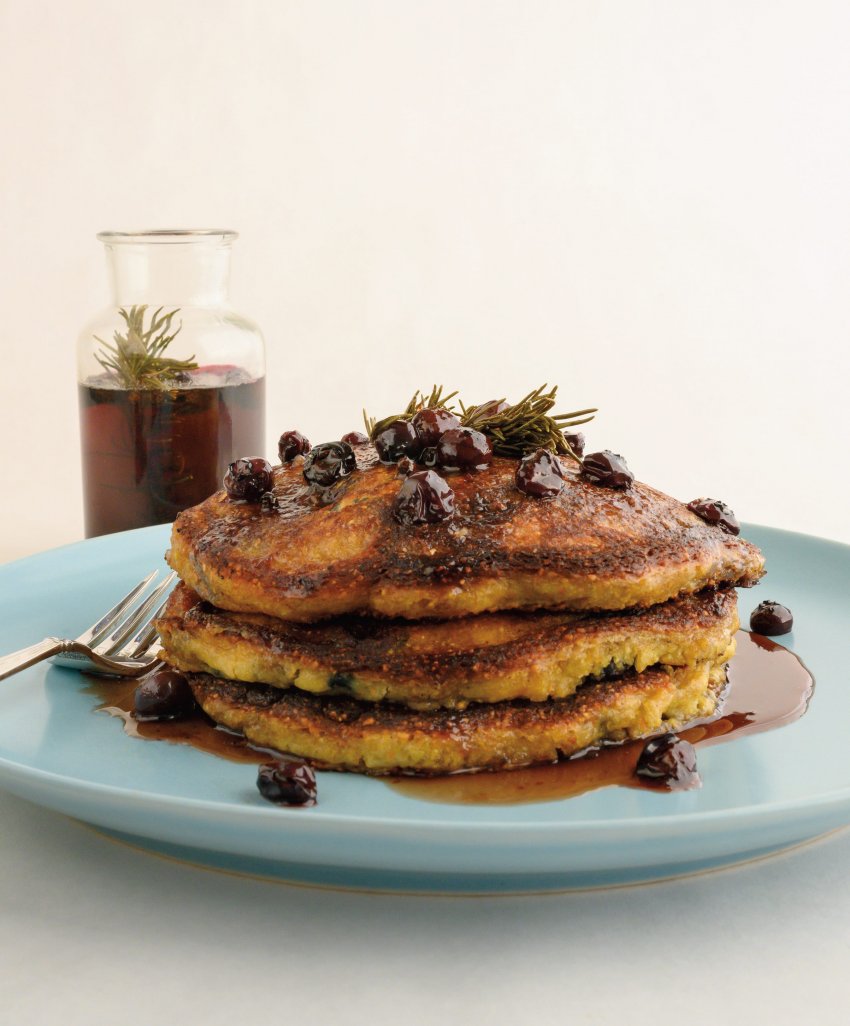 1/2 cup coarsely ground cornmeal
3/4 cup all-purpose flour
1 tbsp cane sugar
3/4 tsp baking powder
3/4 tsp baking soda
1/2 tsp fine salt
4 tbsp salted butter, divided
1 1/4 cups buttermilk
1 large egg
1 cup blueberries, fresh or frozen
zest of one whole orange
1/2 cup good quality maple syrup
1 tsp good quality balsamic vinegar
2 sprigs fresh rosemary
10 whole black peppercorns
In a large bowl, mix the cornmeal, flour, sugar, baking soda, baking powder, and salt.
In the large sauté pan you plan to make the pancakes in, melt 1½ tablespoons of the butter.
Add the melted butter to a second bowl along with the buttermilk and egg. Reserve the pan. Use a whisk to mix.
Slowly pour the wet ingredients into the dry ingredient bowl, using a rubber spatula to incorporate. Do not overmix. The batter should be thick and airy at the same time—but not too thick. The proportions of the flour and cornmeal to buttermilk in this recipe should get the batter very close to the desired thickness, but it may be necessary to add one or two additional tablespoons of flour or buttermilk. Use your instincts. Gently fold in two-thirds of the blueberries, and the zest. Let rest for 15 minutes. Bubbles should form in the batter.
Just before you start making the pancakes, in a small pot over medium heat, add the maple syrup, balsamic vinegar, rosemary, remaining blueberries, and peppercorns. Bring to a high simmer, then reduce to a low simmer for about 5 minutes. Reserve.
In the pan you used to melt the butter, over medium/medium-high heat, add 1 tablespoon of butter. If you have a second pan, set it up in the same way so that you can work both pans at the same time to cook all the pancakes at once. When the butter is sizzling, drop in ¼-cup dollops of batter. Cook until bubbles form on top (after 2 minutes, sneak a peek under the pancakes and toggle the heat if the pancakes are blackening before bubbles start to form. Flip and continue cooking for about 90 seconds, or until browned on the bottom and cooked through. Repeat with the remaining batter if necessary.
Top the pancakes with the warm syrup (leaving the peppercorns behind in the pot).
Yield:

Prep Time:

Cook Time: