With the inaugural Sommo Festival less than two months away, and its famed country-themed counterpart festival happening the week prior, PEI residents and music-loving visitors alike are already getting excited about the first two weekends of July in Cavendish Beach.
Building off the success of the Cavendish Beach Music Festival (July 6-8, 2023), its organizers decided to launch Sommo (July 14-15, 2023) to provide an opportunity for acts from a wide range of genres to perform on its oceanside outdoor stages. What makes the inaugural Sommo lineup even more appealing (to foodies) is its Meyer Culinary Stage that sees notable chefs and food personalities showcasing culinary tips and tricks alongside the stage's host Derrell Smith (TV Host, creator and CEO of 99EATS, LLC).
Hospitality professionals and food personalities doing demonstrations over the two days include Ilona Daniel (Charlottetown, PEI), Dale Mackay (Top Chef: World All-Stars), Lindsay Jones (The Ostrich Club), and even Top Chef judge and best-selling cookbook author Gail Simmons.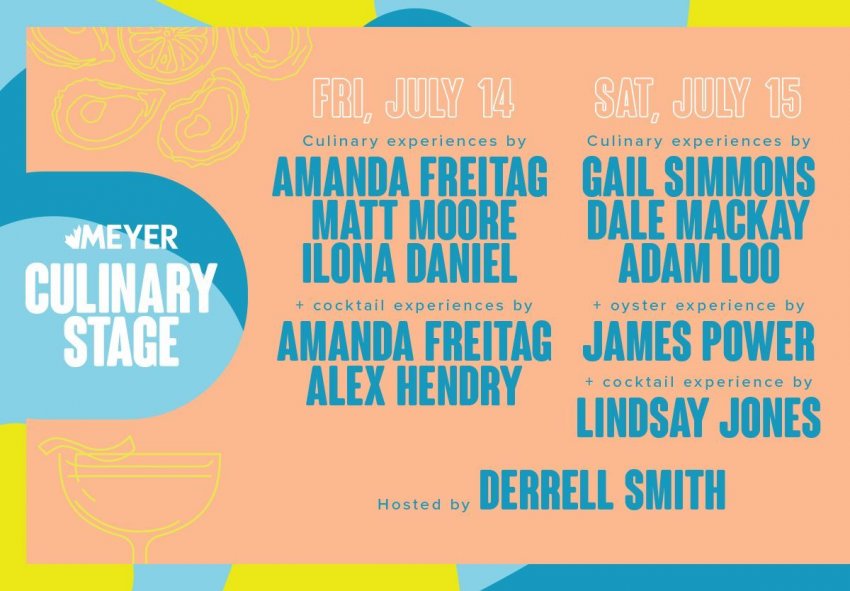 "One of our biggest goals for Sommo was to create an event where both music and food lovers could gather for an unforgettable experience," explained Whitecap Entertainment CEO Ben Murphy. "Summer is truly the best time to enjoy local food outdoors and we're so incredibly proud of the opportunities we've created for guests with our Meyer Culinary Stage lineup. Not only will we be giving guests a taste of the East Coast, we'll also be showcasing some of the biggest names in food and beverage and we cannot wait to see what they cook up!"
Bell Presents Sommo Festival will feature performances by acts like Death From Above 1979, Charlotte Cardin, Housewife, Lord Huron, Vance Joy, MONOWHALES, Dear Rouge, Allison Russell, Tegan and Sara, Mumford & Sons, JJ Wilde, and many more. Tickets for the two-day festival start as low as $99 (a great deal!) and can be purchased online.