If you haven't had the opportunity to travel to Vancouver and eat at the acclaimed Thai eatery Maenam yet, we have some good news: You can get a taste of chef Angus An's Thai cuisine at home with the restaurant's cookbook. Years in the making, the book summarizes more than 100 recipes built on flavour balance, traditional Thai cooking styles, and, of course, An's innovative approach to cooking.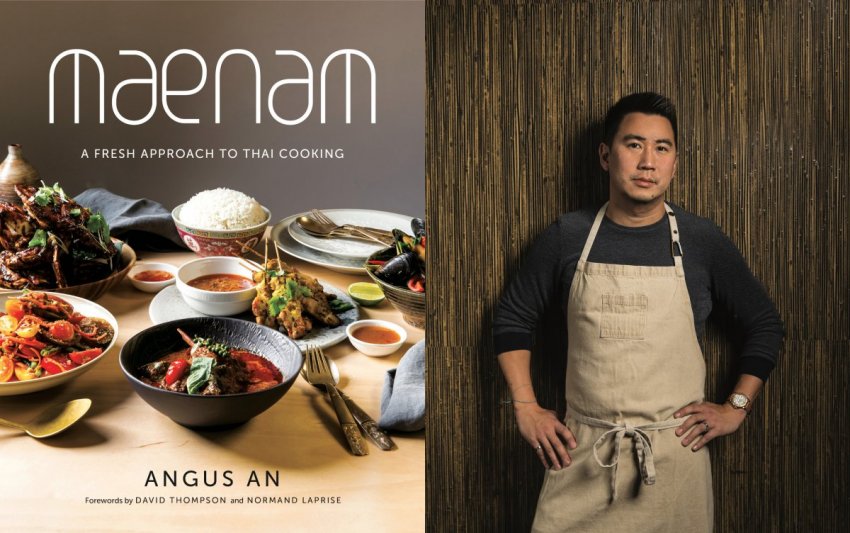 Once you've gathered the ingredients, this green papaya salad is a dish that does not take long to make. Its fresh and citrusy flavour will wake up your taste buds before you dive into a main course or can help balance out any rich dishes you might be serving family-style.
"For this recipe, look for a clay mortar with a wooden pestle or a wooden mortar and pestle combination. They're commonly used by Thai street vendors specifically for making green papaya salad, and they prevent you from overpounding the vegetables while still bruising them enough to absorb the dressing," says An in the cookbook.
Green papaya salad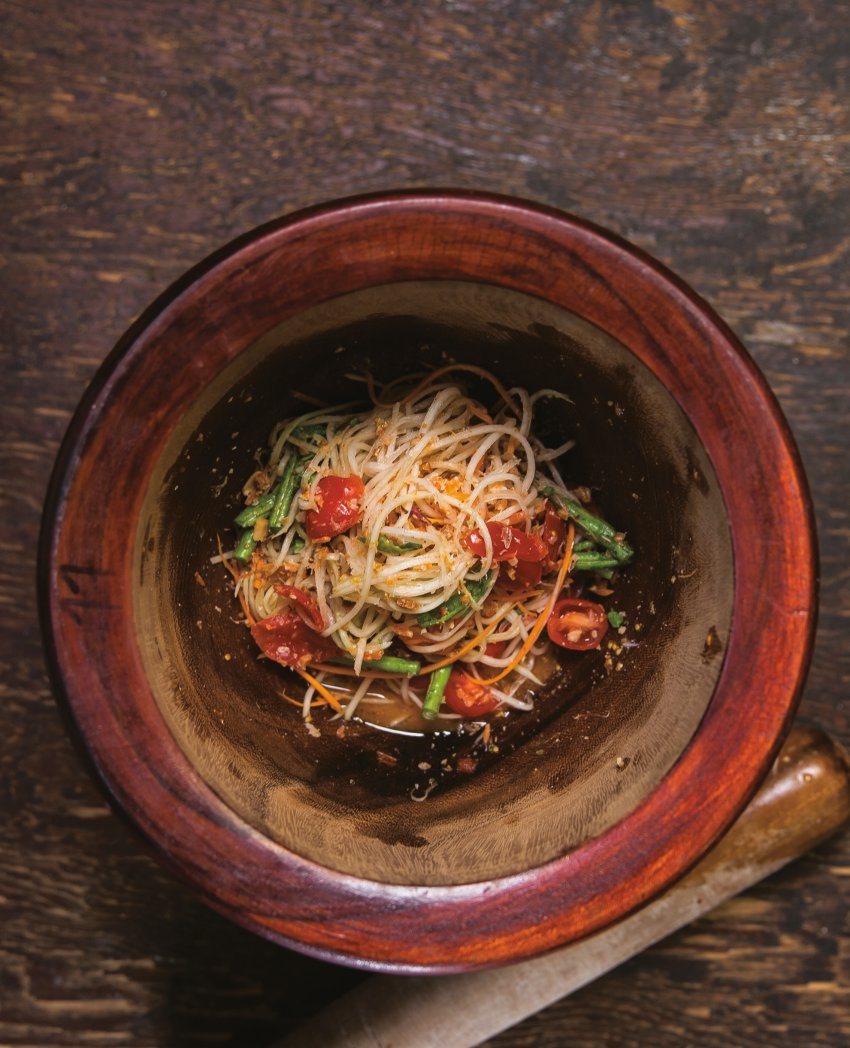 2-3 red Thai bird's eye chilies
1-2 garlic cloves
pinch coarse sea salt
2 tbsp palm sugar
2 tbsp dried prawns
1 tbsp roasted peanuts, skinned
1 tbsp Tamarind Water
1 tbsp freshly squeezed lime juice
good quality fish sauce, to taste
1 cup shredded green papaya
1/8 cup sliced long beans, cut into 1-inch lengths
4 cherry tomatoes, halved
2 tbsp shredded carrots
Using a mortar and pestle, pound the chillies and garlic together into a fine paste, using a pinch of salt as an abrasive. Add the palm sugar, dried prawns, and roasted peanuts, and pound everything together until it becomes a coarse paste.
Add the tamarind water (see recipe below), lime juice, and fish sauce to complete the dressing, and stir with the pestle until fully incorporated.
Add the green papaya, long beans, cherry tomatoes, and carrot and pound lightly to bruise and soften them so they can absorb the dressing, then toss to combine with the paste.
Alternatively, if your mortar and pestle aren't large enough to handle all the ingredients, you can use a pestle with a large mixing bowl for the vegetables.
The finished salad should taste sour, salty, lightly sweet, and hot.
Tamarind water
1 bag tamarind pulp
6 cups water
Cut a brick of tamarind pulp into small pieces and soak overnight in water. The next day, use your hands to massage the water into the tamarind and loosen it up.
Once the water is well saturated with tamarind, pass it through a strainer and keep only the tamarind water. Store it in the fridge for up to 1 week.
Tamarind water goes rancid quickly so don't make too much at once.
Notes from chef Angus An
Prepressed tamarind water is available in some Asian specialty markets. Because it has to be shelf-stable, it must be pasteurized; as a result, it tastes mustier than freshly pressed tamarind water.
Yield:

Prep Time:

Cook Time: