If you are looking for a recipe that will impress your guests, look no further. This scallop ceviche from chef Angus An's new cookbook, Maenam, is as flavourful as it is visually appealing. The fresh scallops are perfect to enjoy as a dinner starter or as finger food for your next cocktail party.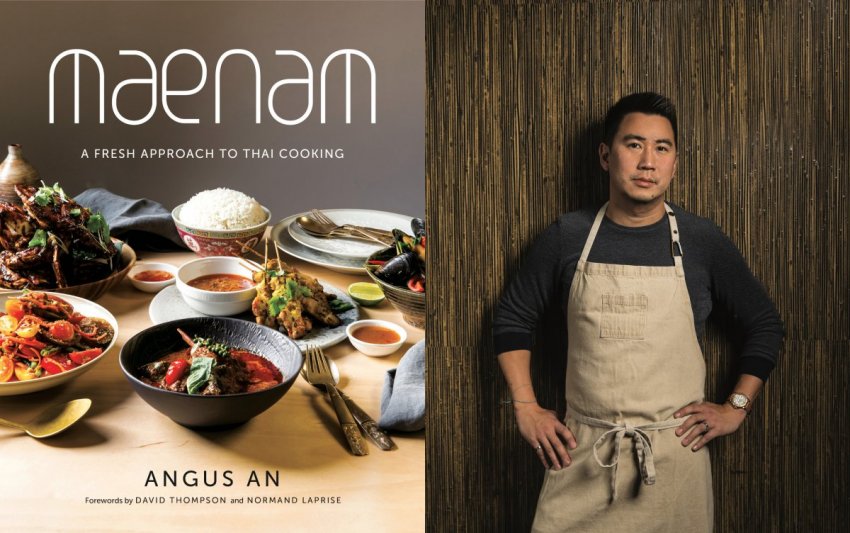 "I especially like this recipe because it shows off the beautiful shellfish available here on Canada's west coast; my absolute favourites are bay scallops from Qualicum Beach," says An.
Scallop ceviche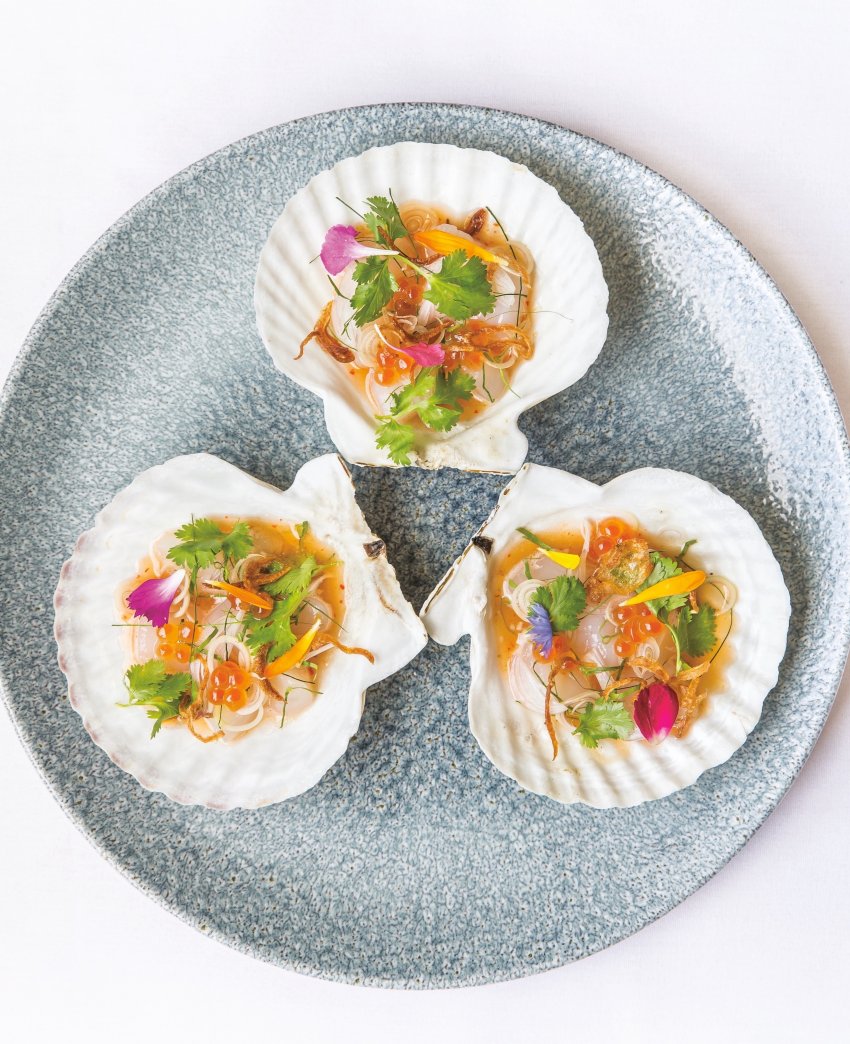 4-8 large live bay scallops, or IQF scallops (see tip)
2-4 Seafood Nahm Jim
2 tbsp finely sliced lemongrass, to garnish
2 tbsp finely sliced fresh long-leaf coriander, to garnish
1 tbsp finely julienned Makrut lime leaves, to garnish
Few sprigs of fresh coriander, to garnish
2-4 tbsp cured salmon roe or sustainable caviar, to garnish, edible flowers, to garnish (optional)
2 tbsp Fried Shallots, to garnish
Clean the scallop shells with a brush to remove all sand and dirt. The shells will be used as presentation and serving pieces.
Using a flexible palette knife, pry open the two shells slightly, wide enough to stick in your thumb. The tension from the shells might feel uncomfortable, but it will be brief. Insert the palette knife and scrape the inside of the top flat shell until you separate the flesh from the shell. Open the flat top completely and flex the palette knife while scraping the bottom bowl-shaped shell. Once the flesh is completely dislodged from the shell, set it aside in a bowl on ice. Scrape the inside of the shells clean and wash them thoroughly; reserve for serving.
To trim the scallop meat, remove the outer mantle and the liver (black piece), keeping the flesh (muscle) and the roe (orange piece). For this recipe, only the muscle is needed; however, the roe is a tasty piece to incorporate into the ceviche should you feel adventurous. Slice each scallop into four wedges. Place the scallop wedges back onto the shells and dress each with about ½ tablespoon nahm jim.
Garnish with lemongrass, long-leaf coriander, Makrut lime leaves, and coriander sprigs. I also like to serve it with cured salmon roe and an edible flower. Sprinkle the fried shallots on last for texture. Serve immediately.
Fried Shallots (Makes ½ Cup)
4 cups canola oil
1 cup thinly sliced shallots, about 1/16 inch
Fried Garlic (Makes ½ Cup)
4 cups canola oil
1 cup thinly sliced garlic cloves, sliced lengthwise to about 1/16 inch
In a medium-size pot, preheat the oil to about 330°F. Fry the shallots or garlic for about 5 minutes, stirring them occasionally. Toward the end of the cooking time, turn them over a few times with your spider and remove them from the oil when they're light golden brown.
For the fried shallots, use two forks to spread them out evenly to cool on a wire rack lined with paper towel. This ensures that the shallots cool off and crisp up more quickly.
For the fried garlic, keep in mind that it will retain heat when you remove it and darken quite a bit as it cools.
Reserve the fragrant garlic oil for finishing and stir-frying. Store fried aromatics in a lidded container in the pantry for up to 2 weeks.
Seafood Nahm Jim
1/4 cup sliced galangal
5 green Thai bird's eye chilies
2 red Thai bird's eye chilies
8 cloves garlic
1/4 cup chopped coriander root
Pinch of kosher salt
2 red chili peppers, deseeded
1/3 cup granulated sugar
2/3 cup freshly squeezed lime juice
1/2 cup fish sauce
Zest and juice of 1 Makrut lime
Notes from Chef Angus An
When picking out live scallops from your local fishmonger, choose the heavier ones with closed shells. Scallops can vary in size, and picking the heavier ones increases your chances of finding ones with larger flesh (muscle). Test an open shell by squeezing it closed; it should bounce back and close by itself fairly quickly. If there's no tension and the scallop doesn't close its shell, that means it's dead. Avoid dead shellfish at all costs and never buy dead shellfish that is "on sale".
You can either discard the mantle, liver, and roe or make a quick broth with them for a simple hot sour soup, such as the one of clams and matsutake.
You can buy deep-fried shallots and garlic in stores, but they're most often old, stale, and coated with starch-like flour for crispness, which adds unwanted texture.
You can also use Thai baby garlic; just use a mortar and pestle to pound them with a pinch of salt until the garlic breaks down into bits that are about 1/16 inch to 1/8 inch. Fry the garlic pulp using the same method. Note that you'll need to pass the oil through a fine strainer to fish out the garlic completely. The Thai baby garlic will carry over a lot of heat and continue cooking, so speed is of the essence in separating it from the oil. After straining, spread the garlic out onto a pan lined with paper towel to dry. Keep the skin on Thai baby garlic when you're frying it, as the skins and tiny cloves have beautiful texture and aroma.
Yield:

Prep Time:

Cook Time: