Salad season has arrived!
By now, you've likely harvested a small crop or two of rhubarb, picked up some bundles of asparagus at the farmers' market, and maybe you've even enjoyed some fresh morels too. Seeing all of these spring vegetables in full force signifies that freshly-plucked-from-the-garden summer produce is only a month or so away.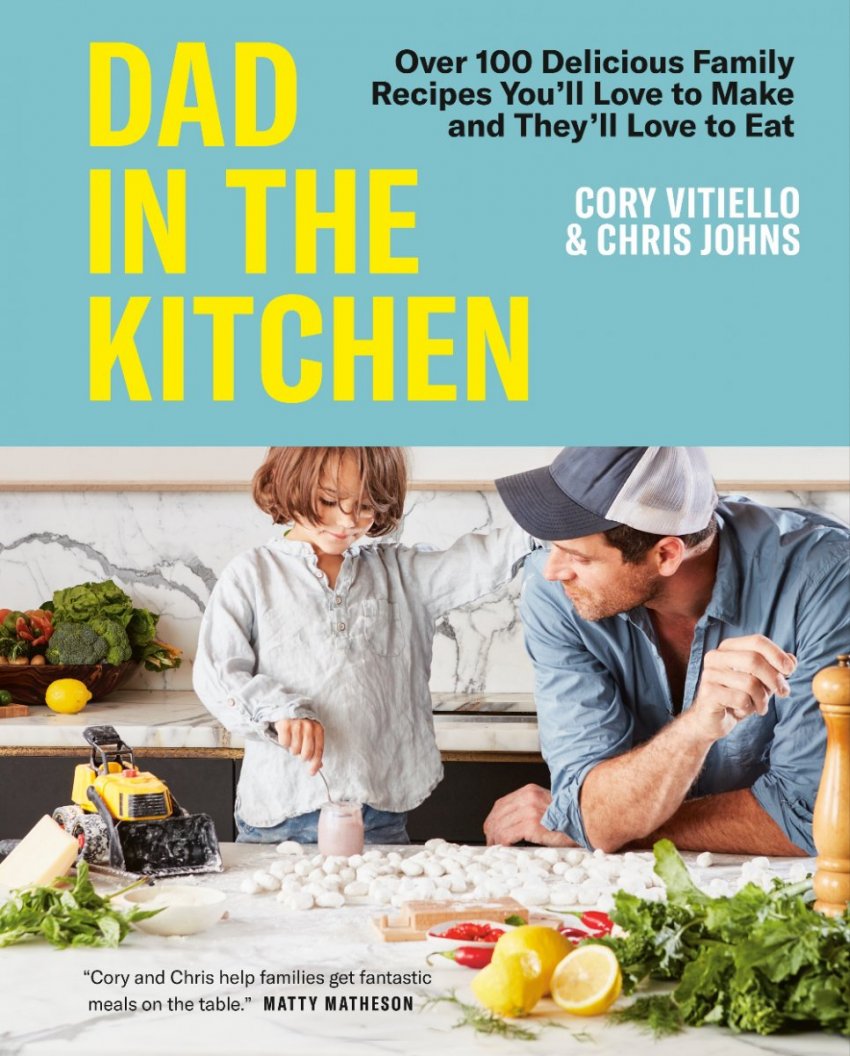 This simple summer salad recipe from the recently-released cookbook Dad in the Kitchen: Over 100 Delicious Family Recipes You'll Love to Make and They'll Love to Eat sees fennel and baby zucchini shaved tenderly into a fresh-tasting end product. It's a dish that will feel perfectly at home beside whatever main affair you might be grilling on the barbecue.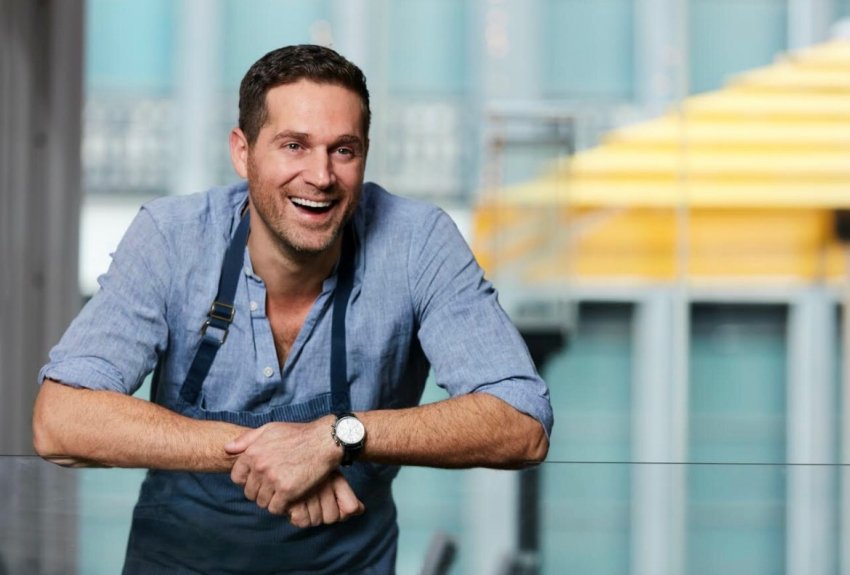 "The key here is to shave the zucchini wafer-thin, ideally with a mandoline, but if you don't have one or are intimidated by it, with a vegetable peeler. You also want to shave the zucchini at the last possible minute and in elongated pieces rotating around the core, so you're not getting that spongy middle. The long, thin ribbons soak up the flavours of the herbs, olive oil, and lemon," writes chef Cory Vitiello in the introduction to this recipe in his debut cookbook.
If you're not a fan of fennel or zucchini (not to shame you...but shame on you!), the salad dressing portion of this recipe can be applied to a wide range of spring and summer vegetables.
Shaved fennel and zucchini salad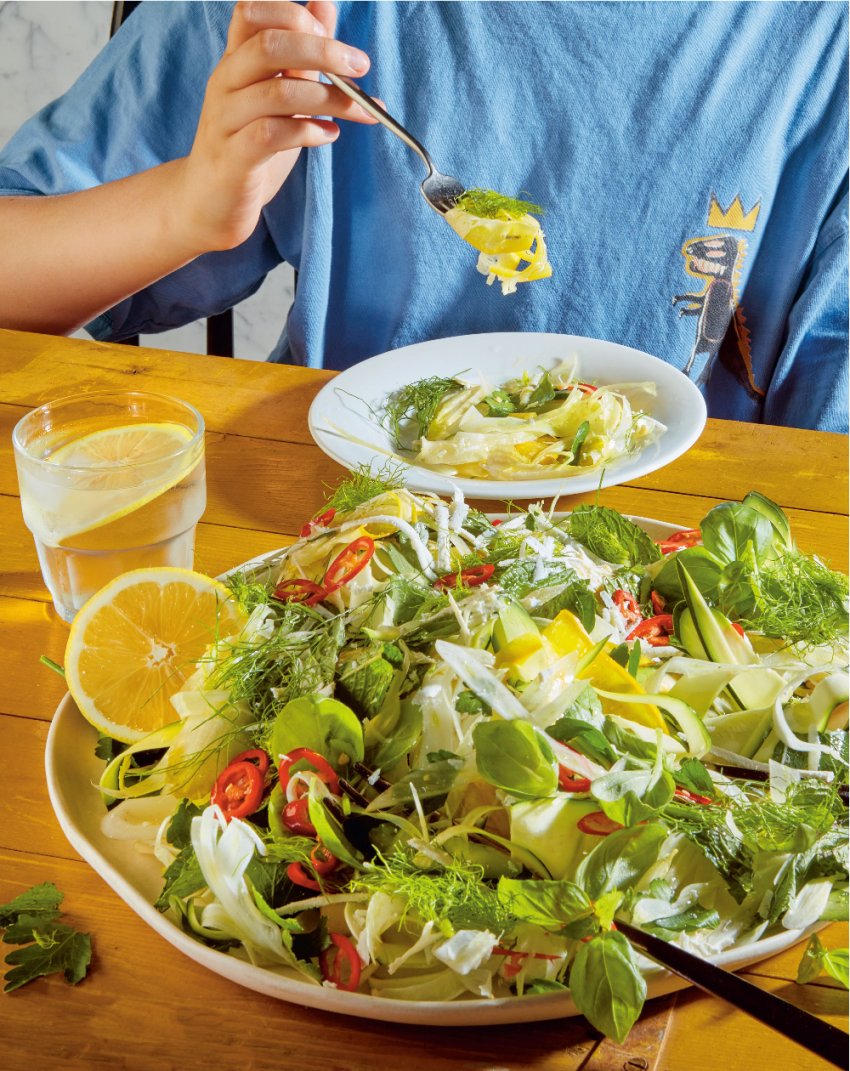 1/2 shallot, minced
kosher salt
1 tbsp fresh lemon juice
1 tbsp white wine vinegar
2 small yellow zucchini
2 small green zucchini
1 bulb fennel, quartered and core removed
1 cup fresh parsley leaves
1 cup fresh basil leaves
1/2 cup fresh mint leaves
1/2 cup fresh dill fronds
2 tsp grainy dijon mustard
1 tsp honey
ground black pepper
1/2 cup good quality olive oil
1/4 cup finely chopped dill
1/2 long red chili, seeded and thinly sliced
1/2 cup toasted and skinned hazelnuts, cracked
1 small wedge ricotta salata
1/2 lemon, for garnish
In a small bowl, combine the shallots with a pinch of salt, the lemon juice, and the white wine vinegar. Allow this to sit while preparing the remaining ingredients.
With a vegetable peeler, mandoline, or sharp knife, finely shave the zucchini lengthwise into ribbons. Finely shave the fennel, keeping the size as consistent as possible with the zucchini.
In a large bowl, place the zucchini, fennel, parsley, basil, mint, and dill fronds. Toss until well combined.
To the shallot dressing, add the mustard, honey, some pepper, and olive oil and mix until homogeneous. Add the finely chopped dill and mix again.
Add half of the dressing to the salad and toss until everything is evenly coated. Arrange on a serving platter and top with chilies and hazelnuts. Shave the ricotta salata into ribbons overtop, garnish with a squeeze of lemon juice, and serve immediately.