Love it or hate it, fruitcake is an iconic dessert of the holiday season. The polarizing baked good is loved by many and, on the opposite end of the spectrum, hated by many.
This re-imagined version of fruitcake was created by pastry chef Karine Moulin back in 2014 for a local food and drink publication in Calgary. The former executive pastry chef of Hotel Arts group has long since spread her wings and left Alberta, working in California and beyond.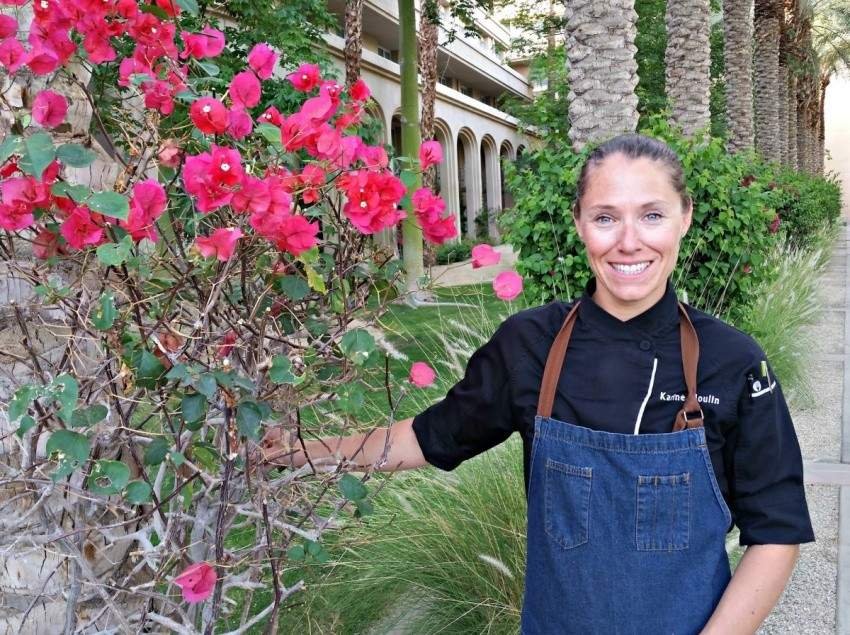 The Top Chef Canada season four alumnus offers up a unique spin on fruitcake and one which has become a favourite of ours at the Eat North HQ. Her choice to top the fruitcake with marzipan and torch it is a clever one, which adds an almost toasted marshmallowy effect.
This modern fruitcake recipe by chef Moulin is for all of the naysayers out there and we hope it can change some minds.
Modern fruitcake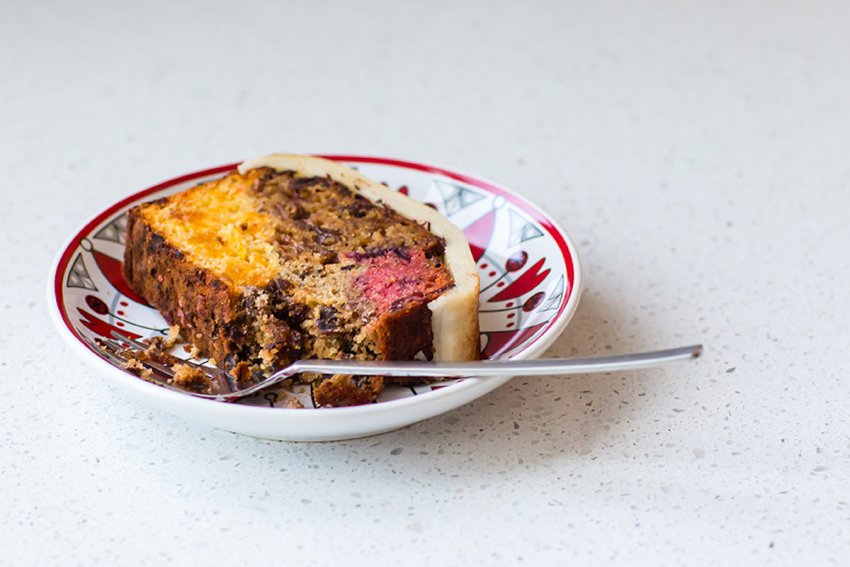 1 cup dried figs
1 cup dried apricots
1 cup dried cranberries
1 cup raisins
1 cup walnuts
1 cup pecan pieces
1/2 cup brandy or rum
2 cups of flour
2 tsp baking powder
1/2 tsp baking soda
1/4 tsp ground allspice
1/4 tsp ground cinnamon
1/4 tsp ground nutmeg
Pinch of salt
3/4 cup unsalted butter
1 cup white sugar
1/3 cup unsweetened applesauce
2 tbs honey
5 eggs
Line the base and sides of two 9" loaf pans with parchment paper. Set aside.
In a bowl, whisk together flour, baking powder, baking soda, allspice, cinnamon, nutmeg and salt.
In a separate bowl, beat together the butter, sugar, apple sauce, and honey, until fluffy. Add the eggs one at a time. Stir in the remaining flour mixture all at once just until incorporated.

Boil 1 litre of water, and equally divide over the dried fruit, each in their bowls. Let the fruit sit in the boiling water for 10 minutes. Remove the fruit from the boiling water and puree each dried fruit individually until smooth.
Next, grind the pecans and walnuts until flour-like.
Place each fruit and ground nuts in five separate bowls (i.e. four for the fruits and one for the ground nuts). Using a muffin scoop, divide the batter evenly into each fruit puree as well as ground pecans and ground walnuts until no batter remains. Stir the contents of each bowl to combine.
Preheat oven to 330 degrees.
Line two loaf pans with parchment paper. Scoop one of each batter onto each loaf pan. Alternate scoops of each batter in the pans as this will give you finished holiday loaves that are beautifully vibrant when sliced.
Bake in oven for approximately 55 minutes. Check for doneness with a wooden skewer in the center of the loaf. If skewer comes out clean, the loaves are done.
Remove from oven, place on a cooling rack and douse each loaf with ¼ cup of either brandy or rum.
Marzipan topping
2 227-gram packages marzipan
Remove the marzipan from its package, using a rolling pin, dust your rolling surface with icing sugar and roll out until it is 3.5" by 9". Place the marzipan on top of the loaf and gently press it down.
If desired, use a blowtorch to caramelize the marzipan to give the loaves a "toasted marshmallow" taste.
Yield:

Prep Time:

Cook Time: