Over the holidays, we can all get so swept up in all of the turkeys, the shortbread cookies and the Christmas cocktail staple, eggnog, that we overlook the friends and family who can't indulge in the same things. We want to be considerate of those you hold near and dear with some dietary restrictions. So, we asked vegan chef and Top Chef Canada alum, Lauren Marshall to share her vegan "eggnog" recipe with us, and we've got to tell you, it's pretty damn tasty. Add a splash of good quality Canadian-made rum in there, like Ironworks Bluenose Rum and after one sip, you won't be yearning for the traditional.
This delicious "nog" can be served cold as well, but who doesn't like a hot boozy beverage at Christmastime?
Vegan "eggnog"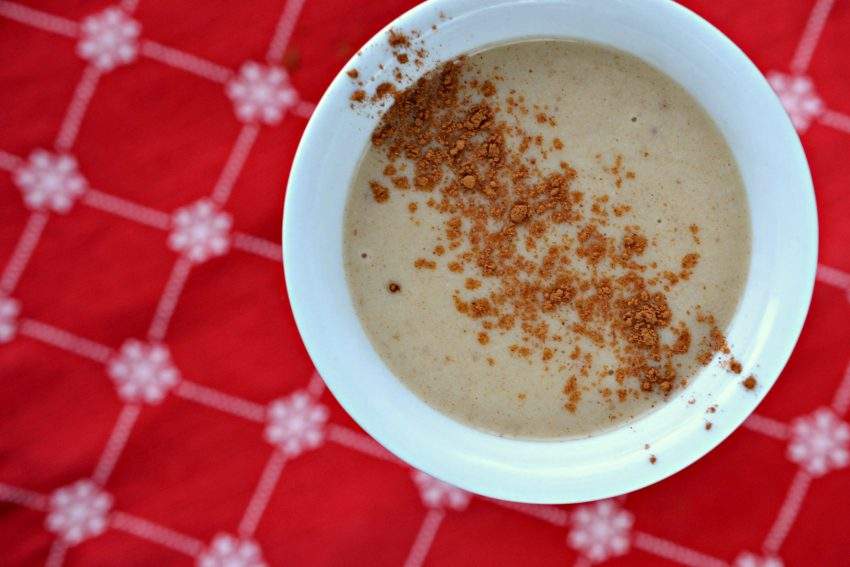 3 cups cashew milk
1 12.5-oz. can coconut milk
1 tsp vanilla extract
1 2-inch piece ginger root, peeled
1/4 cup maple syrup
5 medjool dates, roughly chopped
1 ripe banana, 1/2" sliced
1/4 tsp ground cinnamon, plus more for garnish
1/8 tsp ground cloves
1/8 tsp ground nutmeg
good quality rum, for boozifying (optional)
Place all ingredients, except the cinnamon reserved for garnish and rum (if using), in a medium pot and bring to a simmer over medium-high heat.
Reduce to heat to low, and let mixture steep for at least 30 minutes, stirring occasionally. Remove ginger root and discard.
Using an immersion blender, purée mixture until very smooth.
(Note: if you are using a regular blender, let mixture cool a bit before blending.)
Pour mixture through a fine-mesh strainer into a heatsafe bowl, discard solids and repeat process, pouring contents once more through strainer back into pot.
If you're adding rum, add preferred amount to the pot and keep warm on the stove until ready to serve.
Divide "eggnog" into cups and garnish with ground cinnamon.
Yield:

Prep Time:

Cook Time: