As a Vancouver Island institution, Tofino's SoBo Restaurant has long been creating dishes that keep both tourists and locals coming back again and again. This is largely thanks to its impassioned owner and chef Lisa Ahier, who is celebrated far and wide for her approach to creating seasonal comfort foods, often bursting with coastal BC-grown (or foraged) ingredients.
The chef's brand-new cookbook Together at SoBo: More Stories and Recipes From Tofino's Beloved Restaurant is an ode to the both West Coast town she loves so much and the ingredients that surround it. Needless to say, the new cookbook is chock full of culinary inspiration.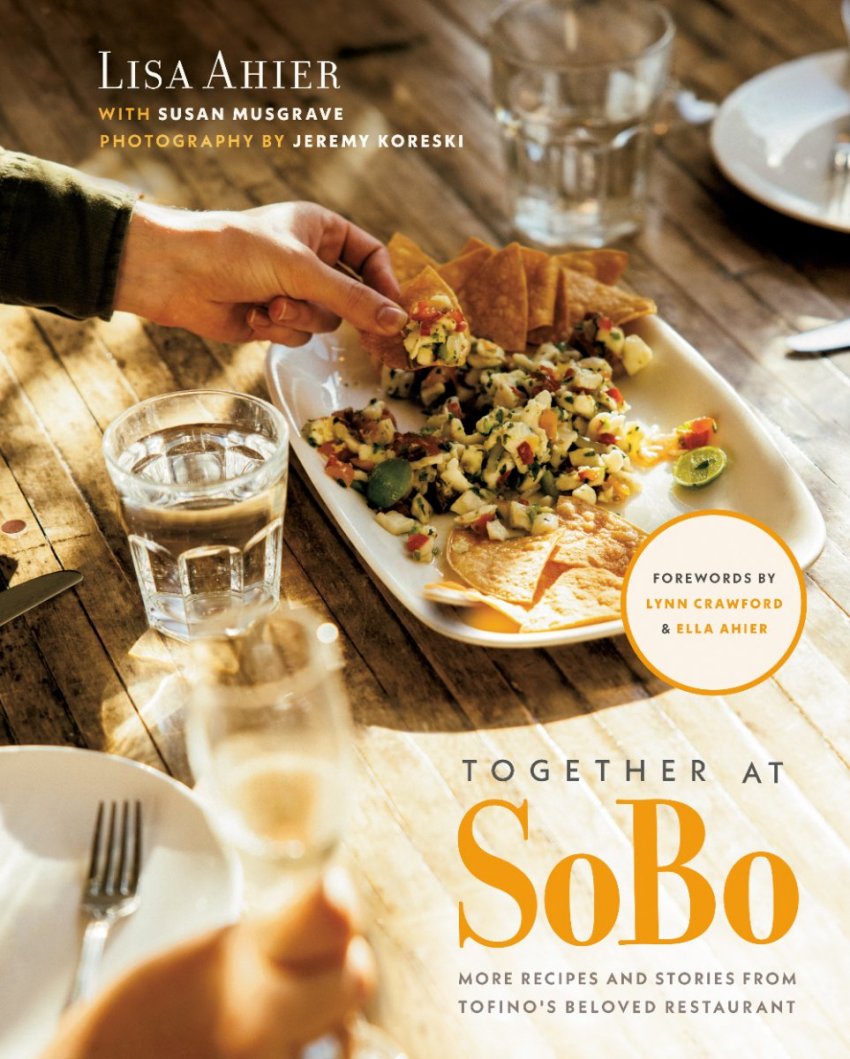 While there are many recipes throughout its pages piquing our interest, the insight to SoBo's pizza dough recipe is definitely a highlight. Couple that with a lovely mushroom, caramelized onion and goat cheese pizza recipe that is anything but run-of-the-mill (the pumpkin seed pesto though!), and you're set up for at-home dinner success.
"One of the great perks of living in British Columbia's rainforest is the abundance of wild forest mushrooms. Chanterelles, pine, chicken of the woods, porcini . . . I encourage you to experiment with the different varieties and find what best suits you. The key to this pizza is the earthiness of the mushrooms and the sweetness of the caramelized onions. And the acidic nature of the goat cheese really perks it up," writes Ahier in the introduction to this recipe in Together at SoBo.
Pumpkin seed pesto
1/2 cup toasted pumpkin seeds
1/4 cup minced garlic
1 cup fresh basil leaves
1 cup fresh spinach leaves
1/2 cup arugula or watercress
1/4 cup fresh lemon juice
1 tsp crushed red chili flakes
1 tsp salt
1/2 cup good quality olive oil, plus extra as needed
1/4 cup grated hard aged cheese, such as parmesan, pecorino, asiago, or romano
In a food processor or blender, combine the toasted seeds, garlic, basil, spinach, arugula, lemon juice, chili flakes and salt.
Pulse until the herbs are finely chopped, then, with the food processor running, drizzle in the olive oil and blend to your desired texture (I like it smooth and creamy. If you want a thinner sauce, add a bit more olive oil).
Transfer to a bowl and fold in the cheese.
Mushroom, caramelized onion and goat cheese pizza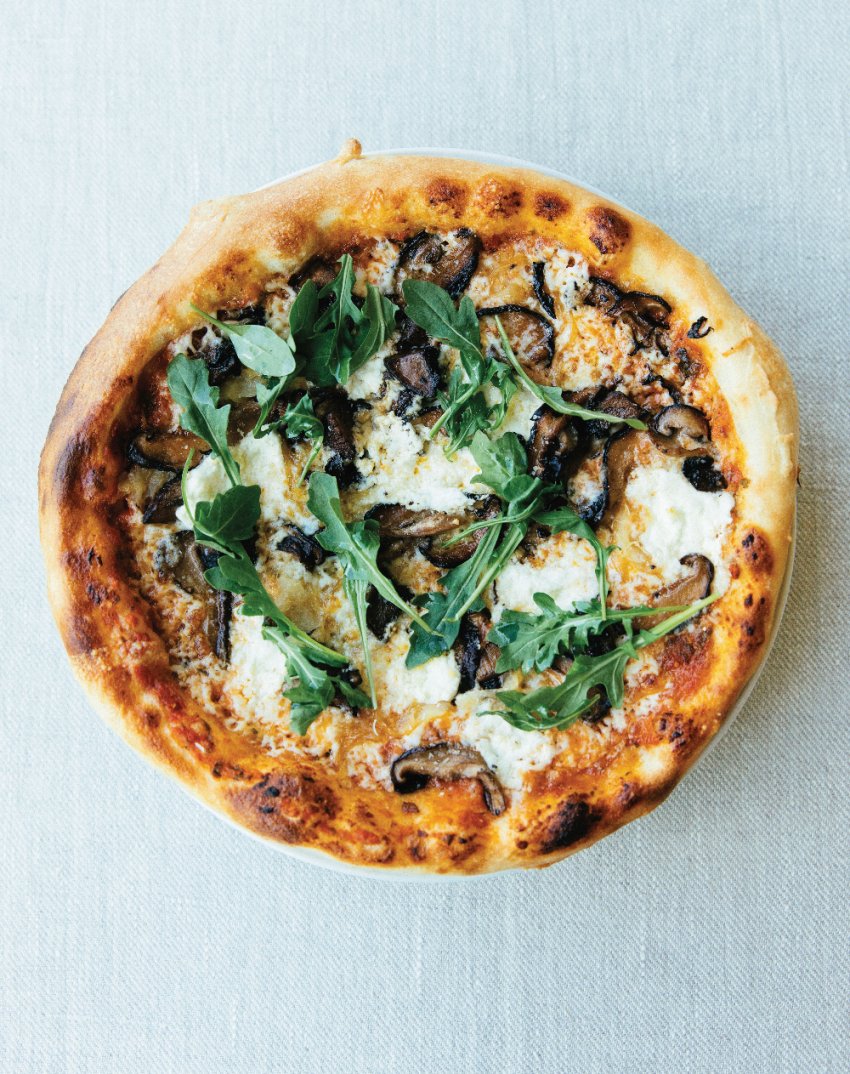 2 tbsp butter
1/4 cup plus 1 tbsp good quality olive oil
2 onions thinly sliced
1/2 lb shitake mushrooms, de-stemmed, cleaned and sliced 1/2" thick
2 large portobello mushrooms, cleaned and diced
1/2 lb cremini mushrooms, cleaned and sliced 1/2" thick
1/2 tsp salt
pizza dough, enough for four 10-inch pizzas
1-2 cups good quality red sauce
1 cup pumpkin seed pesto
3 cups shredded mozzarella cheese
1 cup crumbled soft goat cheese
In a medium heavy-bottomed frying pan over medium-high heat, add the butter and 2 tbsp of the olive oil. As soon as the butter melts, add the onions and turn the heat to medium-low, stirring the onions frequently to prevent them from burning, until they reach a rich, dark brown, about 20 to 30 minutes.
By cooking low and slow, you are creating so much flavor, bringing out the onion's natural sweetness without any sharp, bitter taste. If the onions start to stick or burn, turn the heat to low and add 1 tbsp water. Stir too much and the onions won't brown; stir too little and they burn. Remove from the heat and set aside to cool.
Heat the remaining ¼ cup olive oil in a separate medium heavy- bottomed frying pan over high heat. As soon as it starts to smoke, add all the mushrooms and cook until tender, about 5 minutes. Remove from the heat and season with the salt.
Preheat the oven to 450°F.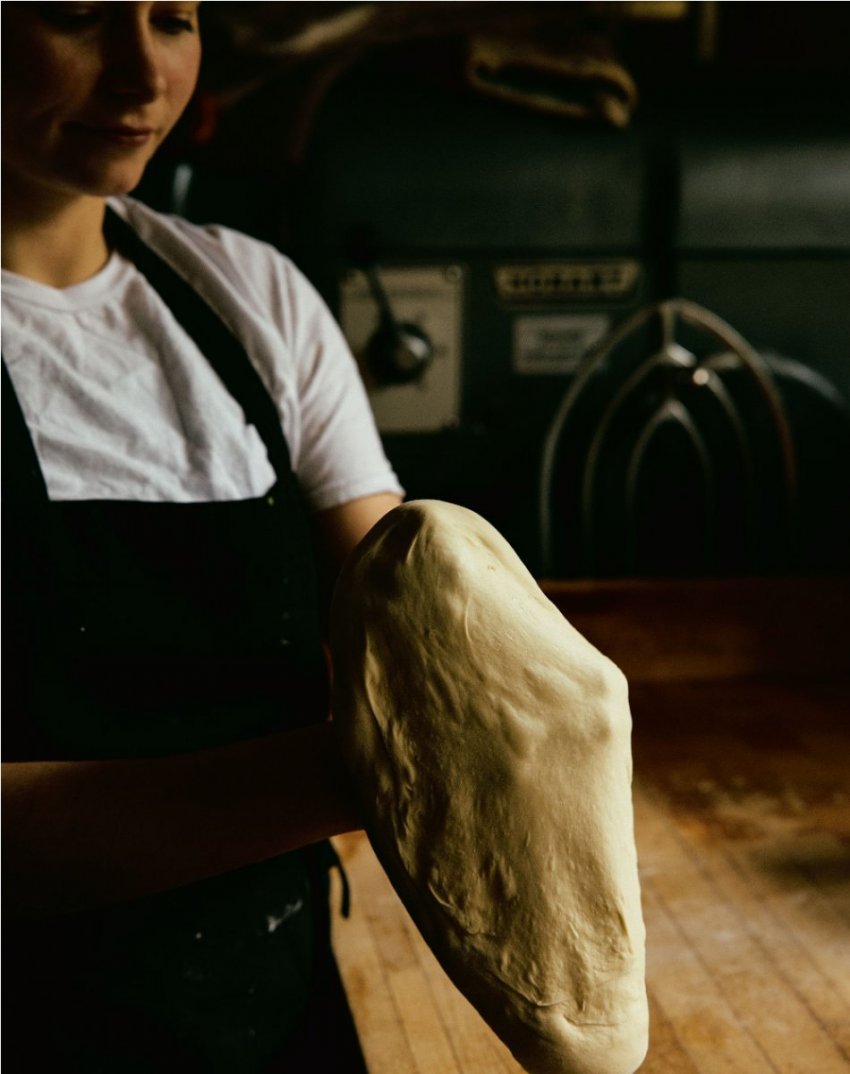 Form the dough for one pizza at a time on its floured pan.
Once you have shaped one piece of dough, immediately spoon ¼ cup red sauce and ¼ cup pesto on top. Use a spatula or the back of the spoon to spread them out evenly. Sprinkle with one-quarter of the onions, ¾ cup mozzarella, one-quarter of the mushrooms, and ¼ cup goat cheese.
Repeat the shaping and topping process with the remaining balls of dough.
Bake for 10 to 12 minutes, until the crust is golden brown and the cheese golden.
Remove from the oven and garnish with arugula.
Yield:

Makes four 10-inch round pizzas