There are no way ways about it, eggnog is the ultimate holiday drink. Sipped on only during the merriest season of the year, the rich drink is made more comforting by the twinkling lights of a Christmas tree or a crackling fire in thew background.
Celebrated chef Lynn Crawford has come up with a very special eggnog recipe for this 2020 holiday season. The addition of homemade caramel sauce and chocolate does make her spin on the classic an especially indulgent one, but if you're counting calories during the holidays then you're doing it all wrong.
Spiced rum chocolate caramel eggnog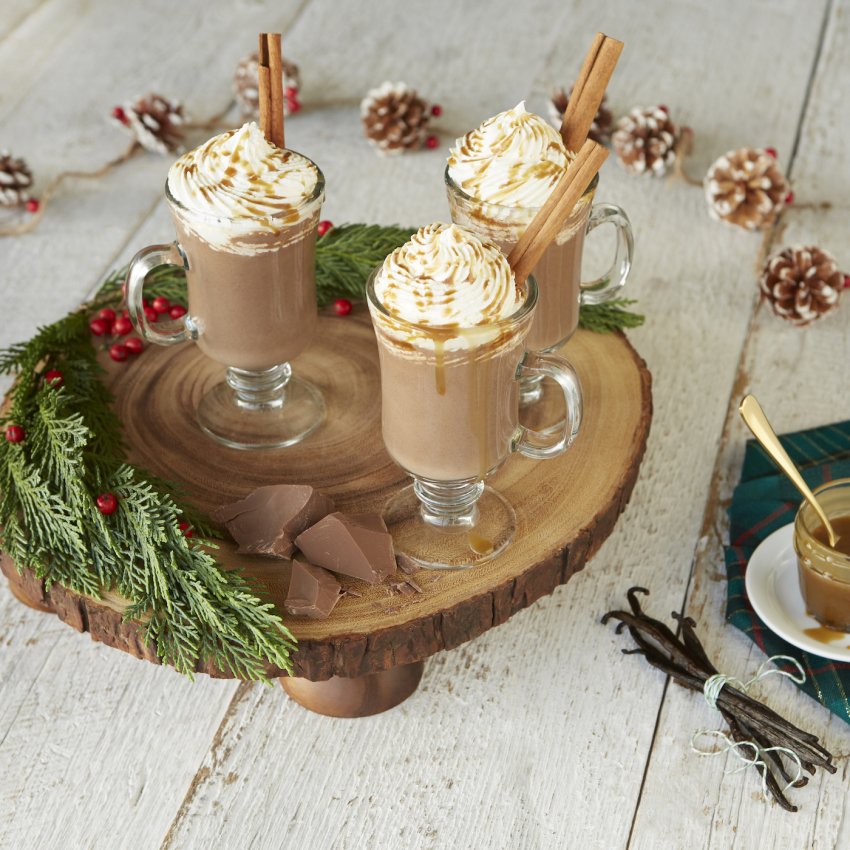 2 cups whole milk
1/2 tsp ground cinnamon, plus more for garnish
1/4 tsp ground nutmeg
1 tsp pure vanilla extract
6 large egg yolks
1/2 cup granulated sugar
1 cup dark chocolate chips
1 cup heavy cream
1/2 cup spiced rum, (optional)
1/4 cup caramel sauce
whipped cream, enough to top, optional
In a small saucepan over low heat, combine milk, cinnamon, nutmeg, and vanilla slowly bringing the mixture to a low boil.
Meanwhile, in a large bowl, whisk the egg yolks with the sugar until the yolks are pale in colour. Slowly add the hot milk mixture to the egg yolks in batches to temper the eggs and whisk until combined.
Return the mixture to the saucepan and cook over medium heat until slightly thick (and coats the back of a spoon) but does not boil. If you're using a candy thermometer, the mixture should reach 160 °F (70 °C). Add chocolate chips and whisk until melted.
Remove from heat and stir in heavy cream and, if using, spiced rum. Refrigerate until chilled.
When ready to serve, coat the inside of a mug with caramel sauce. Add eggnog to the mug and garnish it with whipped cream and cinnamon.
Lynn Crawford's caramel sauce
1/2 cup butter
1/2 cup heavy cream
1/2 cup dark brown sugar
1 tbsp fancy molasses
1 tsp vanilla
In a heavy bottom saucepan, whisk together the butter, cream, brown sugar and molasses on medium-high heat.

Let the mixture come to a boil and let it bubble for 2-3 minutes, stirring constantly.

Remove the mixture from the heat and stir in the vanilla.
Yield:

Prep Time:

Cook Time: