While it's well-known that Whistler is an amazing place for skiing, dining and just good times in general, the little mountain town becomes electrified each November for its famous food and drink festival, Cornucopia. Now in its 20th year, the festival is bigger and better than ever, with a long list of tastings, special dinner events, parties, competitions and more. Not only attended by food and drink lovers from all over Canada, it's likely that you will bump into some of the province's top chefs, sommeliers and barkeeps while you're enjoying the festivities too.
New to Whistler's lively festival in 2016 is the Restaurant Association of Whistler Hall of Fame, which will honour its first inductee on the evening of November 10th. In collaboration with the 20th Anniversary of Cornucopia, presented by BlueShore Financial, the Restaurant Association of Whistler (RAW) is launching its Hall of Fame with renowned legendary local restaurateur Mario Enero as the first inductee.
"This annual celebration will honour members of our food and beverage community that have been pioneers, trailblazers and innovators within our beloved restaurant industry. As our first recipient, Mario Enero exemplifies all of those qualities and more. He took a chance on a young and unproven little ski town over 20 years ago and managed to create two amazing establishments with La Rua and Caramba. His warm and charming demeanor matched the flair, style and genuine hospitality of both his locations. We could not be more proud, or more delighted, to honour Mario as our very first inductee into the RAW Hall of Fame," said Amy Huddle, president of the Restaurant Association of Whistler.
Thursday, November 10 - Comedy Kitchen
If you're indulging in a full, long weekend of sipping, sampling and multi-course dining, your palate will likely need a break from its labouring. Comedy Kitchen aims to help celebrate the festival's 20th birthday with a whole bunch of laughs with Canadian comedians Kelly Dyer, Kevin Banner and Californian Dino Archie, who just recently appeared on Jimmy Kimmel Live.
For more information and to purchase tickets (they're only $20) head here.
Saturday, November 12 - Crush Grand Tasting
This is the flagship event of Cornucopia and is also in its 20th year. What you can expect from this lively, boozy evening event is, essentially, wine, wine and more wine--but we're not putting quantity over quality here. Award-winning producers like Tantalus Vineyards, Painted Rock Estate Winery and Mt. Boucherie are just a few of the 75 wineries that will be present in the grand tasting room, collectively pouring hundreds of wines.
New for 2016 for the evening are sommelier-guided tours throughout the room. Since wine tastings as vast as Crush can be a little overwhelming, a wine expert can put you more at ease by helping you glide through the room for 45 minutes of your evening, learning more about particular wineries and varietals as you go.
Sommelier tours are an extra $35 on top of a regular Crush ticket.
Sunday, November 13 - With a Twist, Silent Disco and Tasting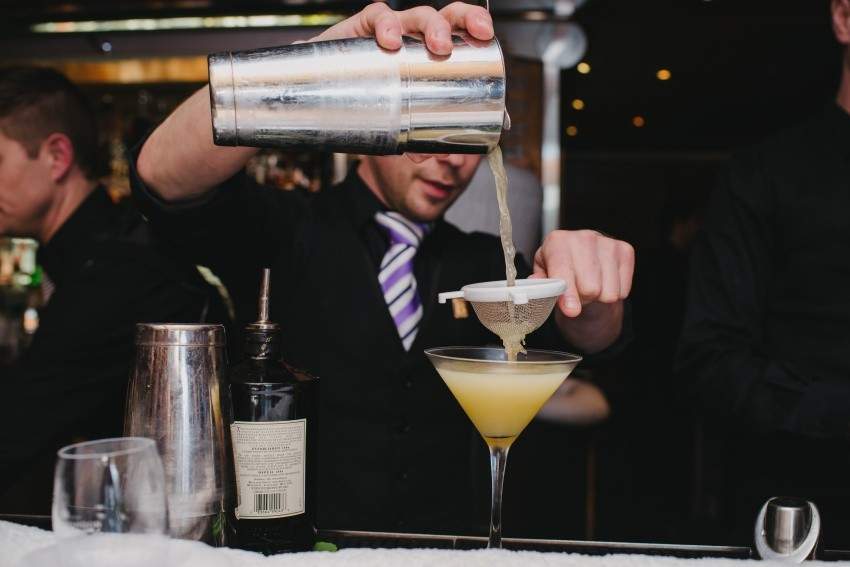 If you've never been to a silent dance party, tonight is the night! As soon as you walk into the tasting room here, you'll be handed a set of headphones with three channels of music options from three different DJs. If you need a little lubrication before hitting the dance floor, spend some time at a mixologist or bar station to watch cocktails being made (as well as hearing the process behind them) and microbrews being poured.
The best part about this event is that if you are a terrible dancer, no one really knows what music station you're tuned into, so who will be able to tell if you're dancing to the beat or not? That's right, no one!
Thursday, November 17 - Araxi's wine dinner with The Similkameen Collective and Road 13 Vineyards
Iron that dress suit, steam that stylish cocktail dress and make Thursday night a fun night out at Araxi, one of Whistler's most famous restaurants, for its special wine dinner that features wines from both Blind Creek Vineyard's The Similkameen Collective as well as Road 13 Vineyards. With an impeccable reputation in the kitchen, chef James Walt's specially curated menu aims to perfectly complement these top-tier Okanagan wines throughout the evening. Save us a seat!
Saturday, November 19 - Poured Grand Tasting: The Full Spectrum
If you're a fan of craft beer, brown liquor or B.C. cider or, perhaps, all of the aforementioned, then Poured is the Saturday night of Cornucopia that you don't want to miss. Not only is B.C. a leader in the craft beer scene in Canada, the province has also been excelling in craft cider production over the past several years. Use those sample tokens to discover just how interesting cider, one of the country's newest drink trends, can be.
Five tokens are included with general admission, with extras at $1.50 apiece.