A few months ago, a tortilla-folding technique spread like wildfire across the social media platform TikTok. If you ask us, the simple, but effective technique is one of the most clever kitchen hacks to come along–via social media–in a really long time.
We've embraced the "TikTok-style" grilled wrap approach wholeheartedly and have come up with a fun, easy recipe drawing inspiration from a classic turkey club sandwich.
Instead of using turkey cold cuts, we've opted for fresh turkey thighs which are readily available at the grocery store. Roast the thighs and use some meat for this turkey club wrap recipe while reserved bones and leftover meat to make a pot of soup. It is winter, after all!
Turkey club grilled wrap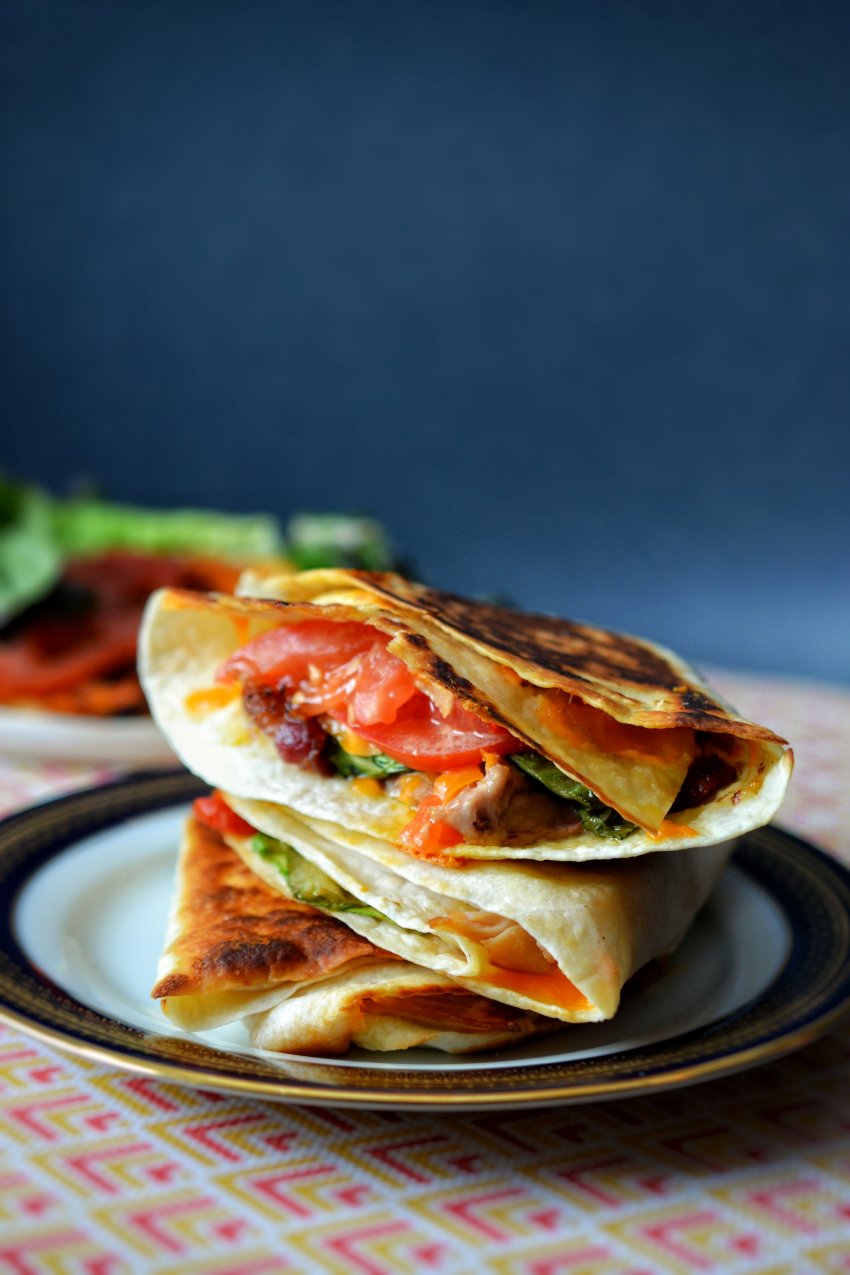 1 tbsp mayonnaise
1 tbsp grainy mustard
2 large white flour tortillas
2-3 strips cooked crispy bacon
2 leaves red leaf lettuce
4 slices tomato, approximately 1/4" thick
1 cup cooked turkey meat, roughly chopped
1 cup shredded old cheddar, or more if you want an extra cheesy wrap
butter or mayonnaise, enough to brush on tops and bottoms of tortillas once folded
Mix together mayonnaise and mustard in a small bowl.
Lay out tortillas on a cutting board and slice from the centre of each tortilla straight down to the edge to create two flaps.
Working clockwise from the bottom left, place bacon, lettuce and tomato, turkey, and cheese in four separate quadrants of the tortilla. If desired, sprinkle extra cheese on top of everything.
Starting again with the bottom left quadrant, carefully fold the quarter of the wrap over onto the top left quadrant. Repeat this motion in a clockwise fashion until you have a triangular-shaped layered wrap.
Brush folded tortillas on both sides with either butter or mayonnaise (we recommend using the latter if you haven't tried this before) and cook in a large pan on medium heat for 5 minutes, turning once after 2 minutes and once again at the four minute mark.
Let cool slightly before serving.
Watch: Dan Clapson talks TikTok food trends on CTV Morning Live
Yield:

Prep Time:

Cook Time: