This might not be the way you're used to eating your pancakes on the weekend, but even a simple plate of hot cakes needs a shake-up sometimes.
We asked pastry chef extraordinaire and Food Network Spring Baking Championship runner-up, Arin Hiebert, to construct an epic pancake layer cake for us. To our surprise, it's easier than we thought. All it takes is a little patience and plenty of sprinkles.
Though we might not have the icing piping skills of chef Hiebert, we can still offer the fundamentals of building an amazing layer cake using pancakes.
What makes a good pancake base
Everyone has their go-to recipe for pancake batter, but lately, we have been using Flourish Pancakes vanilla-flavoured mix. The Canadian-made protein pancake mixes are appropriately fluffy without going overboard--we don't want a Leaning Tower of Pisa situation here--and offer plenty of added protein to make for a more (nutritionally) filling breakfast, while still being a little indulgent. Cook up six pancakes that are approximate five inches in diameter, let cool to room temperature and you're off to the stacking races.
(Note: although trendy right now, we don't recommend using the Japanese souffle pancake batter technique for this application. You'll end up with something notably deflated.)
Buttercream: the sweet glue that binds
There are countless flavours to infuse into a simple buttercream icing. Whichever flavour you choose, make sure you've got plenty with which to build this pancake layer cake. If you are considering something whipped cream- or yogurt-based, know that neither will keep this "cake" intact, especially when it comes to slicing.
For this particular creation, Arin used a vanilla buttercream combined with sprinkles to help create a birthday cake sort of feel.
Assembly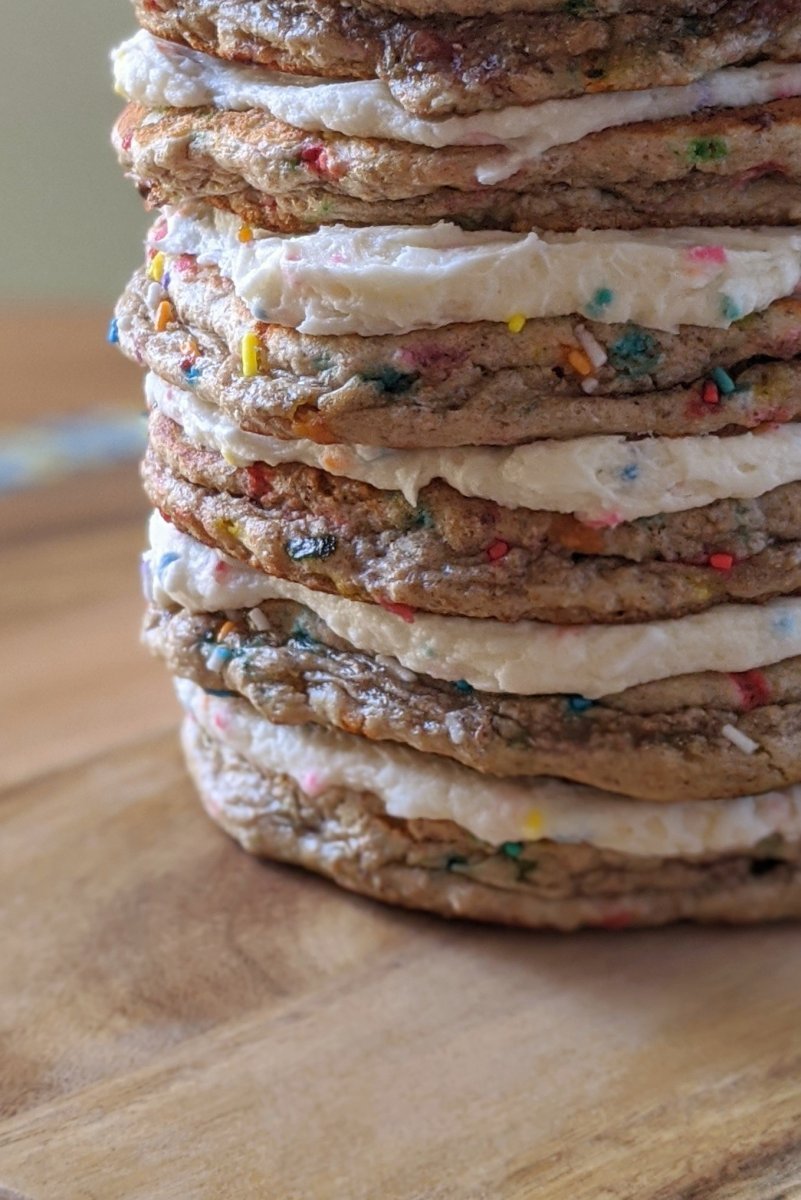 The key here is to work with two stacks of pancakes. Place two pancakes side-by-side on a baking tray and spread (or pipe) a quarter-inch layer of buttercream icing evenly on top.
Place a second pancake on top of each iced pancake and repeat. Add third and final pancake onto each, icing only one stack (we will call this stack A) the same way as the previous pancakes. Place the tray in the fridge to let the icing firm up, which takes approximately one hour.
Remove the tray from the fridge and ice the top of the stack that was not iced before going into the fridge (we will call this stack B). Carefully place stack A on top of stack B. Finish decorating the top of the layer cake with additional swirls of buttercream and sprinkles.
Return to fridge until ready to serve.
Slicing and serving
As with all cakes, you'll want a sharp, long knife and some hot water to heat up the knife slightly for it to cut through the still slightly-chilled cake effortlessly.
Since we've gone tall with six pancake layers, you'll need a large (or long) plate for serving too.