Top Chef Canada alumnus and Calgary-based pastry chef, Karine Moulin is known for creating beautiful desserts at Raw Bar By Duncan Ly and Yellow Door Bistro. Although you may not be able to master the art of hand-painted truffles quite like she has, you can definitely follow this easy base recipe Moulin shares for artful and delicious vegan truffles.
Vegan coconut chocolate truffles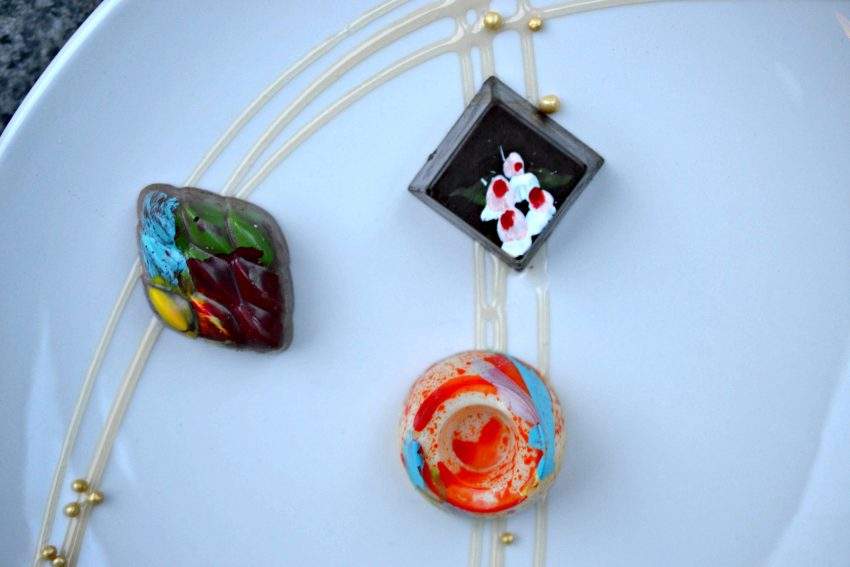 1 1/8 cups full-fat coconut milk
2 birds eye chilies, chopped
3 cinnamon sticks
1/8 tsp sea salt
1 1/4 cups bittersweet chocolate (70% cacao), finely chopped
3 tbsp extra-virgin coconut oil, softened
In a small saucepan over medium heat, combine the coconut milk, chilies, cinnamon sticks and salt. Warm mixture, stirring frequently, until it is hot but not simmering or boiling. Turn off heat, cover and let steep for 15 to 20 minutes.
Place chopped chocolate and coconut oil in a medium, heat-safe bowl. Once the coconut milk mixture has steeped, rewarm until hot again, then strain into the bowl with oil and chocolate through a fine-mesh sieve, pressing on chilies and cinnamon sticks to extract all of the good stuff.
Let mixture sit for 1 minute, then gently whisk until completely smooth. Transfer to a shallow baking dish, cover and chill in the refrigerator until firm, at least 2 hours.
Once mixture is chilled and firm, portion out into desired shapes (you can make small balls easily using a melon baller), dusk with cocoa powder and enjoy!
Yield:

Prep Time:

Cook Time: