Edmonton food blogger Karlynn Johnston has been sharing her recipes and travel experiences on her site, The Kitchen Magpie, for over seven years, and now, she's turned her favourites into a new cookbook, Flapper Pie and a Blue Prairie Sky, full of sweet treats, including this original, the flapper pie.
If you'd like to meet Karlynn Johnston and chat about her cookbook, you can find her at book signing at Indigo and book launch at Cookbook Co. Cooks.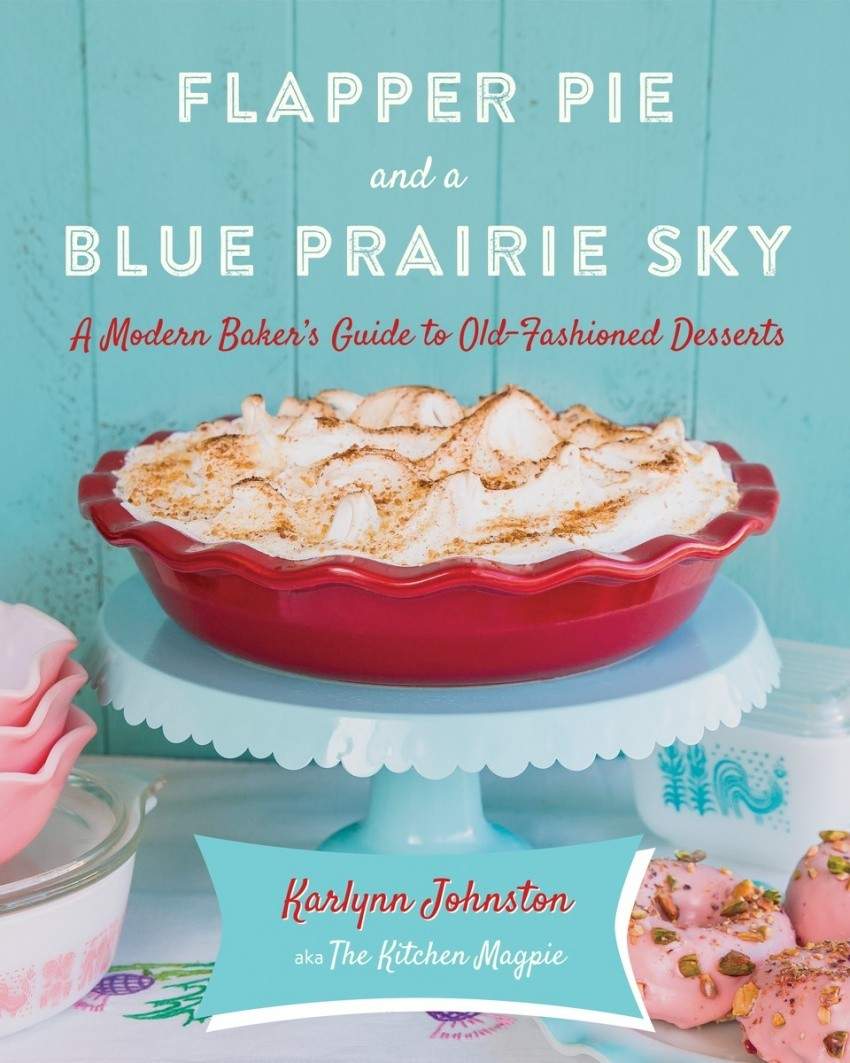 Crust
1 1/2 cups graham cracker crumbs
6 tbsp melted butter
1/2 cup granulated sugar
1/2 tsp ground cinnamon
Preheat oven to 350˚F.
Combine the graham crumbs, butter, sugar, and cinnamon in a large bowl. Reserve about 2 tablespoons of the mixture, then press the rest into the bottom and up the sides of a 9-inch deep-dish pie plate. Bake for 10 minutes. The crust will not brown; it simply needs to set. Remove and set aside to cool. Leave the oven on at 350˚F if making the rest of the pie at this time.
Filling
2 1/2 cups milk
3 egg yolks
1/2 cup granulated sugar
1/4 cup cornstarch
1 tsp vanilla extract
1/4 tsp salt
Combine the milk, egg yolks, sugar, cornstarch, vanilla, and salt in a medium saucepan over medium heat, stirring until smooth. Continue to cook over medium heat, stirring constantly, until the mixture boils and thickens to the consistency of a thick pudding. Remove from the heat and set aside while you make the meringue.
Meringue
3 egg whites
1/4 tsp cream of tartar
1/4 cup granulated sugar
In the bowl of a stand mixer fitted with the paddle attachment or in a large bowl using an electric mixer, beat together the egg whites and cream of tartar until foamy. Add the sugar and continue to beat until stiff peaks form.
Assembly
Preheat the oven to 350˚F.
Spoon the filling into the prepared pie shell and distribute it evenly. Then, using a spatula for best results, swirl the meringue over the top of the pie in a circle, starting at the outer edges and working your way into the center to create a seal. Once the pie is completely covered in meringue, tap the spatula gently on the top of the meringue, then lift up slowly to form meringue peaks, if desired. These peaks will brown more than the rest of the meringue, making for a prettier pie. Sprinkle the remaining 2 tablespoons crust mixture over top.
Bake for 8 to 10 minutes, until the meringue is browned.
Remove from the oven, let cool on a baking rack, then chill for several hours in the refrigerator until the filling is set.